Global Mirrorless Camera Market 2020-2025
November 9, 2020

Request Sample
Coming Soon
Multi User License - $2,500
GLOBAL MIRRORLESS CAMERA MARKET
INTRODUCTION
In March 2004 Epson launched first Mirrorless camera with Lecia M-mount lens called "R-D1" Although it had a drawback of Live Previewing the Photo.
Then in October 2008 Panasonic Launched Fully functionable Mirrorless camera Lumix DMC-G1 with a new tech called Micro four thirds System exclusive for this category.
Later big players like Sony, Nikon, Canon, Samsung and Fujifilm entered this market from 2010 – 2012.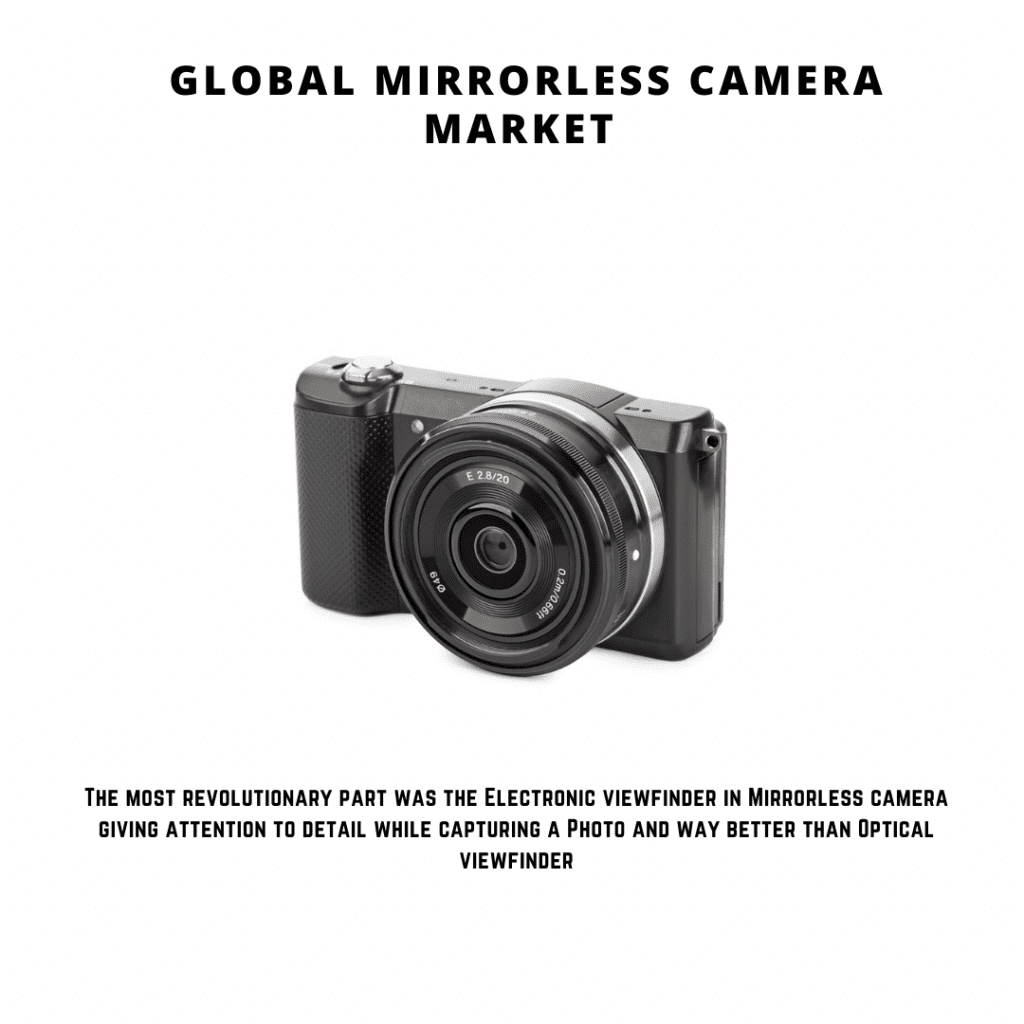 The most bought Digital Camera currently in the market are DSLR (Digital Single Lens Reflex) and Mirrorless Camera. The only difference between these two is that in DSLR, light from lens gets reflected by the mirror up to prism and then falls on Image sensor, Image Previews in screen.
But in Mirrorless Camera the light from lens directly fall on Image sensor then previewed on screen / some cameras will have Electronic viewfinder. Hence making Mirrorless camera more Compact, lighter and Faster.
The most revolutionary part was the Electronic viewfinder in Mirrorless camera giving attention to detail while capturing a Photo and way better than Optical viewfinder.
In 2013, the Mirrorless camera shipments was only 5% Globally compared to Total Camera Shipments
The Digital camera sales came down by 87% globally from 121mn units to 15mn units, due to rise in Smartphone Industry.
MARKET SEGMENTATION
By Geography

Asia
Europe
North America
Middle East and Africa
ROW
CMOS sensor
Exor CMOS
Back illuminated CMOS
X Trans CMOS
Dual Pixel CMOS
Lens Based
Sensor Based
Phase Detection autofocus
Contrast detection autofocus
Phase and Contrast Detection autofocus
MARKET DYNAMICS
Olympus had a big hand in kicking off the compact-but-capable mirrorless camera movement it co-created the Micro Four Thirds format with Panasonic, launching Olympus OM-D E-M10 shrinking the size and price of premium cameras.
Sony released E mount cameras (A6000, A6300, A6500) and (Alpha7, Alpha7R) in 2013 and 2014. The A7s are the most advanced and expensive mirrorless cameras Sony has ever produced. They may look similar to the company's line of NEX cameras (DSLR), but the A7s have one significant difference a much larger image sensor.
Bigger sensors simply produce better pictures, and the full-frame sensor in the A7s is one of the biggest you can get in a consumer-level camera.
By 2014, new products like Fujifilm X-T1, Nikon V3, Panasonic GH4 had mad their way into the market.
In 2014, Olympus sales increased by 22.4% also Sony and Fujifilm report rise in revenue in camera sales, their operating income was increased 9% ($169mn) and 8%($35Mn). Globally, the sales of mirrorless cameras had increased by 24.4% as compared to last year (2013), with the most significant increases in Japan and Europe.
Beginner level camera price started from $499 to $1200 and Professional Level cameras were above $2000
MARKET SIZE AND FORECAST
Global shipments of mirrorless cameras by Japanese makers grew 29.2 percent in 2017 from the previous year, while those of SLR cameras fell 10.1 percent in the same year.
In 2018, global shipments of single-lens reflex cameras declined by about 16% year-on-year to 6.22 million units, while mirrorless sales increased by about 3% to 4.28 million units.
INNOVATION IN MIRRORLESS CAMERA
Nikon's Z7 offers a class-leading 45.7 megapixels – useful for delivering huge prints or to tightly crop into an image after it is taken. When it comes to autofocus, Canon's EOS R may have the upper hand, thanks to its 5,655 manually selectable focus points.
Sony has incorporated these advanced features in their Alpha line up cameras high-level performance and AI-powered Real-time Eye AF, high-precision Real-time Tracking, high-speed continuous shooting and 4K HDR and Real-time Eye AF.
Legacy camera makers Canon and Nikon are also keeping up by incorporating some AI (Artificial Intelligence) in their products. Canon has developed a smart flash called the AI Bounce while Nikon has developed the Polycam Player. Market players will have to invest in AI and add more of these features to their camera lineup.
COMPETITIVE LANDSCAPE
Canon introduced a high-end mirrorless camera the EOS M in March. The entry-level mirrorless camera became the best-selling model in the first half in 2018.
Nikon launched the Z7 and Z6, which are the company's debut attempts at full-frame mirrorless camera. The Z series is modelled after Nikon's flagship D850 camera, these new models have a rugged quality, compared to the slightly more elegant design of Canon EOS M or even Sony's A7 series.
Canon's EOS R and EOS RP, and Nikon's Z 6 and Z 7 had a fallback Globally. The Global and home market of all these companies (Japan), Sony – the maker of the world's first full-frame mirrorless camera rolled out in 2013, has seen strong sales of the a7 III mirrorless camera since its release in March. Sony is clear leader in sales while Canon and Nikon have dropped.
Unit shipments of mirrorless cameras were up nearly 29% in 2017 from 2016. The rising demand for mirrorless cameras globally has led to the launch of the A9, A7 R3, and A7 mirrorless cameras by Sony.
Development, such as this, has encouraged the likes of Canon and Nikon to venture into the mirrorless camera segment. Players that are already offering mirrorless cameras are likely to extend their product offerings to cater to the rising demand. Therefore, the global mirrorless camera market is set to expand at a healthy pace during the forecast period.
As of now, Canon and Nikon have failed to surpass Sony with their latest models, and risk falling further behind the next generation of A7 cameras.
Sony's autofocus system is miles ahead of both Nikon and Canon. Sony has a very powerful advantage because it builds its own sensors and electronics, and has more expertise in designing autofocus software, too. It's clear just how far behind Canon's sensors and processors are, judging by the lack of full-frame 4K, awful rolling shutter and slowest autofocus speeds.
COMPANY PROFILE (Manufacturer)
Pentax
| | |
| --- | --- |
| Sl no | Topic |
| 1 | Market Segmentation |
| 2 | Scope of the report |
| 3 | Abbreviations |
| 4 | Research Methodology |
| 5 | Executive Summary |
| 6 | Introduction |
| 7 | Insights from Industry stakeholders |
| 8 | Cost breakdown of Product by sub-components and average profit margin |
| 9 | Disruptive innovation in the Industry |
| 10 | Technology trends in the Industry |
| 11 | Consumer trends in the industry |
| 12 | Recent Production Milestones |
| 13 | Component Manufacturing in US, EU and China |
| 14 | COVID-19 impact on overall market |
| 15 | COVID-19 impact on Production of components |
| 16 | COVID-19 impact on Point of sale |
| 17 | Market Segmentation, Dynamics and Forecast by Geography, 2020-2025 |
| 18 | Market Segmentation, Dynamics and Forecast by Product Type, 2020-2025 |
| 19 | Market Segmentation, Dynamics and Forecast by Application, 2020-2025 |
| 20 | Market Segmentation, Dynamics and Forecast by End use, 2020-2025 |
| 21 | Product installation rate by OEM, 2020 |
| 22 | Incline/Decline in Average B-2-B selling price in past 5 years |
| 23 | Competition from substitute products |
| 24 | Gross margin and average profitability of suppliers |
| 25 | New product development in past 12 months |
| 26 | M&A in past 12 months |
| 27 | Growth strategy of leading players |
| 28 | Market share of vendors, 2020 |
| 29 | Company Profiles |
| 30 | Unmet needs and opportunity for new suppliers |
| 31 | Conclusion |
| 32 | Appendix |