Global Motorcycle Engine Market 2019-2025 | Size | Share | Opportunity | Trends
January 3, 2020

Request Sample
COMING SOON
Multi User License - $2,500
GLOBAL MOTORCYCLE ENGINE MARKET
INTRODUCTION
Motorcycles/scooters are the most economical means of commute for highly populated and low income Asian region. 
MARKET DYNAMICS
India is the biggest motorcycle/ scooter market, globally with almost 37% of global share., followed by China with 27% share. In India, there is an impending shift from carburetor engines to fuel injection in early 2020 due to BS6 emission norms. Many OEMs have already launched BS6 compliant motorcycles with fuel injection to liquidate the BS4 stock before the April 2020 deadline.
Yamaha is following a unique strategy in the Indian market and has up-sized its 110cc carburetted engines with fuel injection 120cc engines to make their scooters a premium offering.Now, it has almost 100% Fuel injected engine powered product potfolio, much before the BS6 deadline.
HONDA`S DOMINANCE IN ASIA EX CHINA
Honda is the global market leader of motorcycle market. It had 27% share of global and 31% share of Asian motorcycle market. It`s 100-125cc motorbikes serve as reliable daily commuters for millions of Asian consumers.
MOTORCYCLE ENGINE MARKET SEGMENTATION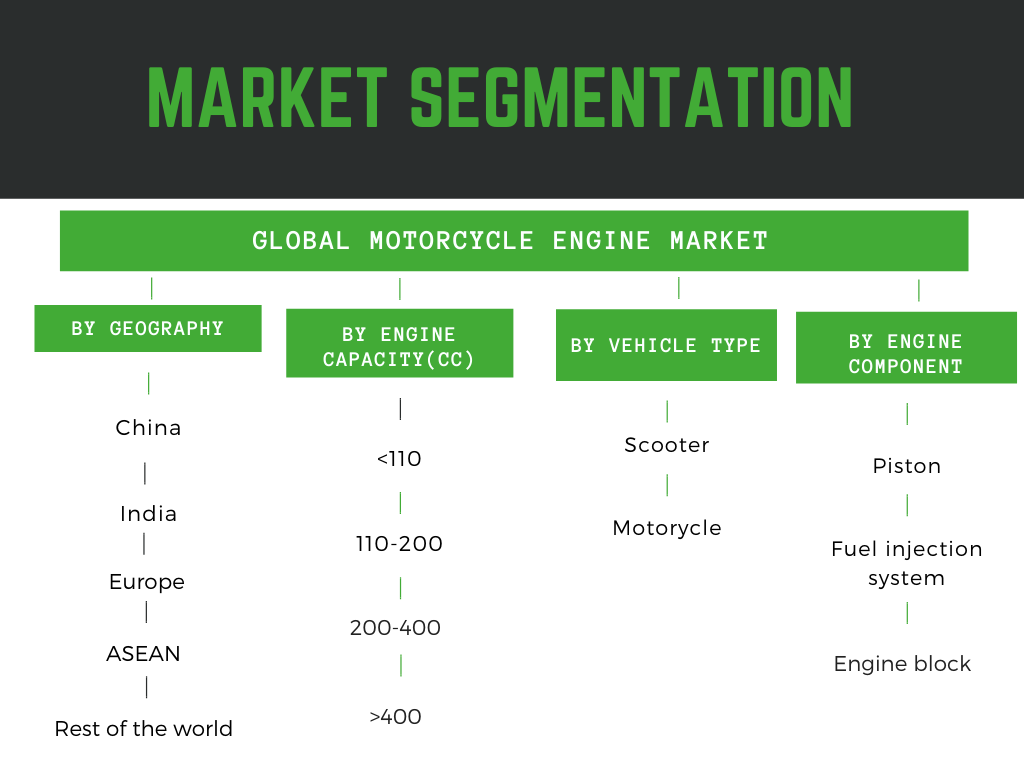 TOP 10 BEST-SELLING MOTORCYCLES GLOBALLY, EXCLUDING CHINA AND THEIR ENGINE CAPACITY
Sl no
Country
Brand
Model
Estimated annual sales-FY 2019
(`000 Units)
Engine capacity(CC)
Fuel system
1
India
Honda
Activa
3,000
110-125
Carburettor
2
Indonesia
Honda
Beat
3,400
110
Fuel Injection
3
India
Hero
Splendour
2,800
100
Carburettor
4
Indonesia
Honda
Vario 125 & 150
2,400
125-150
Fuel Injection
5
India
Hero
HF Deluxe
1,900
100
Carburettor
6
Multiple ASEAN countries
Honda
Scoopy
1,840
110
Fuel Injection
7
Multiple ASEAN countries
Yamaha
N Max
1,200
125-155
Fuel Injection
8
India
Honda
CB Shine
1,000
125
Carburettor
9
India
Bajaj
Pulsar Series
925
135-220
Carburettor
10
India
Hero
Passion
910
100
Carburettor
MARKET SIZE AND FORECAST
In 2018, more than 55 Million motorcycle engines were manufactured globally.
The global motorcycle engine market is largely concentrated in Asia(>90% share), with Europe and American continent accounting for <8% share cumulatively.
India and China alone account for ~60% of global new motorcycle  sales i.e. ~37-40 M units. ASEAN countries account for 22-25% and several other countries account for remaining 18-20%.
It must be noted that the best-selling motorcycles in India are priced at $600-$900 per unit which is 25-35% less than ASEAN Countries and 60-75% less than in Europe and US.
The global motorcycle engine market is estimated at $XX Million in 2019 and $YY Million by 2025.
COMPETITIVE LANDSCAPE
The Motorcyle engine market is dominated by Asian manufactures, predominantly Japanese and Indian companies. Almost 99% of motorcycle engines are manufactured in-house by the OEMs but the sub-components are manufactured by suppliers.
Bosch,Delphi, Keihin and Denso are the top 4 fuel injection system suppliers, globally. To know more about Motorcycle Fuel injection system market, read our report.
COMPANY PROFILES
THIS REPORT WILL ANSWER THE FOLLOWING QUESTIONS
The growth in 200cc+ motorcycle segment in India and overall engine capacity post BS VI in 2020
How is the motorcycle engine value chain different in India and China?
A detailed assessment of Chinese and Indian motorcycle engine market and the impact of ban on ICE motorcycles in major cities ?
What will be the impact of growth in electric motorcycle sales on motorcycle engine market?
Which countries account for majority of motorcycle engine manufacturing?
Global outlook on availability of raw materials like steel and aluminum
How will on-demand micro-mobility,metro expansion and ride hailing impact motorcycle sales in Asia?
TO REQUEST CUSTOMIZATION, PLEASE FILL THE  CONTACT US FORM
| | |
| --- | --- |
| Sl no | Topic |
| 1 | Market Segmentation |
| 2 | Scope of the report |
| 3 | Abbreviations |
| 4 | Research Methodology |
| 5 | Executive Summary |
| 6 | Introduction |
| 7 | Insights from Industry stakeholders |
| 8 | Cost breakdown of Product by sub-components and average profit margin |
| 9 | Disruptive innovation in the Industry |
| 10 | Technology trends in the Industry |
| 11 | Consumer trends in the industry |
| 12 | Recent Production Milestones |
| 13 | Component Manufacturing in US, EU and China |
| 14 | COVID-19 impact on overall market |
| 15 | COVID-19 impact on Production of components |
| 16 | COVID-19 impact on Point of sale |
| 17 | Market Segmentation, Dynamics and Forecast by Geography, 2020-2025 |
| 18 | Market Segmentation, Dynamics and Forecast by Product Type, 2020-2025 |
| 19 | Market Segmentation, Dynamics and Forecast by Application, 2020-2025 |
| 20 | Market Segmentation, Dynamics and Forecast by End use, 2020-2025 |
| 21 | Product installation rate by OEM, 2020 |
| 22 | Incline/Decline in Average B-2-B selling price in past 5 years |
| 23 | Competition from substitute products |
| 24 | Gross margin and average profitability of suppliers |
| 25 | New product development in past 12 months |
| 26 | M&A in past 12 months |
| 27 | Growth strategy of leading players |
| 28 | Market share of vendors, 2020 |
| 29 | Company Profiles |
| 30 | Unmet needs and opportunity for new suppliers |
| 31 | Conclusion |
| 32 | Appendix |