Global Online Gaming Market 2020-2025
July 28, 2020

Request Sample
Coming Soon
Multi User License - $2,500
ONLINE GAMING MARKET
INTRODUCTION
People have much more access to the internet now than ever and that's the reason people are spending an enormous amount of time online. So, a tablet or smartphone coupled with an internet connection is influencing the growth of the online e-gaming market.
ONLINE GAMING MARKET DYNAMICS
Many online gaming companies are putting efforts into the development of the new games and bringing in a lot of new software updates in order to keep their customer interested in the games as they have seen enormous gaming traffic on their games.
For example, Activision Blizzard, an online gaming company released its Call of Duty: Warzone online game as free to play version, compatible across PC, and gaming console and was able to generate huge amounts of revenue on the same.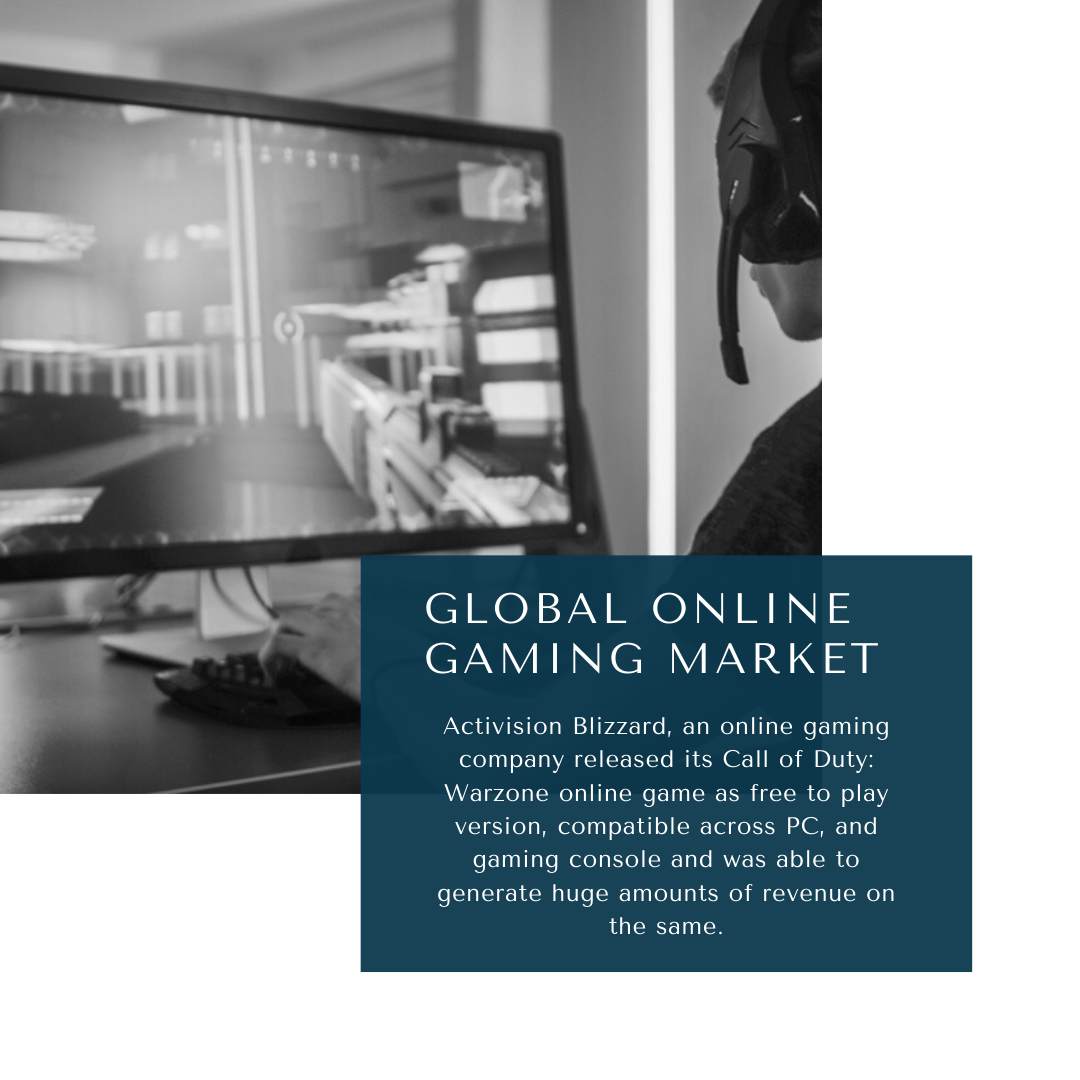 The company said that the game was downloaded about 15 million times within 3 days if its release. A considerable amount from this population consists of teenagers and school-going children who are left with very limited activities to do.
And, similar trends have been observed among other game makers companies as well. And these initiatives are the main reason for the inline e-gaming market's growth.
COVID-19 IMPACT ON GLOBAL ONLINE GAMING MARKET
COVID-19 is one of the main reasons for a sudden boost in the demand for online e-gaming. A lot of suppressing instructions including travel restrictions and business shutdowns are contributing to the same. So, a lot of people are staying at their home and spending time online and internet traffic is generally up by 25-30% than usual.
As per one of the reports given by Nokia, online gaming traffic has also grown significantly. A report shared by a U.S telecom company Verizon says that they found that gaming traffic is increased by 75% during the lockdown enforced because of COVID-19 situations all over the globe.
ONLINE GAMING MARKET SIZE AND FORECAST
The smartphone market is growing tremendously at a significant rate which in turn is contributing to the global market globally. The online multiplayer games like Call of Duty, PUBG, CS Go have gained a lot of attention because of the social elements like teaming up with other players despite of being at different locations globally.
Electronic sports (eSports) are the tournaments planned for video game players. It's a platform where a lot of players meet and compete with each other. Esports event includes competitive league tournaments. The Esports generate income through sponsorship and advertisements, tickets, media rights, and merchandise.
On the basis of platforms, the mobile segment witnessed the maximum contribution toward the growth of the e-gaming market and has the maximum market share. On the basis of pricing models, the freemium segment is expected to show maximum growth and would contribute to the market over the forecasting period of 8 years. North America accounted for the highest share in the global e-gaming market. We can also find a lot of professional players in the same region.
The global online gaming market is estimated at $XX Million in 2020 growing at –% CAGR till 2025
ONLINE GAMING MARKET COMPETITIVE LANDSCAPE
Copyright and piracy issues are going to impact market growth in a negative way. The issues related to frauds while playing games like hackers are going to impact the growth of e-gaming markets in a negative way as well.
Key operators in the e-gaming market include Nintendo, Microsoft Corporation., Rovio Entertainment, NVIDIA Corporation; Valve Corporation; Playjam Ltd.; BlueStack System and Sony Corporation. These companies are focusing on the development of engaging gaming content and next-generation gaming consoles as well.
Some of the popular consoles developed by these companies are XBOX One by Microsoft corporations, PS4 (Play station 4) and Wii U by Nintendo  Co., Ltd. And these market players are focusing on delivering to the customers is product differentiation and innovation with a view to increasing their market share.
With the competitive market and a lot of big players in the market offering a fruitful experience to their customers with games like PUBG, Call of Duty and others the E-gaming market is expected to grow tremendously in the coming years.
COMPANY PROFILES
Tencent Holdings
Huya
| | |
| --- | --- |
| Sl no | Topic |
| 1 | Market Segmentation |
| 2 | Scope of the report |
| 3 | Abbreviations |
| 4 | Research Methodology |
| 5 | Executive Summary |
| 6 | Introduction |
| 7 | Insights from Industry stakeholders |
| 8 | Cost breakdown of Product by sub-components and average profit margin |
| 9 | Disruptive innovation in the Industry |
| 10 | Technology trends in the Industry |
| 11 | Consumer trends in the industry |
| 12 | Recent Production Milestones |
| 13 | Component Manufacturing in US, EU and China |
| 14 | COVID-19 impact on overall market |
| 15 | COVID-19 impact on Production of components |
| 16 | COVID-19 impact on Point of sale |
| 17 | Market Segmentation, Dynamics and Forecast by Geography, 2020-2025 |
| 18 | Market Segmentation, Dynamics and Forecast by Product Type, 2020-2025 |
| 19 | Market Segmentation, Dynamics and Forecast by Application, 2020-2025 |
| 20 | Market Segmentation, Dynamics and Forecast by End use, 2020-2025 |
| 21 | Product installation rate by OEM, 2020 |
| 22 | Incline/Decline in Average B-2-B selling price in past 5 years |
| 23 | Competition from substitute products |
| 24 | Gross margin and average profitability of suppliers |
| 25 | New product development in past 12 months |
| 26 | M&A in past 12 months |
| 27 | Growth strategy of leading players |
| 28 | Market share of vendors, 2020 |
| 29 | Company Profiles |
| 30 | Unmet needs and opportunity for new suppliers |
| 31 | Conclusion |
| 32 | Appendix |