Rolling Stock Market in North America 2020-2025
January 5, 2020

Request Sample
COMING SOON
Multi User License - $2,500
ROLLING STOCK MARKET IN NORTH AMERICA
Rail transit is not as big in North America as Europe or China. US has just over 1,500km network of light rail transit whereas Canada has just over 200km network length.
The freight rail market in North America is 3X bigger than passenger transit because of the sheer length and breadth of the two countries.
The U.S. population is estimated to grow by more than 100 million by 2050, most of that growth will be in urban centres. It is imperative to build a competitive rail service now to address the transportation needs of tomorrow.
MARKET SEGMENTATION

MARKET SIZE AND FORECAST
In a country where car ownership is at 800 /1000 inhabitants, rail transit is a favourable option only for lower income group or working population in busy metropolitan cities.Rail transit never really took off in north America except a few cities and between 2016 and 2018, ridership fell in all the seven largest transit markets in US: New York, Chicago, Los Angeles, D.C., San Francisco, Boston and Philadelphia. But, there is a significant replacement opportunity,for example- Amtrak`s new Acela Express will enter Northeast Corridor (NEC) service in 2021, and entire fleet on this corridor will be modernised by end of 2023.
Amtrak has been exploring market options for modernising its fleet since June 2018. It wants to replace coach cars, trainsets and self-propelled units which can provide its customers  a comfortable riding experience, with improved ride quality and reliability
The rolling stock market in North America is third biggest in the world after China and Europe and estimated at $XX Billion in 2020, growing at –% CAGR.
US FREIGHT WAGON MARKET
The US freight wagon market is among world`s biggest. The present freight wagon fleet size is more than 1.8 Million units.
Hoppers, tankers and flat wagons make up for more than 80% share of overall fleet.Among private freight car owners, Greenbier and TTX own approximately 0.5M wagons cumulatively.Among rail road operators, BNSF and Union pacific railroad cumulatively had 150,000 wagons.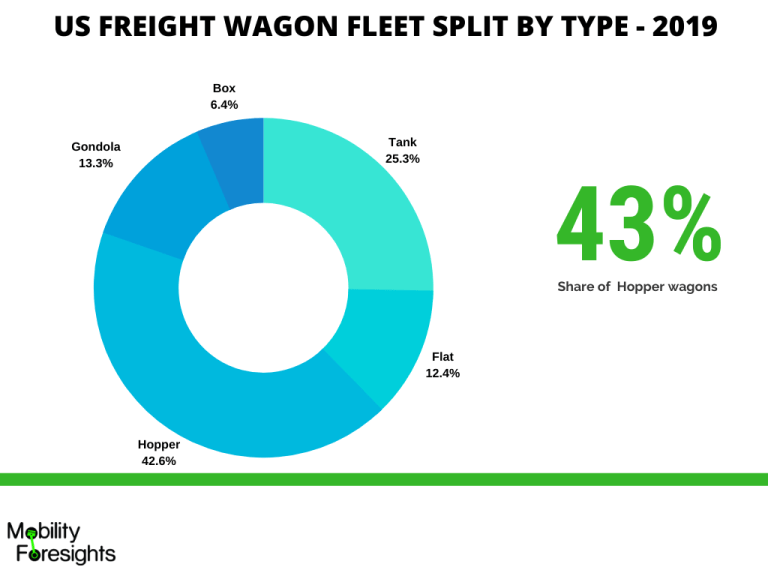 RECENT DEVELOPMENTS IN ROLLING STOCK MARKET IN NORTH AMERICA
Dec 2019– CRRC started testing Chicago Series 7000 metro cars. CRRC won the order to supply upto 846 metro vehicles in 2016 and will be assembling it in the Hegewisch district.
November 2019 –Southern California's San Bernardino County Transportation Authority awarded Stadler a contract to supply a Flirt H2 hydrogen fuel cell powered multiple-unit to enter passenger service in 2024, with an option for four more units.
September 2019- Massachusetts Bay Transportation Authority awarded Hyundai Rotem a $278·5 Million sole-source contract to supply 80 double-deck coaches. The new coaches will replace single deck vehicles to increase capacity on the Boston commuter rail network by more than 14 000 seats/day.
September 2019– Ontario transport authority Metrolinx ordered  36 more double-deck coaches from Bombardier Transportation to bolster GO Transit services in the Toronto area
September 2019– A patent-pending Tsunami Gate door system which could allow shippers to customize grain discharge speeds from a covered hopper wagon is being developed by Greenbrier Companies.
June 2019– Dallas Area Rapid Transit awarded a $199 Million contract to supply eight Flirt diesel multiple-units for Regional Rail project in the northen suburbs of Dallas
May 2019– Southern California Regional Rail Authority awarded a joint venture of Talgo and Systra a contract worth  $138 Million for the refurbishment of up to 121 Bombardier Bi-level coaches used on Metrolink commuter services
April 2019- The City of Ottawa and TransitNEXT consortium leader SNC Lavalin  declared Stadler the winner of a contract to supply seven four-car Flirt diesel-electric multiple-units. 
COMPETITIVE LANDSCAPE
Among the operational LRV(excluding metro) fleet in North America, Siemens is the biggest supplier of LRVs with 32% share(1,000 units) of total LRV. Total North America LRV fleet, as of Dec 2019-3,200 units
Kinki Sharyo Co.(based in Japan) has been providing LRV(Tram) carriages to the U.S. cities for more than 3 decades now. It has ~590 carriages in operation or ~20% of total LRV fleet in US
In Mexico, the state of Nuevo León awarded China based CRRC a contract to supply 26 articulated light metro train-sets to Monterrey.
COMPANY PROFILES
Talgo America
Kinki Sharyo Co, Ltd
CRRC
Greenbrier Companies
Stadler America LLC
CAF USA
Siemens Mobility
THIS REPORT WILL ANSWER FOLLOWING QUESTIONS
Market size and forecast of Rolling stock market in US and Canada, by application and product type
Opportunity for traction motor, HVAC, signaling, pantograph, seats and auxiliary suppliers in the rolling stock market in North America
Details on new rolling stock development and infrastructure upgradation of US and Canada rolling stock market
Market share of major vendors,2019, 
Inroads made by CRRC in North America rolling stock market and how it will affect the competitive landscape in future
Key criterion for rolling stock vendor selection by US and Canada rail operators
| | |
| --- | --- |
| Sl no | Topic |
| 1 | Market Segmentation |
| 2 | Scope of the report |
| 3 | Abbreviations |
| 4 | Research Methodology |
| 5 | Executive Summary |
| 6 | Introduction |
| 7 | Insights from Industry stakeholders |
| 8 | Cost breakdown of Product by sub-components and average profit margin |
| 9 | Disruptive innovation in the Industry |
| 10 | Technology trends in the Industry |
| 11 | Consumer trends in the industry |
| 12 | Recent Production Milestones |
| 13 | Component Manufacturing in US, EU and China |
| 14 | COVID-19 impact on overall market |
| 15 | COVID-19 impact on Production of components |
| 16 | COVID-19 impact on Point of sale |
| 17 | Market Segmentation, Dynamics and Forecast by Geography, 2020-2025 |
| 18 | Market Segmentation, Dynamics and Forecast by Product Type, 2020-2025 |
| 19 | Market Segmentation, Dynamics and Forecast by Application, 2020-2025 |
| 20 | Market Segmentation, Dynamics and Forecast by End use, 2020-2025 |
| 21 | Product installation rate by OEM, 2020 |
| 22 | Incline/Decline in Average B-2-B selling price in past 5 years |
| 23 | Competition from substitute products |
| 24 | Gross margin and average profitability of suppliers |
| 25 | New product development in past 12 months |
| 26 | M&A in past 12 months |
| 27 | Growth strategy of leading players |
| 28 | Market share of vendors, 2020 |
| 29 | Company Profiles |
| 30 | Unmet needs and opportunity for new suppliers |
| 31 | Conclusion |
| 32 | Appendix |