Global Smart TV Market 2020-2025
August 3, 2020

Request Sample
Coming Soon
Multi User License - $2,500
GLOBAL SMART TV MARKET
 INTRODUCTION
In 2008, Samsung launched the smart TV where television was transformed into a tool to interact globally.
It was a television set with integrated internet and storage capacity (without the need for a set-top box). It allowed users to browse/stream music & videos, OTT, internet, VOD (users have the ability to choose from available videos). and view photos.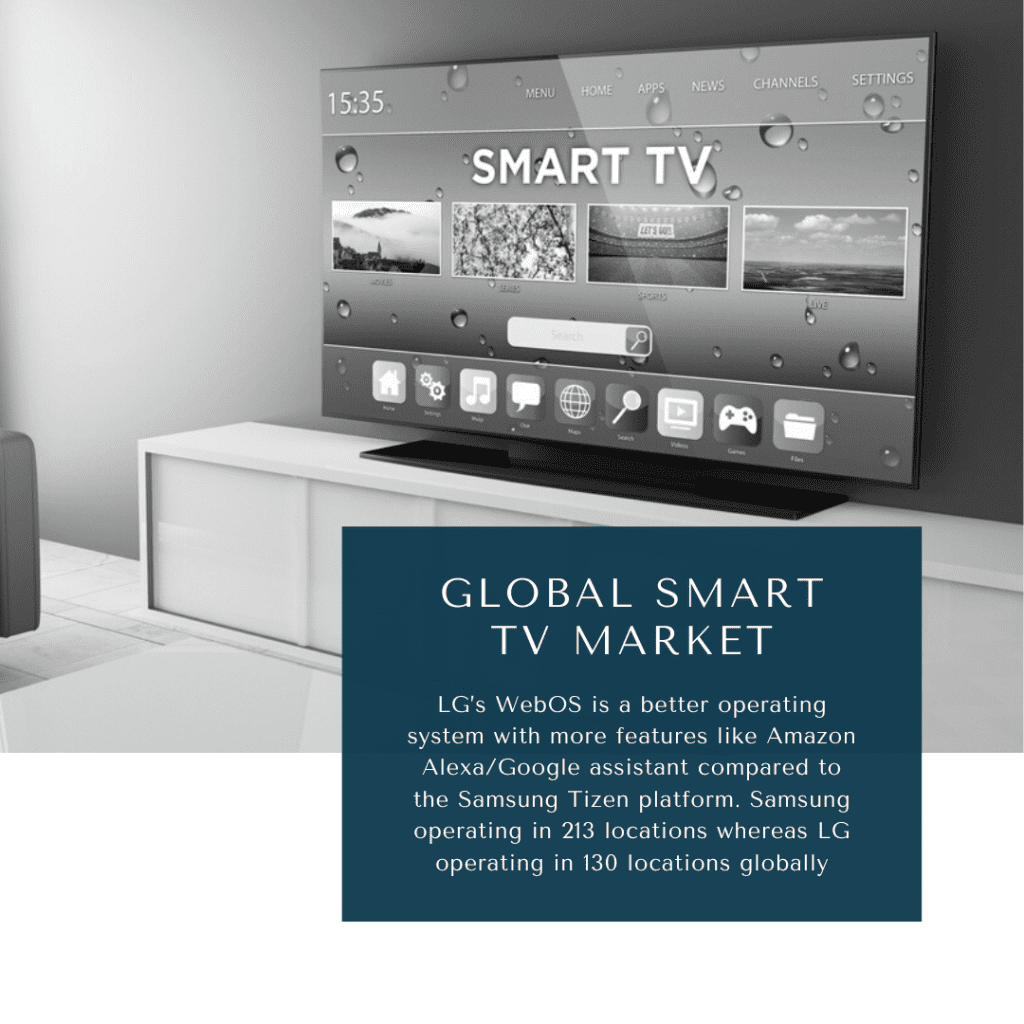 The growing penetration of internet-enabled devices across the world has increased the consumer preference for smart home devices that includes smart TV. Smart TV now accounts for more than 70% TV shipments as compared to less than 30% in 2012-13
The reasons behind the growth in the market are declining prices, the rising popularity of OTT content in smart TV, and the growing prominence of online sales.
To know more about Video on demand market, read our report
SMART TV MARKET DYNAMICS
Post COVID, the online education industry can also boost the smart TV demand as more kids are starting to adapt to online learning instead of the traditional classroom. A smart TV can give a superior learning experience.
Easy finance/EMI options are further bringing down purchase barriers and various options on e-commerce like exchange offers etc also are improving smart TV penetration.
Smart TV is also impacting the space of advertising. This is done by making the advertisements micro-targeted and also with live profiling of customers, which will in-turn increase social resonance, involvement of brand, and buying act ratio.
In the smart TV industry, the user needs time to get comfortable with the new technology. Further, constant over the air update results in a bad experience, affordability of high-speed broadband internet in low income countries are the primary factors restraining the growth of global smart TV market.
COVID IMPACT ON SMART TV MARKET
Due to shelter at home guidelines issues in many states in US, buyers bought TVs at levels regularly observed during the holiday. Some buyers utilized the $1,200 government cheques.
US is a major market for consumer electronics and about 10% of US population buys/upgrade a TV every year. Now a sizeable portion of that volume is Smart TVs.As TVs are now being used for a variety of purposes, demand for 65 inch+ segment further expanded by 18% in 2020 in US. For Samsung North America, 75+ inch segment volumes have been fastest growing in 2020. LG , a strong rival to Samsung has also seen burgeoning demand for TVs with a tag fo $1,000 and above.
Streaming gadgets and set-top boxes like Roku, Apple TV etc are slowly declining in sales as smart TVs further gain ground.
In Europe, it is expected that sales of TVs could decline by as much as 37% in 2020.
MARKET SEGMENTATION
The global smart TV market is segmented by
By Panel type
LCD
LED and OLED
Plasma Display Panel
By Resolution type
4K UHD TV
Full HDTV
HDTV
8K TV
By distribution channel
Online stores
Single brand stores
Multi-brand stores
By Screen size
28 to 40 inches
41 to 59 inches
60 inch & larger
By Screen type
By Region
Asia-Pacific
North America
Latin America
Middle-East & Africa
Europe
By End-User
SMART TV MARKET SIZE
The unit shipments for the Smart TVs market is expected to increase from ~200 Million units in 2019 to ~265 Million units in 2025, growing at a CAGR of 4.8%.
The 46-55 inch segmented is expected to increase rapidly in terms of sales over the forecast period or even in the COVID-19 situation. The growth is stated because of various reasons including high resolution/high picture quality and better sound experience.
There has been a sharp drop in prices of 4K TV (a result of a huge increase in manufacturing capacity that led to oversupply which helps in price cutdown). Companies like Samsung and LG manufacture their own LCD that reduces market price compared to others.
In the recent past, Xiaomi impacted the smart TV industry in India because of its cost-effectiveness and the product sales are completely online.
Among all the verticals, the residential vertical was the highest revenue contributor towards smart TV in India.
COMPETITOR ANALYSIS
Among several players in the smart TV market, Samsung and LG are major players in terms of market share/growth.
Samsung had a share of ~20% in 2019 of the TV unit sales across the globe, followed by LG with ~12% market share.
LG manufactures OLED displays, considered as best in terms of color and contrast. But Samsung still uses QLED technology which is less in picture quality compared to OLED.
LG's WebOS is a better operating system with more features like Amazon Alexa/Google assistant compared to the Samsung Tizen platform. Samsung operating in 213 locations whereas LG operating in 130 locations globally.
In FY18, LG electronics reported $54.9 billion USD in revenue that has increased in FY19 when the company generated revenue of $55.76 billion USD.
Some of the Key Players:
THIS GLOBAL SMART TV MARKET REPORT WILL ANSWER THE FOLLOWING QUESTIONS
Consumer trends by region
Raw material supply chain disruption by COVID
Retail disruption and growth in E-retailing post COVID
Market size (both in value and volume), trends, and the forecast for the next few years?
Competitive landscape, market share of major vendors by region
| | |
| --- | --- |
| Sl no | Topic |
| 1 | Market Segmentation |
| 2 | Scope of the report |
| 3 | Abbreviations |
| 4 | Research Methodology |
| 5 | Executive Summary |
| 6 | Introduction |
| 7 | Insights from Industry stakeholders |
| 8 | Cost breakdown of Product by sub-components and average profit margin |
| 9 | Disruptive innovation in the Industry |
| 10 | Technology trends in the Industry |
| 11 | Consumer trends in the industry |
| 12 | Recent Production Milestones |
| 13 | Component Manufacturing in US, EU and China |
| 14 | COVID-19 impact on overall market |
| 15 | COVID-19 impact on Production of components |
| 16 | COVID-19 impact on Point of sale |
| 17 | Market Segmentation, Dynamics and Forecast by Geography, 2020-2025 |
| 18 | Market Segmentation, Dynamics and Forecast by Product Type, 2020-2025 |
| 19 | Market Segmentation, Dynamics and Forecast by Application, 2020-2025 |
| 20 | Market Segmentation, Dynamics and Forecast by End use, 2020-2025 |
| 21 | Product installation rate by OEM, 2020 |
| 22 | Incline/Decline in Average B-2-B selling price in past 5 years |
| 23 | Competition from substitute products |
| 24 | Gross margin and average profitability of suppliers |
| 25 | New product development in past 12 months |
| 26 | M&A in past 12 months |
| 27 | Growth strategy of leading players |
| 28 | Market share of vendors, 2020 |
| 29 | Company Profiles |
| 30 | Unmet needs and opportunity for new suppliers |
| 31 | Conclusion |
| 32 | Appendix |