GLOBAL SOCIAL MEDIA ADVERTISING MARKET
KEY FINDINGS
Platforms are focusing on contextual ads that are placed on the website through a system that uses keywords based on user searches
The social media user base is growing at a rate of 10%. The technological progress in developing nations is likely to boost the growth rate.
Facebook is the biggest player with 2.45 billion users, and revenue of US$ 69.7 billion. Facebook is followed by YouTube, Twitter, Instagram, and LinkedIn.
Many advertisers are moving away from A/B testing for ads and implementing split testing. According to Facebook, cost per acquisition is improved by 72% by employing split testing ads
INTRODUCTION
Advertising plays a very crucial role in creating a brand image, acquiring customers, and increasing sales. Thus, companies invest heavily in advertising. An effective platform is vital in serving the purpose of advertisements.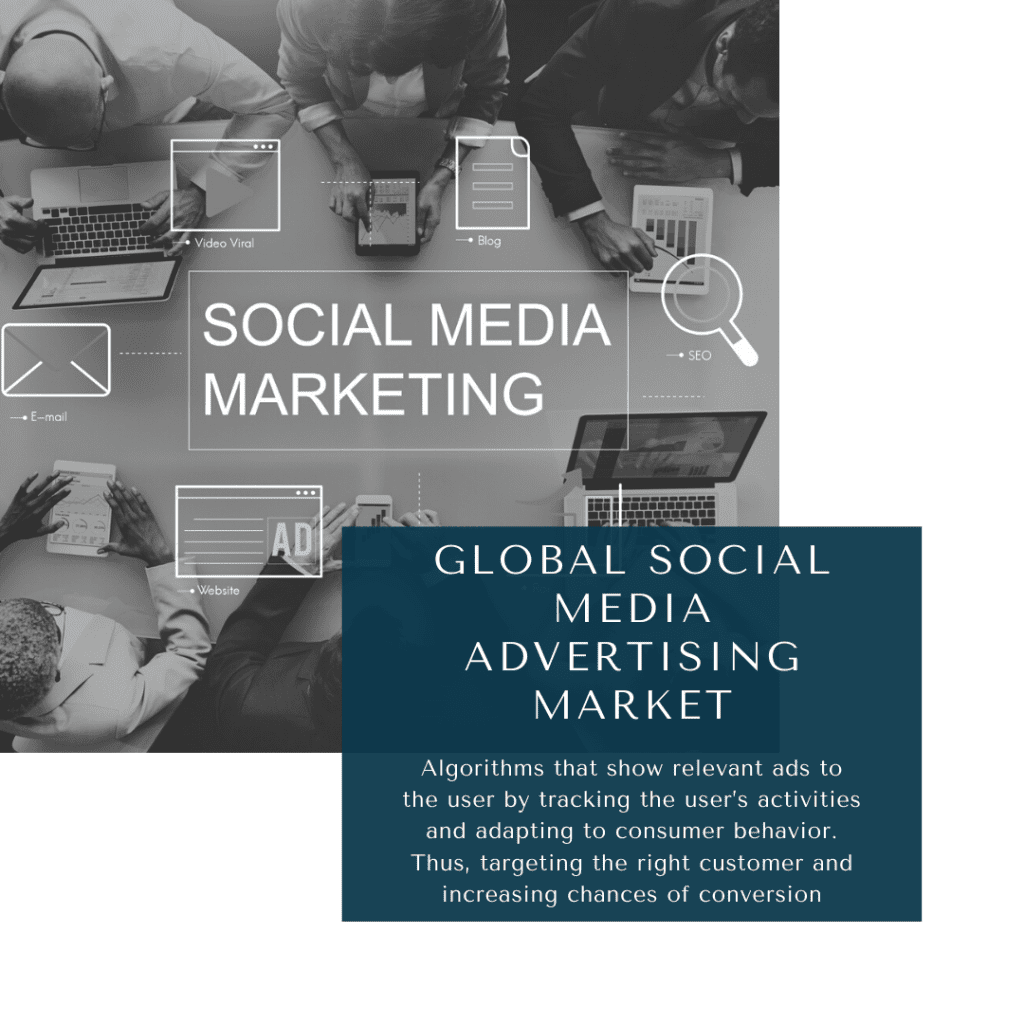 Three factors majorly govern the platform effectiveness – public reach it provides, conversion rate, and cost per acquisition. Social Media platforms owing to its enormous user base and advance features conquer all the metrics.
Social Media platforms are popular owing to its –
Huge active user base of 3.81 billion – almost half of the world population. The users belong to various geographies, demographics, and behaviors, making these platforms a superset of all possible potential customer segments. The user spends an average of 2.4hrs a day on the platforms.
Algorithms that show relevant ads to the user by tracking the user's activities and adapting to consumer behavior. Thus, targeting the right customer and increasing chances of conversion.
Advanced analytics tools that help in receiving real-time data and calculating key metrics.
Extremely low cost per acquisition and high ROI.
MARKET DYNAMICS
Advertisers should study the platforms profoundly and understand their market strategy, pricing model, type of audience, and purpose of the platform from the user's perspective. This is an important step for deciding an effective advertising strategy
Live streaming option on the platforms, especially Facebook and Instagram, are gaining traction among marketers as it offers a unique way of personally connecting with the customers.
More advertisers are now realizing the prowess of ephemeral ads on the stories of Instagram, Snapchat, and their ability to pique the curiosity of users which makes them visit the page, go through the content, and learn more about products.
LinkedIn, the professional networking space has shown remarkable growth in recent years and becoming a top choice for B2B advertisers.
Facebook has expanded its shopping capabilities and features across its platforms. This will be a great opportunity for e-commerce marketers and brands.
CHALLENGES
Trade-offs are part of every business. The crucial trade-off faced by this market is that though Ads generate profits at the same time, they harm the user experience. User's opinions on ads are –
More than 70% of the users find the number of ads overwhelming. Ads may be good for business and useful for customers but if there are too many ads, users don't appreciate that anymore.
More than 60% of users find the ads repetitive. The algorithm behind the platform, however good, is not accurate, and some ads are repeated for the user. Also, some companies pay higher for the extra coverage so these platforms have to repeat ads intentionally.
About 45% of users find the ads irrelevant to their needs.
The platforms have their strategy to deal with these issues. Like YouTube has the skip ad feature where the user needs to select the reason. This helps the algorithm to clearly understand the user behavior and concerns regarding a particular ad.
MAJOR IMPACTS OF COVID-19 OUTBREAK
Globally, social media usage has increased an average of 1hr per day during Covid-19. In the initial period of lockdown surge in the usage was observed crossing 4.5hr per day. This could potentially be an irreversible habit that is developing and will be propitious for advertisers.
Series of tragic events have made customers more socially aware than ever. Advertisers are reacting accordingly by adopting the strategy of conversational ads, regularly engaging with the customers in discussions on socially important topics.
SOFTWARE DEVELOPMENTS
Platforms are focusing on the development of chatbots which uses AI-based technology to understand what the user wants and responds accordingly in real-time.
Platforms are automating the ad buying process using Programmatic Advertising that helps to target more specific audiences.
MARKET SIZE AND FORECAST
Few platforms have decreased their ad prices by 5-10% recently, making it more reasonable for advertisers and encouraging low-budget companies to join the forces.
Considering the number of users, China is the largest market with 1.1 billion users, followed by India. Laws of China restrict major global players from entering the market. If the restrictions are removed then whole market statistics would change dramatically creating a myriad of opportunities.
COMPETITIVE LANDSCAPE
All the major global players are in fierce competition to acquire market share and gain more users. There is a limit to time spent by an individual user on social media platforms.
Platforms are in a cut-throat race to attract customers to their platform, keep them involved, and make them spend more time on their platform. Players are using every trick in the business book – acquisitions, mergers, legal games, etc. – to sustain and thrive in this market.
Like Facebook and Instagram are casual, image, and short video-heavy platforms so similar ads work well. Twitter is a bit more formal and usually used to convey views on current social, political, economic matters and serves well for content aligning with that. LinkedIn is a professional space and serious, career-oriented ads are more suitable.
COMPANIES PROFILED
| | |
| --- | --- |
| Sl no | Topic |
| 1 | Market Segmentation |
| 2 | Scope of the report |
| 3 | Abbreviations |
| 4 | Research Methodology |
| 5 | Executive Summary |
| 6 | Introduction |
| 7 | Insights from Industry stakeholders |
| 8 | Cost breakdown of Product by sub-components and average profit margin |
| 9 | Disruptive innovation in the Industry |
| 10 | Technology trends in the Industry |
| 11 | Consumer trends in the industry |
| 12 | Recent Production Milestones |
| 13 | Component Manufacturing in US, EU and China |
| 14 | COVID-19 impact on overall market |
| 15 | COVID-19 impact on Production of components |
| 16 | COVID-19 impact on Point of sale |
| 17 | Market Segmentation, Dynamics and Forecast by Geography, 2020-2025 |
| 18 | Market Segmentation, Dynamics and Forecast by Product Type, 2020-2025 |
| 19 | Market Segmentation, Dynamics and Forecast by Application, 2020-2025 |
| 20 | Market Segmentation, Dynamics and Forecast by End use, 2020-2025 |
| 21 | Product installation rate by OEM, 2020 |
| 22 | Incline/Decline in Average B-2-B selling price in past 5 years |
| 23 | Competition from substitute products |
| 24 | Gross margin and average profitability of suppliers |
| 25 | New product development in past 12 months |
| 26 | M&A in past 12 months |
| 27 | Growth strategy of leading players |
| 28 | Market share of vendors, 2020 |
| 29 | Company Profiles |
| 30 | Unmet needs and opportunity for new suppliers |
| 31 | Conclusion |
| 32 | Appendix |