Global Solar Photovoltaic Panel Market 2020-2025
August 4, 2020

Request Sample
Coming Soon
Multi User License - $2,500
GLOBAL SOLAR PHOTOVOLTAIC PANEL MARKET
INTRODUCTION 
Solar photovoltaic modules also known as solar panels can capture sunlight and convert them into electricity. The main components of the solar photovoltaic modules are numerous types of photovoltaic cells mainly made of silicon. These components are coupled and encapsulated to form a photovoltaic module. Some photovoltaic panels use plastic lenses or even mirrors to concentrate light onto the minute, highly efficient photovoltaic cell. Innovation in recent technology now allows a wide range of materials to be used to fabricate photovoltaic cells besides silicon such as conductive plastics, solar inks and dyes.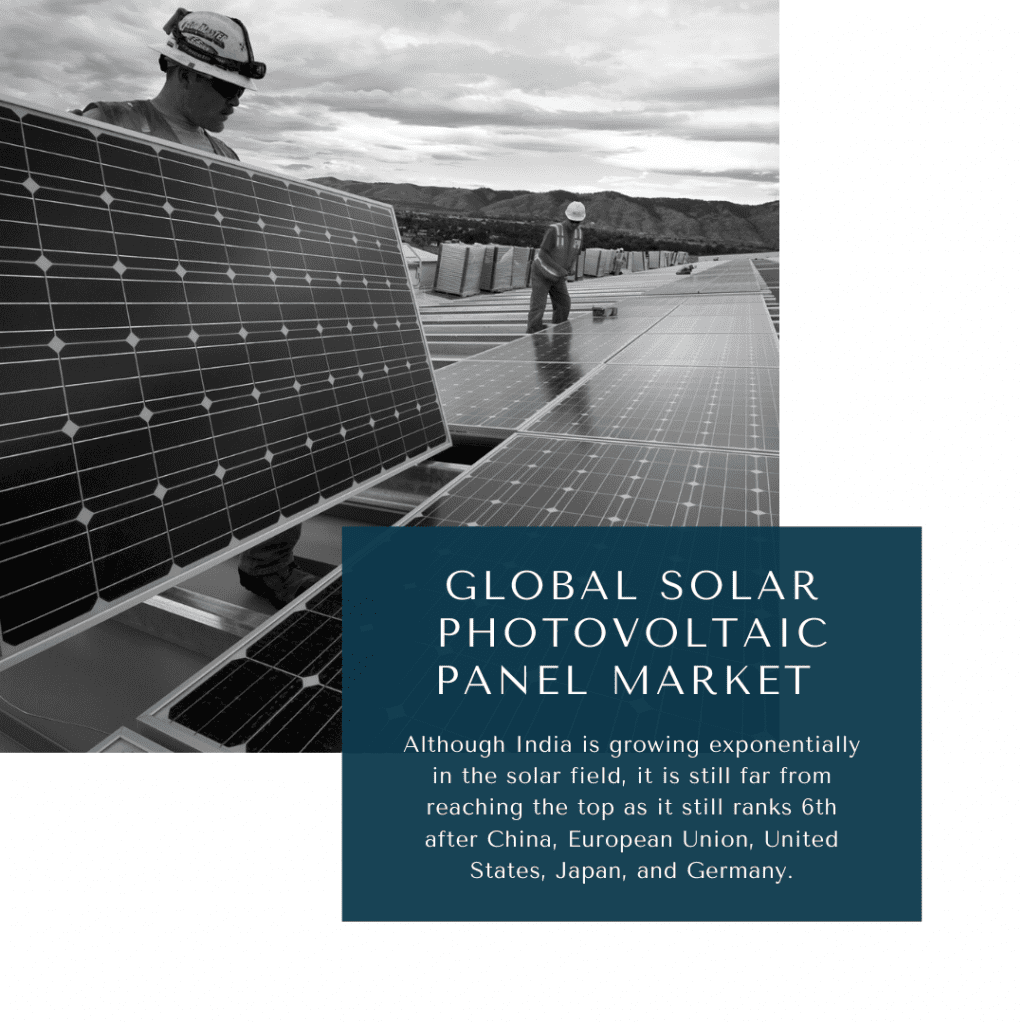 In the age of growing concern for carbon emissions and its adverse effects, there is a steady shift towards a dependence on renewable resources for energy consumption. This is the driving force and the prime factor that is thrusting the growth of the solar panel market in the coming years.
Moreover, solar energy helps promote social and economic development as it pushes countries to meet their policy targets for reliable, secure and affordable clean energy which provides electricity access with reduced cost volatility.
MARKET SEGMENTING SOLAR PHOTOVOLTAIC (PV) MARKET
BY TYPE OF CELL
Thin film
Multi-Si  
Mono-Si
  BY DEPLOYMENT
Ground Mounted  
Rooftop Solar
BY GEOGRAPHY
North America
Asia-Pacific
Europe
South America
Middle-East and Africa
BY ON END USER
Residential  
Commercial  
Utility
 BY HARNESSING TECHNOLOGY
Solar Photovoltaics
Solar Thermal Electricity
Artificial Photosynthesis
Solar Heating 
GLOBAL SOLAR PHOTOVOLTAIC PANEL MARKET DYNAMICS
The solar PV power is expected to drive strong growth in renewable energy. Solar, together with wind, is expected to produce more than 50% of the total generation in Australia, Germany, Mexico, and the United Kingdom.
Emerging economies, such as China, India, and Brazil, have various large-scale ground-mounted solar projects lined up, which are expected to drive the ground-mounted solar PV market over the forecast period. Although utility-scale solar PV projects have gained a significant share in the market studied, small-scale rooftop solar PV systems represent an important part of the market.
Moreover, rooftop solar offers the benefits of modern electricity services to households that had no access to electricity, reducing electricity costs on islands and in other remote locations that are dependent on oil-fired generation. Thus, rooftop solar power is enabling residents and small businesses to generate their own electricity.
ASIA SOLAR PHOTOVOLTAIC PANEL MARKET
China is the undisputed renewable growth leader in the world, and it is expected to account for more than 40% of the global renewable energy mix by 2022. China has been developing strong government initiatives, meeting various capacity targets, and addressing concerns about reducing the increasing air pollution in the country, which are the factors contributing to the growth. According to IEA, China already surpassed its 2020 solar panel target.
Although India is growing exponentially in the solar field, it is still far from reaching the top as it still ranks 6th after China, European Union, United States, Japan, and Germany. India is still to reach 70% of its desired 100GW target by 2022. As of March 2019, the cumulative installed solar energy capacity in the country has crossed the 28GW mark. 
During 2018, Japan positioned second, behind China, in solar limit and created around 5% of the nation's power requirement. In 2018, the nation had 55.5 GW limit with regards to solar PV, and under the Long-term Energy Supply and Request Standpoint for FY 2030, the Service of Economy, Exchange, and Industry of Japan is meaning to build the portion of sustainable power source offer to 24% by 2030, which is required to expand the solar PV showcase in the nation and in the locale.
In 2017, the South Korean government decided that in Seoul, the country's capital, the government will implement solar panels in one-third of all households by 2022. This is expected to result in increasing the existing solar capacity by about ten times.
MARKET SIZE AND FORECAST
The solar power sector is facing challenges from alternate sources of electricity, which mainly includes gas power and wind power. As power generation from wind and gas resources are cleaner modes of energy production, the growing adoption of the same is expected to hamper the demand for solar power. Various governments worldwide have formulated favorable policies to drive wind and gas power infrastructures.
In spite of the fact that the normal cost of solar photovoltaic panels has descended radically throughout the recent decade, the expense of claiming and introducing solar photovoltaic panels is still very high and goes about as a restriction in most territories. A huge lump of the populace are not yet mindful of the expense and ecological advantages and worried about solar panels, which is additionally expected to limit the market development in key districts.
The global solar photovoltaic panel market size was estimated at $XX Billion in 2019 growing at –% CAGR till 2025
COMPANY PROFILES
Sharp Corporation
Trina Solar Ltd
Hanwha Q Cells Co. Ltd
Acciona Energia SA
Canadian Solar Inc.
Duke Energy Corporation
EDF SA
Orsted AS
| | |
| --- | --- |
| Sl no | Topic |
| 1 | Market Segmentation |
| 2 | Scope of the report |
| 3 | Abbreviations |
| 4 | Research Methodology |
| 5 | Executive Summary |
| 6 | Introduction |
| 7 | Insights from Industry stakeholders |
| 8 | Cost breakdown of Product by sub-components and average profit margin |
| 9 | Disruptive innovation in the Industry |
| 10 | Technology trends in the Industry |
| 11 | Consumer trends in the industry |
| 12 | Recent Production Milestones |
| 13 | Component Manufacturing in US, EU and China |
| 14 | COVID-19 impact on overall market |
| 15 | COVID-19 impact on Production of components |
| 16 | COVID-19 impact on Point of sale |
| 17 | Market Segmentation, Dynamics and Forecast by Geography, 2020-2025 |
| 18 | Market Segmentation, Dynamics and Forecast by Product Type, 2020-2025 |
| 19 | Market Segmentation, Dynamics and Forecast by Application, 2020-2025 |
| 20 | Market Segmentation, Dynamics and Forecast by End use, 2020-2025 |
| 21 | Product installation rate by OEM, 2020 |
| 22 | Incline/Decline in Average B-2-B selling price in past 5 years |
| 23 | Competition from substitute products |
| 24 | Gross margin and average profitability of suppliers |
| 25 | New product development in past 12 months |
| 26 | M&A in past 12 months |
| 27 | Growth strategy of leading players |
| 28 | Market share of vendors, 2020 |
| 29 | Company Profiles |
| 30 | Unmet needs and opportunity for new suppliers |
| 31 | Conclusion |
| 32 | Appendix |