GLOBAL TRACTOR TRANSMISSION MARKET
KEY FINDINGS
In India, OEMs are less interested in the R&D of powertrains, with manual transmissions have a major market share and with very few models equipped with automatic transmissions.
European OEMs are adopting Continuous variable transmissions (CVT), as they will perform at its peak efficiency, irrespective of engine speed.
CVTs will be the future of transmissions, with advantages of outstanding maneuverability, the best gear ratio and optimizing both fuel efficiency and power needs for different operations.
Some of the manufacturers do not have in-house research centers and they prefer external OEM transmission suppliers.
INTRODUCTION
The adoption of new transmissions was one of the disruptive technological advances in agricultural tractors recently. Several changes in the Human Machine Interface of the tractor have been introduced to accommodate the technology. Agricultural machinery is an important source of the emission of air pollutants in rural locations.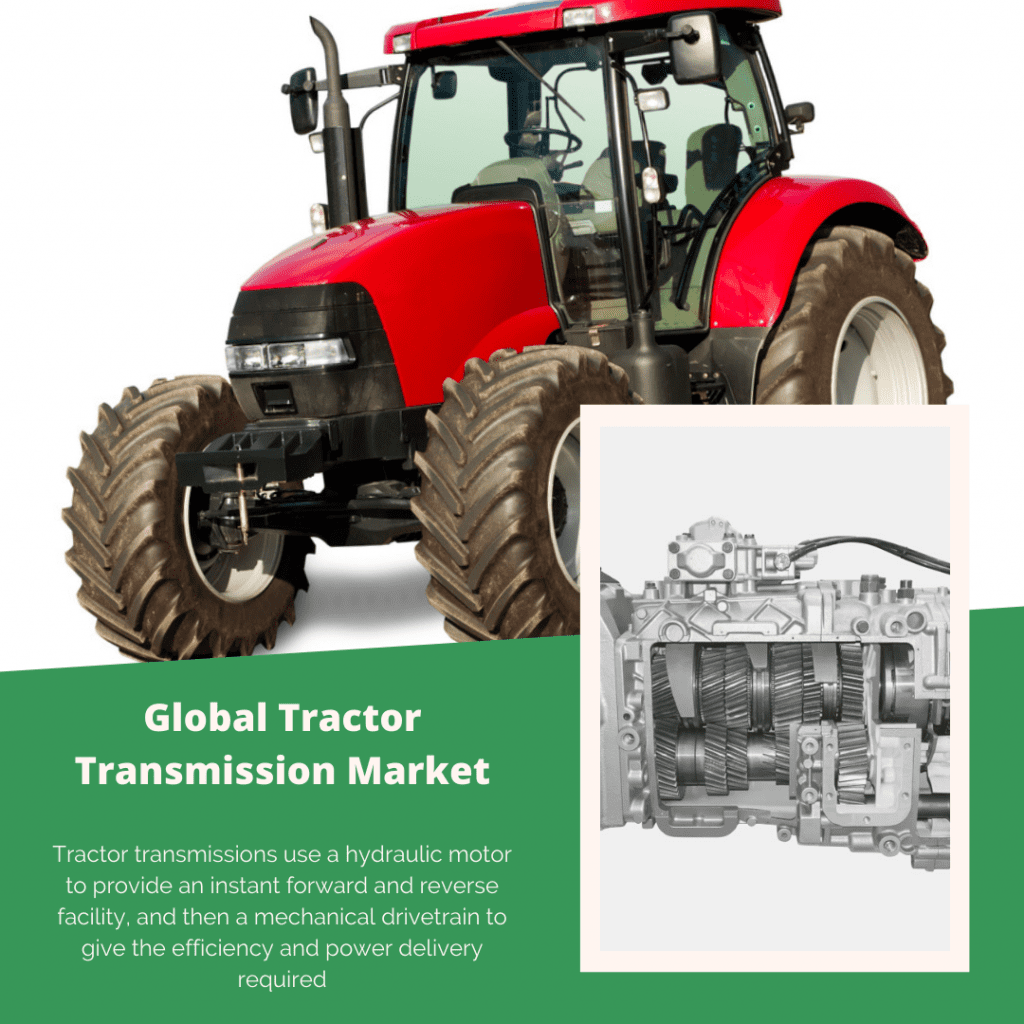 Emissions of a specific tractor engine mainly depend on engine speed which is co-related to the power transmission of the tractor. Working processes in agriculture nowadays cannot be imagined without the use of modern agricultural mechanization, especially primary power units.
TRACTOR TRANSMISSION MARKET DYNAMICS
One of the major changes has been to the transmission systems available on a modern tractor, and the choice that the potential buyer faces when purchasing a new machine. The latest trend in tractor transmissions has been the move to CVT transmissions. CVTs have been around for some years, and many mopeds, scooters, golf cars and utility vehicles use a simple belt drive CVT transmission.
 Tractor transmissions use a hydraulic motor to provide an instant forward and reverse facility, and then a mechanical drivetrain to give the efficiency and power delivery required. The newer CVT systems are yet to become fully established, but they potentially offer a real mix of the best features of the other systems, the variable speed and instant forward and reverse of the Hydrostatic transmission and the mechanical efficiency of the manual transmission.
Most of the OEMs in India prefer manual transmissions Slow, as they can have controllable speeds will be necessary for most of the operations that are performed with a tractor. They help give the farmer a larger degree of control in certain situations, such as fieldwork. However, when traveling on public roads, the slow operating speeds can cause problems, such as long lines or tailbacks, which can delay or aggravate other road users.
TRACTOR TRANSMISSION MARKET SIZE AND FORECAST
The global tractor transmission market is estimated at $XX Billion in 2020 and growing at XX% CAGR till 2025.
TRANSMISSIONS PREFERRED BY OEMS IN INDIA
| | |
| --- | --- |
| TRANSMISSION TYPE | OEM |
| CONSTANT MESH | Mahindra, Eicher, John Deere, Sonalika, New Holland, Swaraj, VST Shakti. |
| SLIDING MESH | Massey Ferguson, Eicher, IMT Tractors, Sonalika, Swaraj, VST Shakti. |
| SYNCHROMESH | Mahindra, John Deere, Sonalika, New Holland, Swaraj, VST Shakti. |
| PARTIAL CONSTANT MESH | Mahindra, Massey Ferguson |
TRANSMISSIONS PREFERRED BY OEMS IN US
| | |
| --- | --- |
| TRANSMISSION TYPE | OEM |
| HYDROSTATIC | John Deere, Massey Ferguson, Mahindra USA |
| POWERSHIFT | John Deere, Case IH, New Holland, Massey Ferguson |
| SYNCHRO-SHUTTLE | Case IH, New Holland |
| CVT | Massey Ferguson, Claas, Challenger |
| SYNCHROMESH | Mahindra USA |
TRANSMISSIONS PREFERRED BY OEMS IN EUROPE
| | |
| --- | --- |
| TRANSMISSION TYPE | OEM |
| POWERSHIFT | Case IH, New Holland, John Deere, Kubota, Claas, Steyr |
| SYNCHRO-SHUTTLE | Case IH, New Holland, Fendt, Kubota, Steyr |
| CVT | Case IH, New Holland, Kubota, Claas, Deutz-Fahr, Steyr |
COMPETITIVE LANDSCAPE
John Deere has unveiled the "world's first" continuously variable transmission with an electro-mechanical power split, including an implemented interface. This new concept (for 8R Series tractors) has been awarded  gold medal by the Agritechnica Innovation Commission jury. On the new so-called 'eAutoPowr' transmission, John Deere has replaced the hydraulic components with an electric power path. Another apparent advantage of eAutoPowr is its increased efficiency, especially in the partial load range. Additional operator benefits include "very precise speed regulation and better acceleration"
New Holland combining the FPT NEF 6-cylinder engine with New Dual Clutch and CVT (continuously variable transmission) technology provides high efficiency and productivity. Included on the tractor is a 24×24 Dynamic Command transmission developed in-house by New Holland. It features 8-step push-button gear changes using Dual Clutch technology as well as three push-button.
Komatsu released its dozer featuring a hydrostatic transmission (HST). The HST ensures the dozer is effective at grading, pushing, side-cutting and working on soft ground, providing operators with the flexibility to move from production to finishing with a single machine.
The AGCO's group Challenger Accu-V continuously variable transmission (CVT) is engineered to optimize the benefits of track tractors. Accu-VT can achieve ground speed from 65 feet per hour to as much as 25 mph, all at reduced engine speed. The Tractor Management System (TMS) automatically controls engine speed and transmission ratio to ensure constant ground speed.
Case IH with its Puma series tractors, equipped with CVXDrive continuously variable transmission provides intuitive operation and smooth, seamless power transfer through varying conditions without torque interruption. By selecting the target speed, the transmission automatically adjusts to deliver the desired speed to match load conditions. When equipped with CVXDrive, updated Puma models incorporate several drivability enhancements.
COMPANIES PROFILED