Global Tractor Market 2020-2025
July 8, 2020

Request Sample
Coming Soon
Multi User License - $2,500
INTRODUCTION
Tractors are among the most important agricultural equipment sold globally. In 2019, they accounted for 32% of global spending on agricultural equipment.
GLOBAL TRACTOR MARKET DYNAMICS
Uuncertainty in overall global markets due to COVID-19 undoubtedly had a major impact on equipment purchases including tractor sales in most part of H1-2020 but Q2-2020 onwards green shoots started appearing in all major markets including India.
High Diesel prices in India have already increased the operation cost of farmers who have been battling with various other financial issues. This is an important risk to the market.
Electrification and autonomous features are the way forward for tractor industry much like the auto industry. In Jan 2020, Kubota introduced an unmanned, X Tractor, which is not only electric, but also smart enough to determine the best time for planting and collecting plants.
US TRACTOR MARKET
In 2019, total U.S. farm tractor sales grew 3.6% to 244k units. In Feb 2020,4WD and 100+ HP tractors showed excellent sales gains YOY.
In May 2020, U.S. total farm tractor sales rose 15.1% YOY 2019. The <100 HP segments is growing due to COVID-19-related quarantines. It essentially implies that as large home property owners and hobby farmers spend more time at home they now want to upgrade and invest in their equipment.
Row-crop tractors and harvesters mostly used on commercial farming operations have shown a decline which can be attributed to the reflection of uncertainty in the overall agricultural economy.
The net farm income has been falling in the past six years, and almost halved to $63 Billion in 2018 from ~$123 Billion in 2013.
INDIA TRACTOR MARKET
India is world`s biggest tractor market with over 700k units sold in 2019-2020
India tractor market has come out unscathed as the COVID pandemic rages within the country. Rural markets are leading the rebound even as many urban and semi urban centres remain under partial lockdown.
The tractor is also insulated from the ongoing "boycott china" sentiments as it has negligible dependence on China for components. Almost 95% of components are produced locally.
After implementing BS6 emission norms (equivalent of Euro 6) for auto industry, the tractor market is now gearing up to adopt BS TR-Tractor EM-Emission (TREM) 4 norms (for tractors over 50 HP) by October 2020.
The switch to BS TREM 4 could impact ~7-10% of overall industry volumes in the fiscal year, as the prices are likely to go up by $1,800 -$2,500 per tractor. The tractors below 50 HP segment will migrate to the new norms by October 2023.
On the manufacturer side, the migration to the new norms would require an upgradation of fuel injection system, exhaust after-treatment and the electronic control unit costing ~$2 Million per manufacturer per engine type.
EUROPE TRACTOR MARKET
In Germany, tractor sales grew by 2.6% YOY to finish at 29K units. More than 74% of overall sales was for Tractors with more than 50HP output.
In UK very few tractors are made locally, CNH Industrial's New Holland plant in Essex  and JCB's Fastrac plant near Cheadle, Staffordshire are the only two important manufacturing locations in UK.
UK sources various high horsepower models from US. UK tractor registrations in June 2020 declined by 15% YOY. Many tractor productions plants have started production post lockdown, although at a much lower capacity.
Turkey is one of the biggest tractor markets in Europe.

CHINA TRACTOR MARKET
China`s farm mechanization rate is estimated at 69% in Q1-2020. It is still low as compared to developed markets and that is where a big opportunity lies.
China officially pulled out of buying U.S. agricultural products, in Q3-2019. This will have a direct bearing on American farmers are China is one of their biggest customers. China bought ~$6 Billion worth of agricultural produce in 2018 before tariffs came in.
On the flip side the domestic Chinese farmers and other countries will directly benefit from this move.
China's agricultural machinery sector is big in terms of volumes but underdeveloped in terms of technology. Until recently, most Chinese manufacturers only manufacture low-end equipment which find buyers in the domestic market and a few African markets. They were not well suited for exports to US or Europe. But in recent past there has been heavy investments made by European and American manufacturers.
Earlier, to plug this gap of high end equipment, many Chinese farmers get used agricultural equipment from US and Europe at lower prices.
TRACTOR MARKET SEGMENTATION
By Geography
US
China
Russia
India
France
Germany
UK
Italy
Spain
Japan
Latin America
Rest of the world
By Tractor power
By Application
Agriculture
Lawn & garden
Forestry
Earthmoving
Sports turf
GLOBAL TRACTOR MARKET SIZE AND FORECAST
The global Tractor market is estimated at $XXM in 2020 growing at –% CAGR till 2025.
The global tractor sales volume was ~2.1 Million units in 2019 a rise of 10% compared to 1.9 Million units in 2016.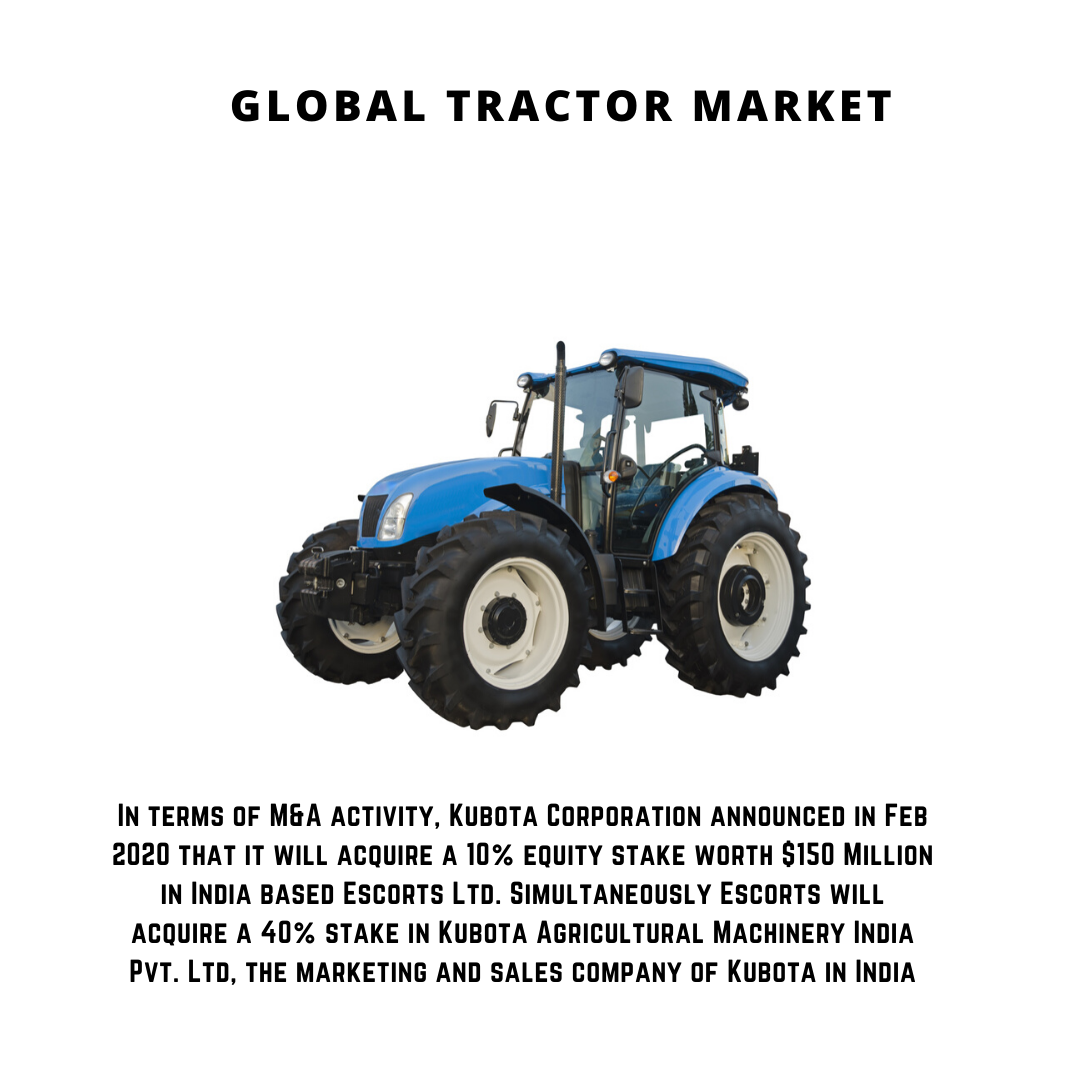 Europe still accounts for more than 60% of global tractor exports compared to just 18% of Asian manufacturers, despite the fact that Asian market accounts for 60% share of global tractor sales.
COMPETITIVE LANDSCAPE
In terms of M&A activity, Kubota Corporation announced in Feb 2020 that it will acquire a 10% equity stake worth $150 Million in India based Escorts Ltd. Simultaneously Escorts will acquire a 40% stake in Kubota Agricultural Machinery India Pvt. Ltd, the marketing and sales company of Kubota in India.
Much like the auto industry, the global tractor market supply chain is quite diverse. Fiat powertrain is a leading supplier of engines and ZF is one of the biggest suppliers of automatic transmission used on tractors worldwide. Dana supplies axles to Fendt
COMPANY PROFILES
Foton
First Tractor Company
THIS TRACTOR MARKET REPORT WILL ANSWER THE FOLLOWING QUESTIONS
Market Size and Forecast. Thousand units and $M (2020-2025)
COVID-19 impact on Tractor purchase
New product development strategies of Top 5 OEM
Upcoming emission legislations worldwide
Market share of leading vendors,2020
| | |
| --- | --- |
| Sl no | Topic |
| 1 | Market Segmentation |
| 2 | Scope of the report |
| 3 | Abbreviations |
| 4 | Research Methodology |
| 5 | Executive Summary |
| 6 | Introduction |
| 7 | Insights from Industry stakeholders |
| 8 | Cost breakdown of Product by sub-components and average profit margin |
| 9 | Disruptive innovation in the Industry |
| 10 | Technology trends in the Industry |
| 11 | Consumer trends in the industry |
| 12 | Recent Production Milestones |
| 13 | Component Manufacturing in US, EU and China |
| 14 | COVID-19 impact on overall market |
| 15 | COVID-19 impact on Production of components |
| 16 | COVID-19 impact on Point of sale |
| 17 | Market Segmentation, Dynamics and Forecast by Geography, 2020-2025 |
| 18 | Market Segmentation, Dynamics and Forecast by Product Type, 2020-2025 |
| 19 | Market Segmentation, Dynamics and Forecast by Application, 2020-2025 |
| 20 | Market Segmentation, Dynamics and Forecast by End use, 2020-2025 |
| 21 | Product installation rate by OEM, 2020 |
| 22 | Incline/Decline in Average B-2-B selling price in past 5 years |
| 23 | Competition from substitute products |
| 24 | Gross margin and average profitability of suppliers |
| 25 | New product development in past 12 months |
| 26 | M&A in past 12 months |
| 27 | Growth strategy of leading players |
| 28 | Market share of vendors, 2020 |
| 29 | Company Profiles |
| 30 | Unmet needs and opportunity for new suppliers |
| 31 | Conclusion |
| 32 | Appendix |