Global Automatic Transmission Market 2020-2025
March 19, 2020

Request Sample
Coming Soon
Multi User License - $2,500
GLOBAL AUTOMATIC TRANSMISSION MARKET
INTRODUCTION
Transmitting the engine power to the wheels is the primary job of the transmission built in an automobile. Automatic Transmission in particular makes life lot easier by automatically changing the gear ratios, unlike in a manual transmission where gear shifting was to be done manually by the driver. This ease of operation has been the major factor for the rise in the automatic transmission market globally. The four types of automated transmissions are
Torque converter Automatic Transmission
Automated Manual Transmission
Continuously Variable Transmission
Dual Clutch Transmission
MARKET SEGMENTATION
By Vehicle Type
Passenger Cars
Commercial Vehicles
By Geography
US
China
Europe
Japan
ASEAN
Latin America
India
ROW
By OEM
GM
Toyota
VW
Hyundai-KIA
Ford
FCA
Honda
Renault-Nissan
Other OEMs
By Transmission Type
Torque converter Automatic
Automated Manual
CVT
Dual Clutch
MARKET DYNAMICS
The demand for automatic transmission vehicles has been growing in Europe ,China and India over the years due to change in consumer behavior particularly in bigger cities. 6-speed and 8-speed automatic transmission are becoming popular. Ford and GM have also introduced 10 speed automatic transmission. The below chart depict the global automatic transmission penetration globally.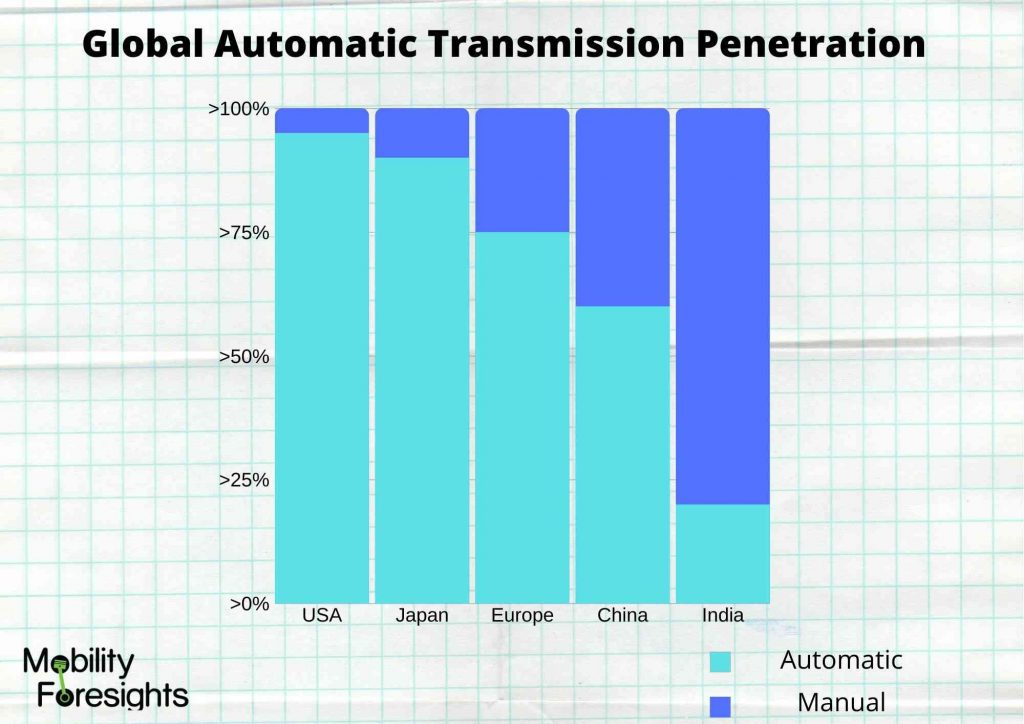 MARKET BASED ON TRANSMISSION TYPE
Torque converter Automatic transmission has its roots in North America and more than 70% vehicles sold in the US and Canada market have this transmission as standard fitment. They are also better suited to  high torque application.
Continuous Variable Transmission (CVT) is the most widely used type of automatic transmission by Japanese OEMs due to its smooth gear shifting and increased fuel efficiency.
Automatic Manual Transmission (AMT) a type of transmission with conventional gearbox and an electronically controlled clutch and gear actuators. These are popular in lower segment application and low cost country like India, due to lower premium($600) as compared to CVT/DCT and torque converter automatics which carry a premium of $1,200-$1,500 over Manual transmission.
DCT (Dual Clutch Transmission) is found in premium cars and is rated the best among driving enthusiasts. DCTs have dual clutch technology where one clutch pack helps in disengaging and other to engage thus, eliminating the slip found in others. However, complex setup and higher recalls  has hindered its growth of late.
US AUTOMATIC TRANSMISSION MARKET
US is the biggest automatic transmission market in the world. 4 and 5 speed torque converter automatics dominated global markets during 1990-early 2000s but for the past 10 years or so 6 speed ATs are the norm in the mass segment and 8 speed ATs in the premium segment
Toyota, the only Asian OEM with more than 10% market share of US market now offers E-CVT on its best-selling vehicles including Camry, RAV-4 and Tacoma.
The 10-speed Torque converter Automatic developed by Ford and GM in partnership is now offered on many high volume vehicles like Explorer, F-150, Chevrolet Silverado, GMC Sierra. FCA is still dependent on ZF for sourcing 8 Speed Automatic transmission for its best-seller truck RAM 1500.
Torque converter automatic Transmission is mostly used in Commercial vehicles(Ex school bus, Transit bus, food trucks) due to their low maintenance cost and ease of driving.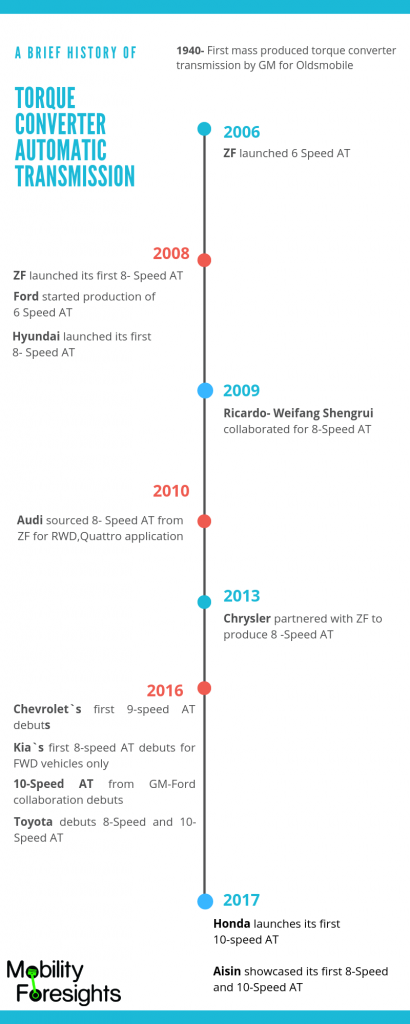 EUROPE AUTOMATIC TRANSMISSION MARKET
The Automatic transmission penetration has grown from 25% in 2014 to ~44% in 2019.All top- selling passenger vehicles are launched with automatic transmission variant at-least as an option.
DCT transmission is the most preferred automatic transmission type in the EU market, followed by Torque converter and CVT transmission. AMT transmission equipped cars are almost non-existent.
The Premium OEMs have RWD setup for many Diesel cars and thus prefer Torque converter automatics instead of DCT. Now, that Diesel share in new car sales have been declining and Petrol-Hybrid share is gaining, we expect CVT and DCT to conquest Torque converter`s share in short-medium term.
CHINA AUTOMATIC TRANSMISSION MARKET
China had a very high share of manual transmission equipped cars until 2010 but post 2010 when Auto industry started showing signs of maturity, the gradual shift to Automatic cars happened.
DCT and CVT transmission cars are most sought after, followed by torque converter automatics as China is a gasoline dominant market.
China is the largest automobile market in the world right now is providing Automatic transmission for few of their top selling cars such as Haval H6, Toyota Corolla and Nissan Sylphy.
Automatic transmission market in China is expected to be the fastest growing market in the upcoming years.
INDIA AUTOMATIC TRANSMISSION MARKET
Automatic Transmission equipped cars have started getting prominence in India only after 2014, when Maruti launched its first mass segment AMT powered Celerio . Now,AMT transmission can be commonly found in various entry level affordable cars of Tata, Maruti and Hyundai. DCT option is limited to premium cars only, with Hyundai-KIA leading the charge across multiple segments.
We expect DCT transmission to gain at-least 5% extra share from manual transmission in >$15,000 cars in next 2-3 years.
MARKET SIZE AND FORECAST
The major factor driving the automatic transmission market is emergence of production of light weight passenger cars. Also the rise in EVs across the globe has propelled the automatic transmission market but almost all of them have just one reduction gear as compared to 6-8 in ICE vehicles.
The sale of high end SUVs and premium cars will boost the automatic transmission market.
The global Automatic transmission market is estimated at $XX Billion in 2019, growing at 5% CAGR till 2025. COVID-19 will have a significant impact on Auto production as well as Automatic transmission fitment. We are updating our projections to reflect the same.
RECENT PARTNERSHIP IN AUTOMATIC TRANSMISSION SECTOR
ZF Group to supply 8 speed automatic transmissions to Fiat Chrysler Automobiles (FCA) for RWD and AWD vehicles.
NEW LAUNCHES
Hyundai and Kia have announced the development of ICT (Information and Communication Technology) connected automatic transmission system.
ZF to manufacture an enhanced 8 speed automatic transmissions for BMW's hybrid cars.
Honda has filed a patent for transmission system with 11 gears and 3 clutches. It has been designed to improve efficiency while decreasing the loss of torque.
COMPETITIVE LANDSCAPE
The key players in the automatic transmission sector are ZF Friedrichshafen AG (Germany), Eaton Corporation (Ireland), Aisin Seiki Co, Ltd (Japan), Allison Transmission (U.S), Jatco Corporation (Japan), BorgWarner Inc (U.S) and Schaeffler AG (Germany). Manufacturers are focusing on providing cost-effective solution without compromising the performance of the vehicle.
BorgWarner supplies DCT modules to more than 15 OEMs worldwide whereas ZF supplies its 8HP automatic transmission to various OEMs including BMW, JLR and FCA
Magnettti Marelli is the leading supplier of AMT transmission. Jatco is the biggest supplier of CVT transmsision worldwide. Hyundai-Transys supplies DCT transmission to all models of Hyundai-KIA.
COMPANY PROFILE
Jatco Corporation
Weifang Shengrui Power Machinery Technology Company
GKN Automotive
Oerlikon Graziano
Dana Incorporated
Magna International Inc
| | |
| --- | --- |
| Sl no | Topic |
| 1 | Market Segmentation |
| 2 | Scope of the report |
| 3 | Abbreviations |
| 4 | Research Methodology |
| 5 | Executive Summary |
| 6 | Introduction |
| 7 | Insights from Industry stakeholders |
| 8 | Cost breakdown of Product by sub-components and average profit margin |
| 9 | Disruptive innovation in the Industry |
| 10 | Technology trends in the Industry |
| 11 | Consumer trends in the industry |
| 12 | Recent Production Milestones |
| 13 | Component Manufacturing in US, EU and China |
| 14 | COVID-19 impact on overall market |
| 15 | COVID-19 impact on Production of components |
| 16 | COVID-19 impact on Point of sale |
| 17 | Market Segmentation, Dynamics and Forecast by Geography, 2020-2025 |
| 18 | Market Segmentation, Dynamics and Forecast by Product Type, 2020-2025 |
| 19 | Market Segmentation, Dynamics and Forecast by Application, 2020-2025 |
| 20 | Market Segmentation, Dynamics and Forecast by End use, 2020-2025 |
| 21 | Product installation rate by OEM, 2020 |
| 22 | Incline/Decline in Average B-2-B selling price in past 5 years |
| 23 | Competition from substitute products |
| 24 | Gross margin and average profitability of suppliers |
| 25 | New product development in past 12 months |
| 26 | M&A in past 12 months |
| 27 | Growth strategy of leading players |
| 28 | Market share of vendors, 2020 |
| 29 | Company Profiles |
| 30 | Unmet needs and opportunity for new suppliers |
| 31 | Conclusion |
| 32 | Appendix |