Global Automotive Fuel Cell Market 2020-2025
September 25, 2020

Request Sample
Coming Soon
Multi User License - $2,500
GLOBAL AUTOMOTIVE FUEL CELL MARKET
INTRODUCTION
Hydrogen + Oxygen = Electricity + Water Vapor
That's the basic principle of which Fuel cell works
There are four basic elements of a PEM Fuel Cell:
The anode, the negative post of the fuel cell, has several jobs. It conducts the electrons that are freed from the hydrogen molecules so that they can be used in an external circuit.
It has channels etched into it that disperse the hydrogen gas equally over the surface of the catalyst.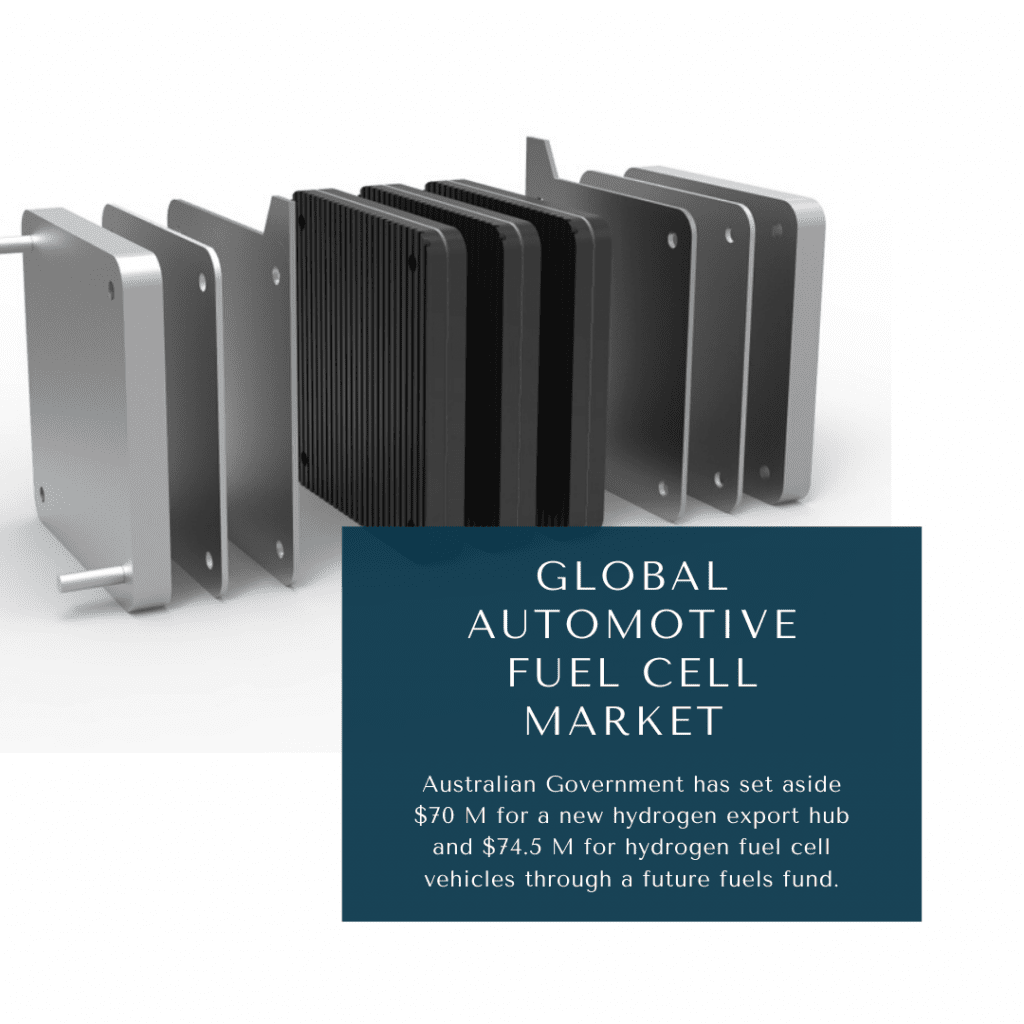 The cathode, the positive post of the fuel cell, has channels etched into it that distribute the oxygen to the surface of the catalyst. It also conducts the electrons back from the external circuit to the catalyst, where they can recombine with the hydrogen ions and oxygen to form water.
The electrolyte is the proton exchange membrane. This specially treated material, which looks something like ordinary kitchen plastic wrap, only conducts positively charged ions. The membrane blocks electrons. For a PEMFC, the membrane must be hydrated in order to function and remain stable.
The catalyst is a special material that facilitates the reaction of oxygen and hydrogen. It is usually made of platinum nanoparticles very thinly coated onto carbon paper or cloth. The catalyst is rough and porous so that the maximum surface area of the platinum can be exposed to the hydrogen or oxygen. The platinum-coated side of the catalyst faces the PEM.
ADVANTAGES AND DISADVANTAGES OF AUTOMOTIVE FUEL CELL
Advantages of the technology:
By converting chemical potential energy directly into electrical energy, fuel cells avoid the "thermal bottleneck" (a consequence of the 2nd law of thermodynamics) and are thus inherently more efficient than combustion engines, which must first convert chemical potential energy into heat, and then mechanical work.
Direct emissions from a fuel cell vehicle are just water and a little heat. This is a huge improvement over the internal combustion engine's litany of greenhouse gases.
Fuel cells have no moving parts. They are thus much more reliable than traditional engines.
Hydrogen can be produced in an environmentally friendly manner, while oil extraction and refining is very damaging.
Disadvantages of the technology:
hydrogen is in the gas state at room temperature and pressure, so it is difficult to store in the car
fuel cells and electric motors are less durable than petrol engines and diesel engines, so they are not so long-lasting
fuel cells are very expensive
there is no countrywide network of hydrogen filling stations at the moment
some methods of producing the hydrogen fuel release carbon dioxide and other pollutants into the atmosphere
There are also safety concerns about the use of hydrogen because it is highly flammable.
Governments pushing for Hydrogen Fuel Cell
A fuel cell station costs $700,000 – $800,00 to build
AUTOMOTIVE FUEL CELL MARKET DYMANICS
China is pushing for fuel cell development throughout the country. Subsidies are available and incentives are provided for developing fuel cell vehicles. There is a set-up of the hydrogen power corridor across China.
Chengdu and Chongqing are applying for government subsidies to develop a hydrogen corridor. Shanghai, Foshan, and Beijing are also cities focusing on using fuel cell vehicles throughout the city. Government hopes for cities and OEMs to capture the incentive and subsidies creating competition for developing technology
South Korea has looked into developing fuel cell vehicles for more than a decade. At Seosan, South Chungcheong Province a 50 MegaWatt secondary hydrogen fuel cell power plant is being constructed .
Bloom Energy and SK Engineering and Construction have powered on two fuel cell complexes in the Gyeonggi province of South Korea. The fuel cell technology development is jointly funded by government and private agencies to incorporate advantages from both sides.
The fuel cell development will also include automobile as well as general energy supply.
Australian Government has set aside $70 M for a new hydrogen export hub and $74.5 M for hydrogen fuel cell vehicles through a future fuels fund.
In USA, California set apart $39.1 Million for Hydrogen Fuel Stations to create 36 new hydrogen fuel cell stations. Fuel cell drivers are eligible for a federal tax credit of up to $8,000 and a rebate from the state of $4,500
Japan is the leader in the development of fuel cells and have sold Mirai and Sora for over 5 years. For the olympics, Japan plans to build 35 hydrogen fuel stations in Tokyo alone with a goal of 80 stations and 100,000 fuel cell vehicles in the country by 2025
AUTOMOTIVE FUEL CELL MARKET SIZE AND FORECAST
Due to the push received by various governments, the automobile industry will have a minor shift towards fuel cell vehicles in the next 5 years mainly in China, Japan and South Korea.
The global outreach will take some more time and in the next 15 years fuel cell vehicles will be popular on roads. The main difficulty of storage and fuel cell stations will be key for the wide spread reach of this technology
The global automotive fuel cell market is estimated at $XX Million in 2020, growing at –% CAGR till 2025.
COMPANY PROFILES
| | |
| --- | --- |
| Sl no | Topic |
| 1 | Market Segmentation |
| 2 | Scope of the report |
| 3 | Abbreviations |
| 4 | Research Methodology |
| 5 | Executive Summary |
| 6 | Introduction |
| 7 | Insights from Industry stakeholders |
| 8 | Cost breakdown of Product by sub-components and average profit margin |
| 9 | Disruptive innovation in the Industry |
| 10 | Technology trends in the Industry |
| 11 | Consumer trends in the industry |
| 12 | Recent Production Milestones |
| 13 | Component Manufacturing in US, EU and China |
| 14 | COVID-19 impact on overall market |
| 15 | COVID-19 impact on Production of components |
| 16 | COVID-19 impact on Point of sale |
| 17 | Market Segmentation, Dynamics and Forecast by Geography, 2020-2025 |
| 18 | Market Segmentation, Dynamics and Forecast by Product Type, 2020-2025 |
| 19 | Market Segmentation, Dynamics and Forecast by Application, 2020-2025 |
| 20 | Market Segmentation, Dynamics and Forecast by End use, 2020-2025 |
| 21 | Product installation rate by OEM, 2020 |
| 22 | Incline/Decline in Average B-2-B selling price in past 5 years |
| 23 | Competition from substitute products |
| 24 | Gross margin and average profitability of suppliers |
| 25 | New product development in past 12 months |
| 26 | M&A in past 12 months |
| 27 | Growth strategy of leading players |
| 28 | Market share of vendors, 2020 |
| 29 | Company Profiles |
| 30 | Unmet needs and opportunity for new suppliers |
| 31 | Conclusion |
| 32 | Appendix |