Global Automotive Instrument Cluster Market 2020-2025
April 11, 2020

Request Sample
Coming Soon
Multi User License - $2,500
GLOBAL AUTOMOTIVE INSTRUMENT CLUSTER MARKET
INTRODUCTION
Automotive Instrument cluster is a set of instruments and gauges that helps in understanding the functioning of vehicle at a single glance. Instrument cluster comprises of speedometer, tachometer, fuel gauge, warning indicators, pointers, sensors and electronic control unit. The display can be either of analog, digital or hybrid. It ensures driver's safety as it keeps track  of car's health and movement.
The growth in technology, has driven the demand for digital and hybrid instrument panels are driving factors of this market(by value).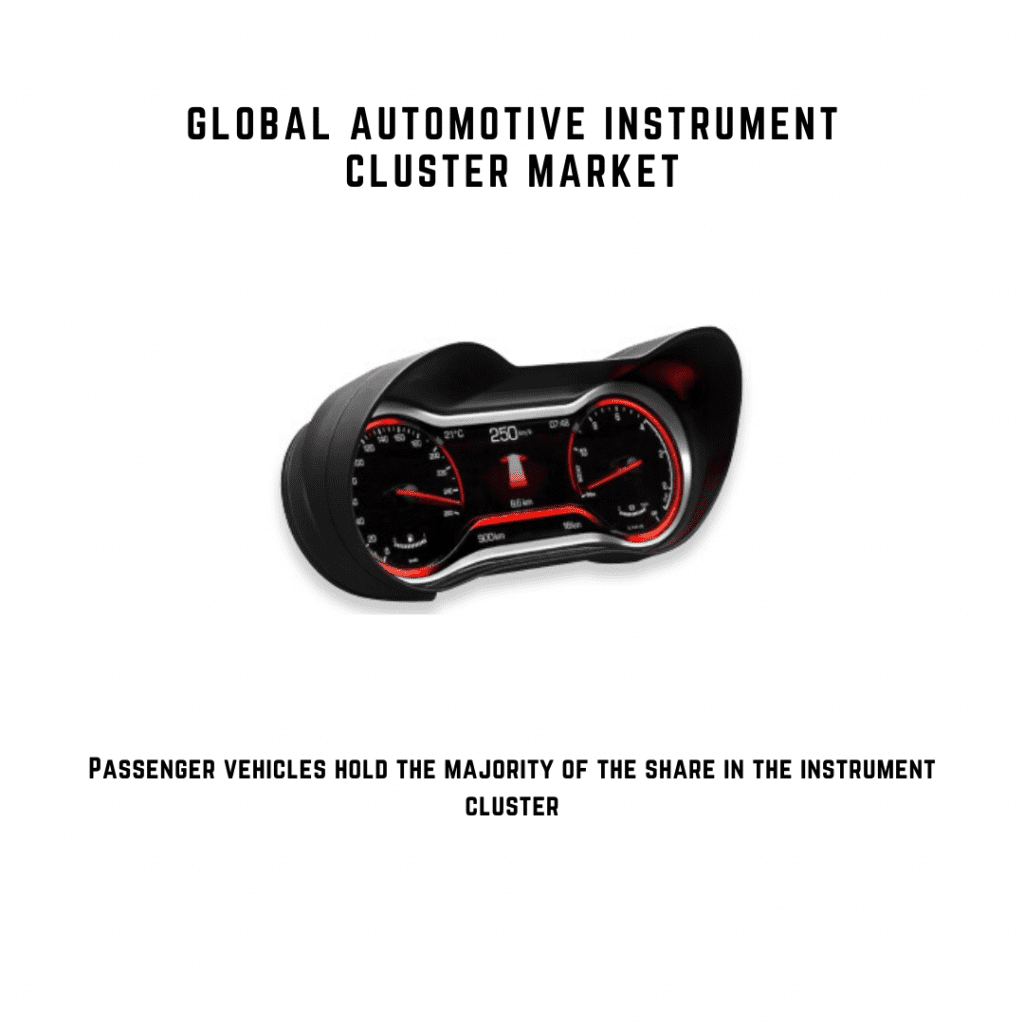 MARKET SEGMENTATION
By Technology
By OEM
GM
Toyota
Hyundai-KIA
Renault-Nissan
Honda
VW
BMW
Audi
Daimler
20 other OEMs
By Vehicle Type
Passenger Cars
Commercial Vehicles
Two Wheelers
By Geography
US
Europe
India
ASEAN
China
Japan
ROW
MARKET DYNAMICS
Rise in demand for high end passenger cars across the world is driving the Digital instrument cluster market.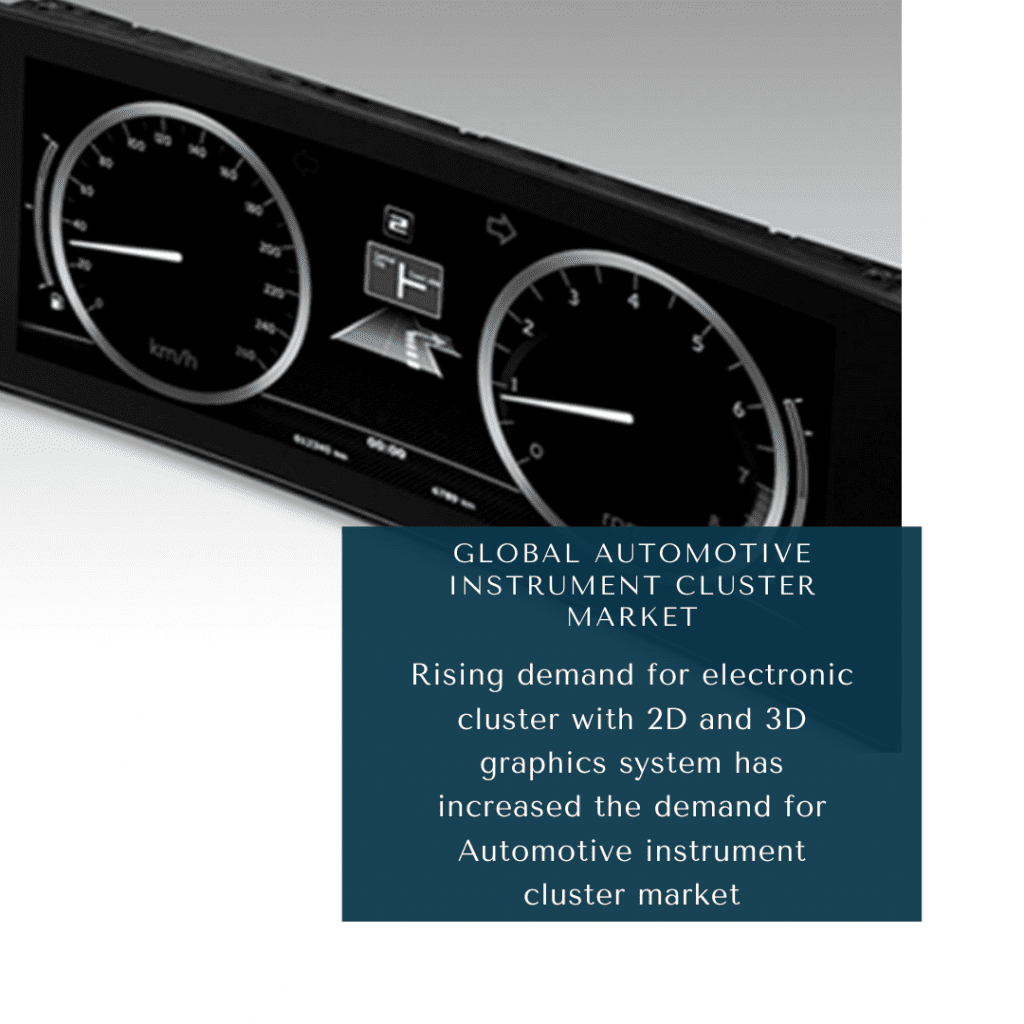 The electronic components such as display screen (mostly LCD), integrated chips, and control units are available readily and cheaper in cost. This has been a major factor in expanding the market. 
MARKET BASED ON TECHNOLOGY
On the basis of technology hybrid instrument cluster is expected to dominate the market. Its ability to integrate both analog and digital has been the factor for this. The rise in electric vehicles and adoption of hybrid instrument clusters in commercial vehicles is expected to boost the market.
The digital instrument cluster market accounts for a small share of the market but has been growing at the fastest rate,especially in China. 
The conventional analog instrument clusters can still be found in almost all entry level passenger cars. 
The below chart shows the market share based on the technology: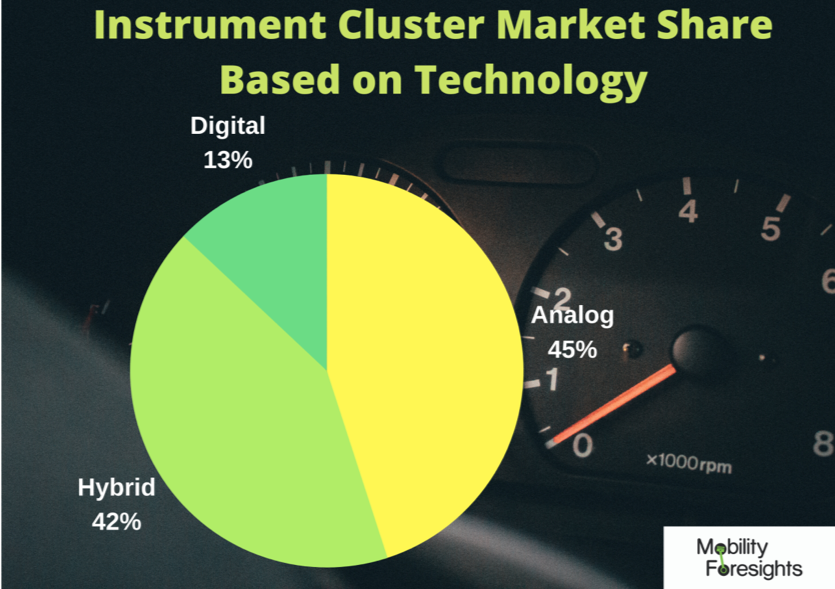 MARKET BY VEHICLE TYPE
Passenger vehicles hold the majority of the share in the instrument cluster. High-end passenger vehicles attract larger market share as mostly they will be hybrid type and feature more options than other segment.
Globally, 10 Million commercial vehicles are sold per annum, which is ~12-15% of passenger cars sold and ~20% of two-wheelers sold per annum.
The 2 wheelers are sold in high numbers in Asia region, account for a sizeable instrument cluster market volume in the region. The MY 2018 onward  vehicles launched in the Asian market have a much higher Digital content.
US AUTOMOTIVE INSTRUMENT CLUSTER MARKET
The demand for SUVs and crossovers( 55% share in new car sales in 2019) will increase the instrument cluster market value in the country. Many top selling SUVs in US are fitted with digital instrument cluster as a standard option.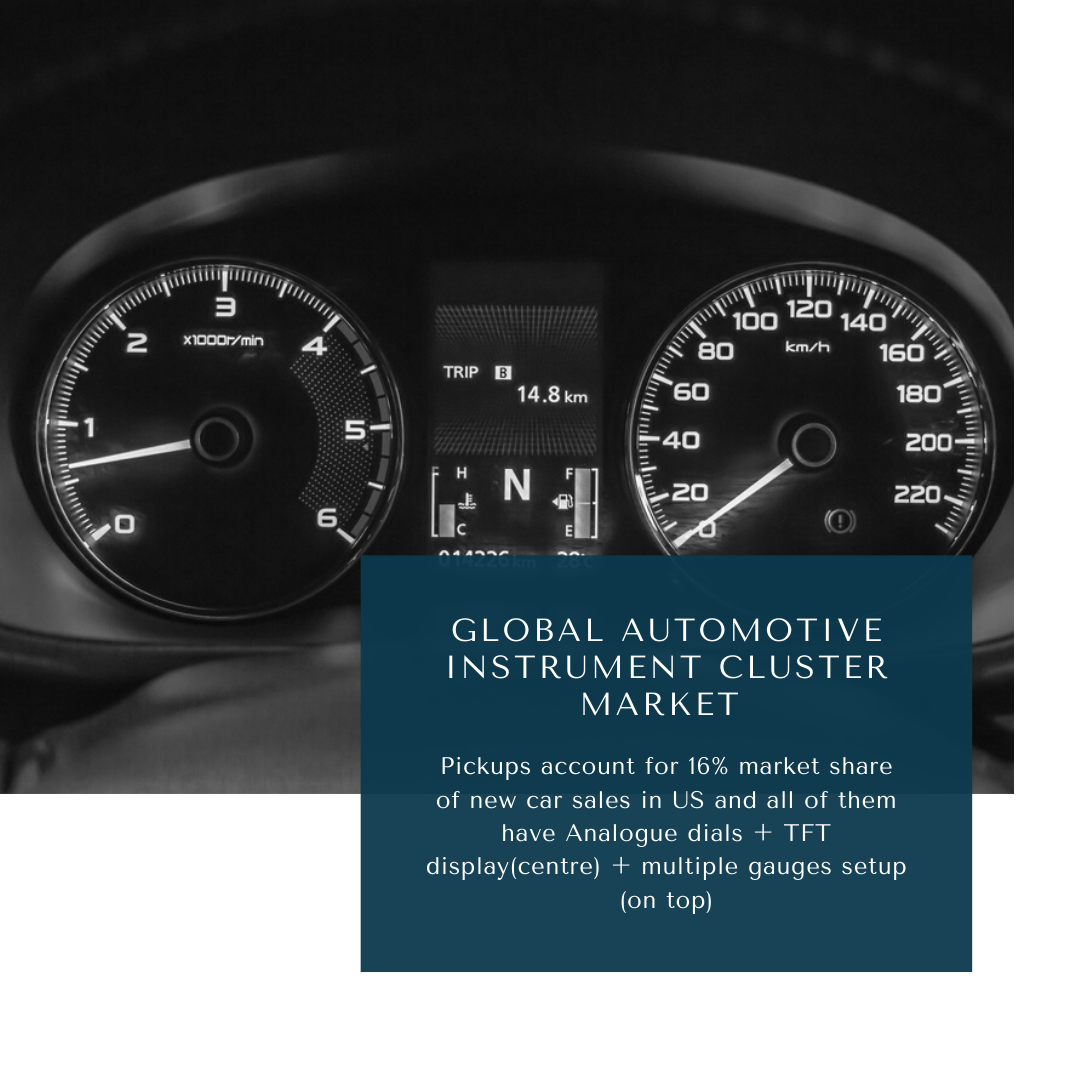 Pickups account for 16% market share of new car sales in US and all of them have Analogue dials + TFT display(centre) + multiple gauges setup (on top). Ford F-150, the top-selling US vehicle for more than four decades gets a 8 inch TFT display in centre for higher variants and 4.2 inch display for lower variants. 
EUROPE AUTOMOTIVE INSTRUMENT CLUSTER MARKET
High share of Premium and Luxury car sales in Europe region has boosted the Automotive Instrument cluster market immensely, by Value.
All of the top selling models in Europe feature hybrid instrument cluster. The rise in sale of electric vehicles(+42% YOY 2019) has led to rise in hybrid and digital instrument clusters across Europe.
VW now offers biggest range of Digital instrument cluster starting from Polo, Golf, to Tiguan, Passat across multiple variants.
Among French OEMs, Renault offers a 7- inch TFT Display on many top-selling vehicles but not on its Budget brand Dacia. PSA group offers Digital instrument cluster on best-selling SUVs like 208,3008 and 2008.
CHINA AUTOMOTIVE INSTRUMENT CLUSTER MARKET
Among the top selling vehicles most of them are fitted with hybrid instrument cluster, except for the budget cars such as Wuling Hongguang and Volkswagen Lavida which still have  analogue instrument panel.
The 2 wheeler market share is one of the highest in the world. This will increase the instrument cluster share among 2 wheelers.
JAPAN AUTOMOTIVE INSTRUMENT CLUSTER MARKET
Most of the top selling passenger vehicles are hybrid type instrument cluster. Very few are digital type such as Toyota Prius. The companies manufacturing instrument from Japan cluster are continuously investing on R&D to improve technology, this will boost the Japan's market in this sector.
INDIA AUTOMOTIVE INSTRUMENT CLUSTER MARKET
Till 2016, almost all cars sold in India had same instrument cluster provided on all variants except different tachometer readings in case of Petrol and Diesel. But, now there is clear differentiation between lower segment variants and higher segment variants of the same vehicle, and the design on Instrument cluster varies. Ex- 2019 Mahindra XUV 300, Hyundai Venue, 2020 Hyundai Creta. 
Except for Suzuki Baleno and Kia Seltos most of the top selling cars have analog instrument cluster.  Analog instrument clusters holds the majority of share as they occupy all the top selling budget cars. However, the hybrid instrument cluster is slowly seeing the rise.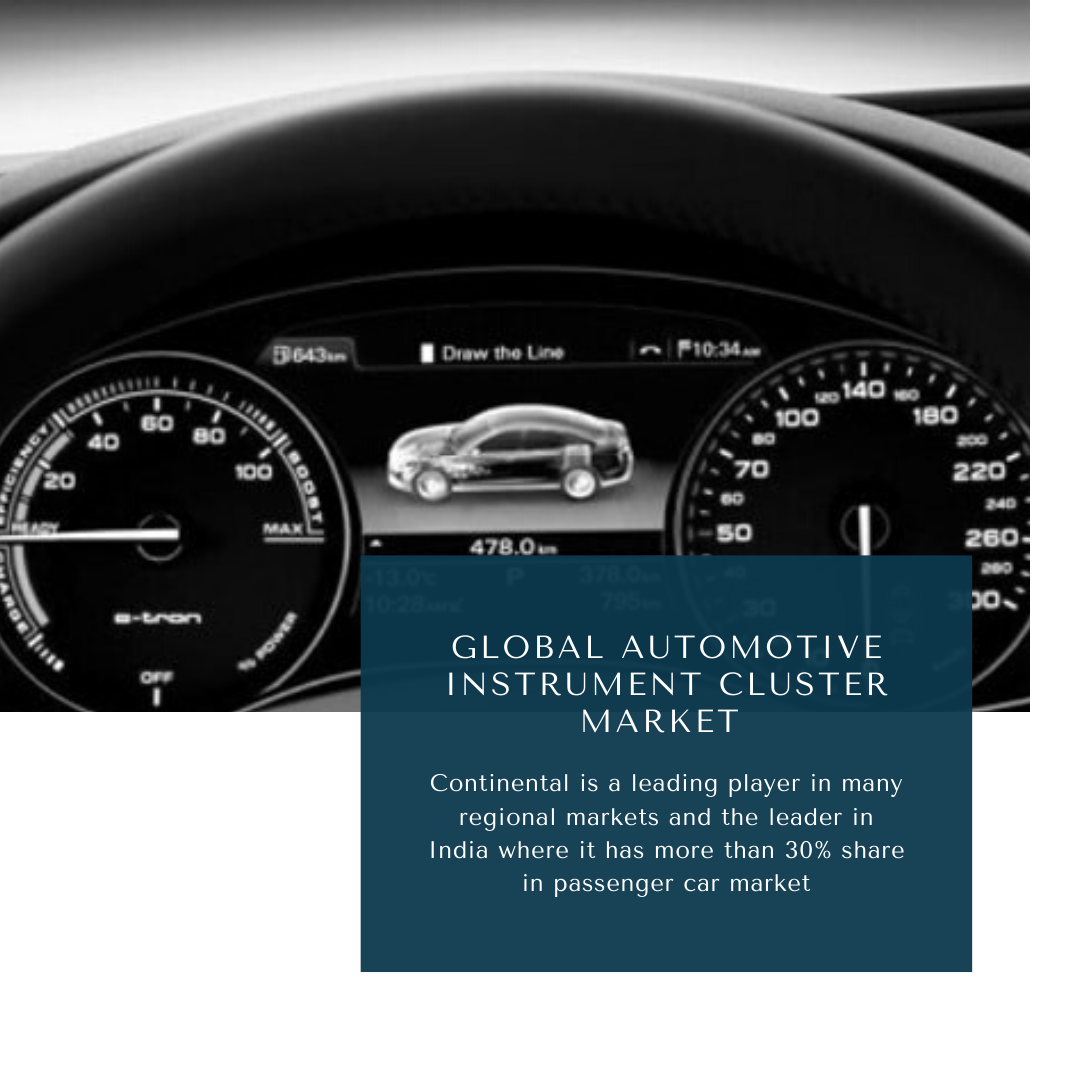 Tata and Renault are now providing low- cost Digital instrument cluster in entry-level cars like Tiago, Nexon and Triber.
Till date, there is no option of adding a Digital instrument cluster as a Paid option while configuring a car like US and EU markets. For Example, one can opt for a 10 inch Digital cluster in VW T-Roc for ~$500 extra.
MARKET SIZE AND FORECAST
Rising demand for electronic cluster with 2D and 3D graphics system has increased the demand for Automotive instrument cluster market.
The rise in demand for ADAS (advanced driver assistance system) and autonomous driving is expected to boost the market, as it requires more sophisticated instrument cluster system.
The global Automotive instrument cluster market size was estimated at $13 Billion in 2019, growing at 5.4% CAGR till 2025.
RECENT TRENDs
Continental has introduced a glass free 3-D display technology to be implemented in upcoming Genesis GV80 models.
Continental India reached an annual milestone of production and sales of 1 million instrument clusters in 2018.
Bosch's curved instrument cluster first of its kind is installed in Volkswagen Touareg, it is expected to benefit the drivers by improving the visibility.
COMPETITVE LANDSCAPE
Continental from Germany holds the majority of global market share and is the leading manufacturers in this sector. Some of the other players are Denso (Japan), Visteon (US), Bosch (Germany) and Magneti Marelli (Italy). Qualcomm and Mentor Graphics (US) have been providing with software platforms for digital instrument cluster. Pricol from India has been the leading instrument cluster manufacturer for 2 wheelers.
Among the leading vendors, Visteon has been growing its Digital instrument cluster business in double digits since 2017.Many Ford vehicles are equipped ith Anlaogue as well as Digital instrument cluster from Visteon.
Continental is a leading player in many regional markets and the leader in India where it has more than 30% share in passenger car market.
COMPANY PROFILE
Magneti Marelli
Quacomm
Delphi
| | |
| --- | --- |
| Sl no | Topic |
| 1 | Market Segmentation |
| 2 | Scope of the report |
| 3 | Abbreviations |
| 4 | Research Methodology |
| 5 | Executive Summary |
| 6 | Introduction |
| 7 | Insights from Industry stakeholders |
| 8 | Cost breakdown of Product by sub-components and average profit margin |
| 9 | Disruptive innovation in the Industry |
| 10 | Technology trends in the Industry |
| 11 | Consumer trends in the industry |
| 12 | Recent Production Milestones |
| 13 | Component Manufacturing in US, EU and China |
| 14 | COVID-19 impact on overall market |
| 15 | COVID-19 impact on Production of components |
| 16 | COVID-19 impact on Point of sale |
| 17 | Market Segmentation, Dynamics and Forecast by Geography, 2020-2025 |
| 18 | Market Segmentation, Dynamics and Forecast by Product Type, 2020-2025 |
| 19 | Market Segmentation, Dynamics and Forecast by Application, 2020-2025 |
| 20 | Market Segmentation, Dynamics and Forecast by End use, 2020-2025 |
| 21 | Product installation rate by OEM, 2020 |
| 22 | Incline/Decline in Average B-2-B selling price in past 5 years |
| 23 | Competition from substitute products |
| 24 | Gross margin and average profitability of suppliers |
| 25 | New product development in past 12 months |
| 26 | M&A in past 12 months |
| 27 | Growth strategy of leading players |
| 28 | Market share of vendors, 2020 |
| 29 | Company Profiles |
| 30 | Unmet needs and opportunity for new suppliers |
| 31 | Conclusion |
| 32 | Appendix |