Global Automotive Lighting Market 2020-2025
May 10, 2020

Request Sample
Coming Soon
Multi User License - $2,500
GLOBAL AUTOMOTIVE LIGHTING MARKET
INTRODUCTION
Lighting plays a very important role in providing visibility to the driver. It also is a crucial element in vehicle safety. This was the feature which was often overlooked by the auto makers, however over the past few years there have been significant development in the automotive lighting sector. The need for better visibility in unfavorable weather conditions and growing attention towards safety has taken the lighting technology a few notches higher. This has resulted in significant growth in the lighting market globally.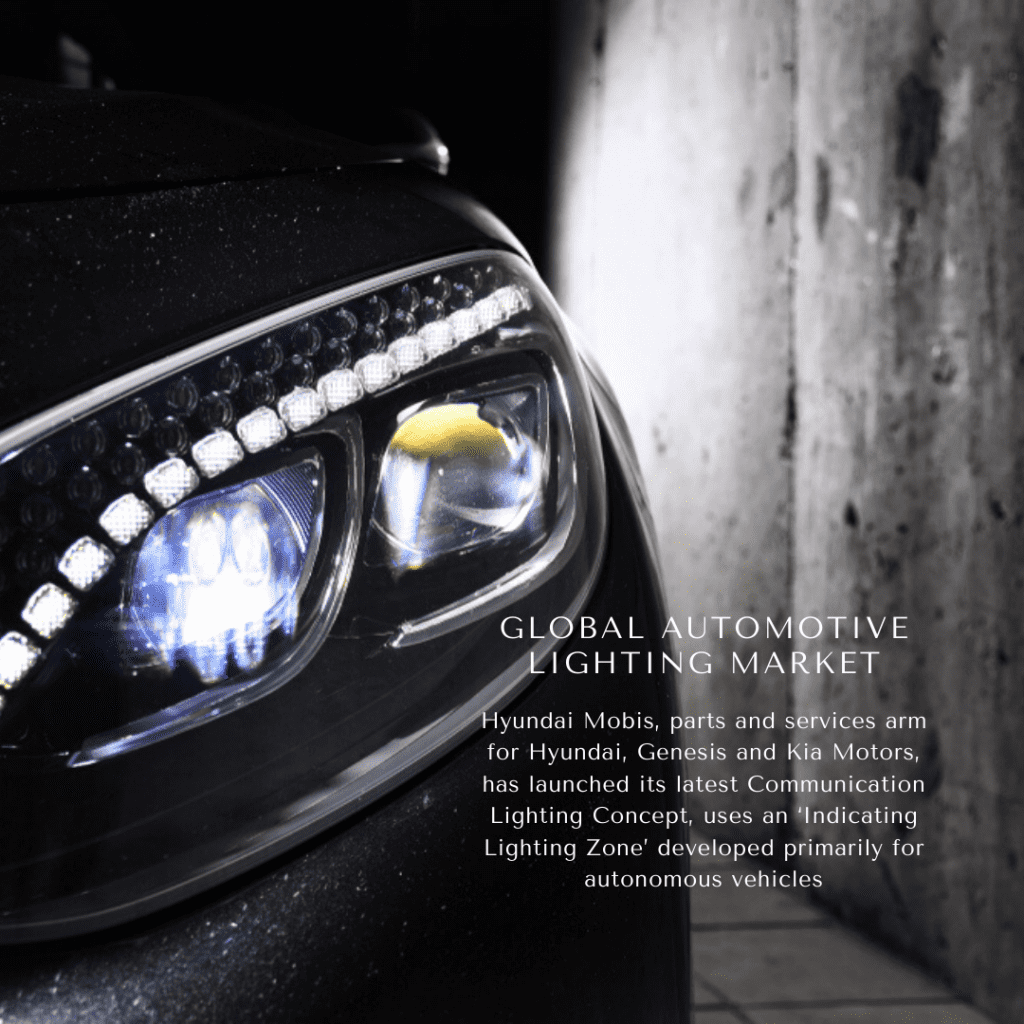 MARKET SEGMENTATION
BY TECHNOLOGY
BY POSITION
Head lamps
Tail lamps
Signalling
Interior
BY VEHICLE TYPE
Passenger
Commercial
Two-Wheeler
BY GEOGRAPHY
BY OEM
BMW
Volkswagen Group
General Motors
 Ford Motor Co
Hyundai Motor Group
Honda Motor Co
Tata Motors
Toyota Motor Corp
MARKET DYNAMICS
Automotive LED Lighting is the #1 trend globally. To know more about automotive lighting trends from a supplier point of view, read our article Top 7 Automotive lighting trends
LEDs have already replaced their counterparts HID and Halogen in the headlights of passenger cars segment in the US, Europe and China regions. The ease with which LEDs are able to fit gives them the edge over other 2. HID (High Intensity Discharge) lights have almost phased out in many regions.
Though cost wise LEDs are slightly expensive of all the three, the efficiency and the durability of the product is overshadowing the price. The growth of LED DRLs (Daytime Running Lamp) in both two –wheeler and four –wheeler segment is another driving force behind LEDs.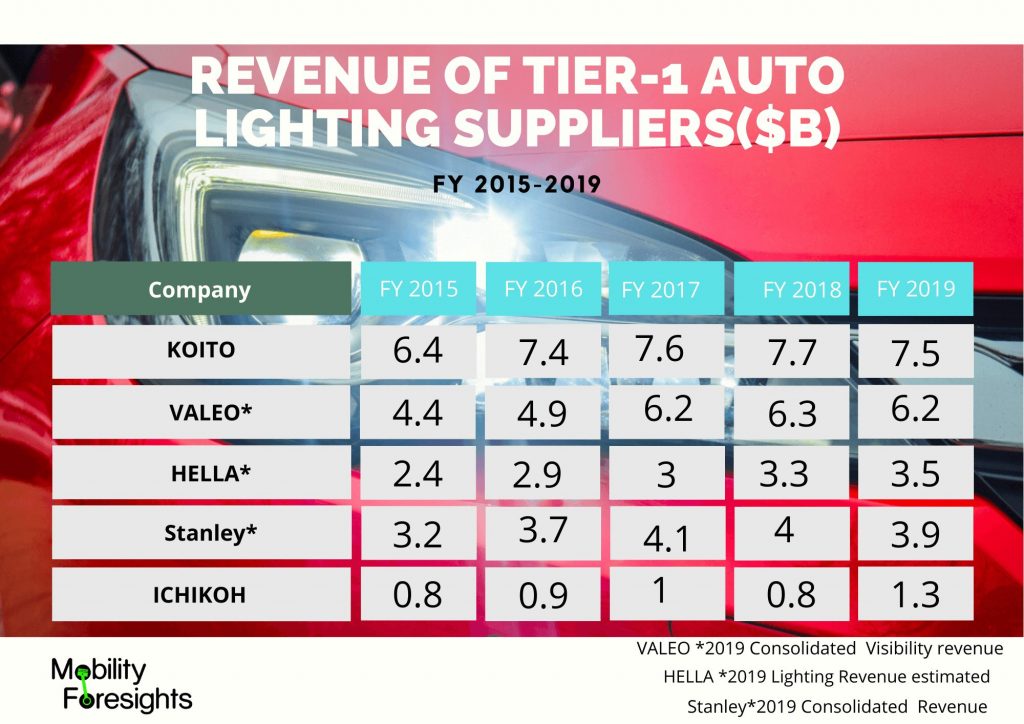 Laser sourced headlights introduced in BMW i8 has higher luminosity of all the other technologies. It provides higher range of visibility than LEDs. As of now Laser powered headlights are mostly found in the sports and luxury segment cars. Due to their pricing their application is restricted.
By usage, in interior lighting, high end SUVs and MPVs have various lighting purposes reading lamps, glove-box lamps, trunk lamp and others. This has increased the growth in interior lighting market.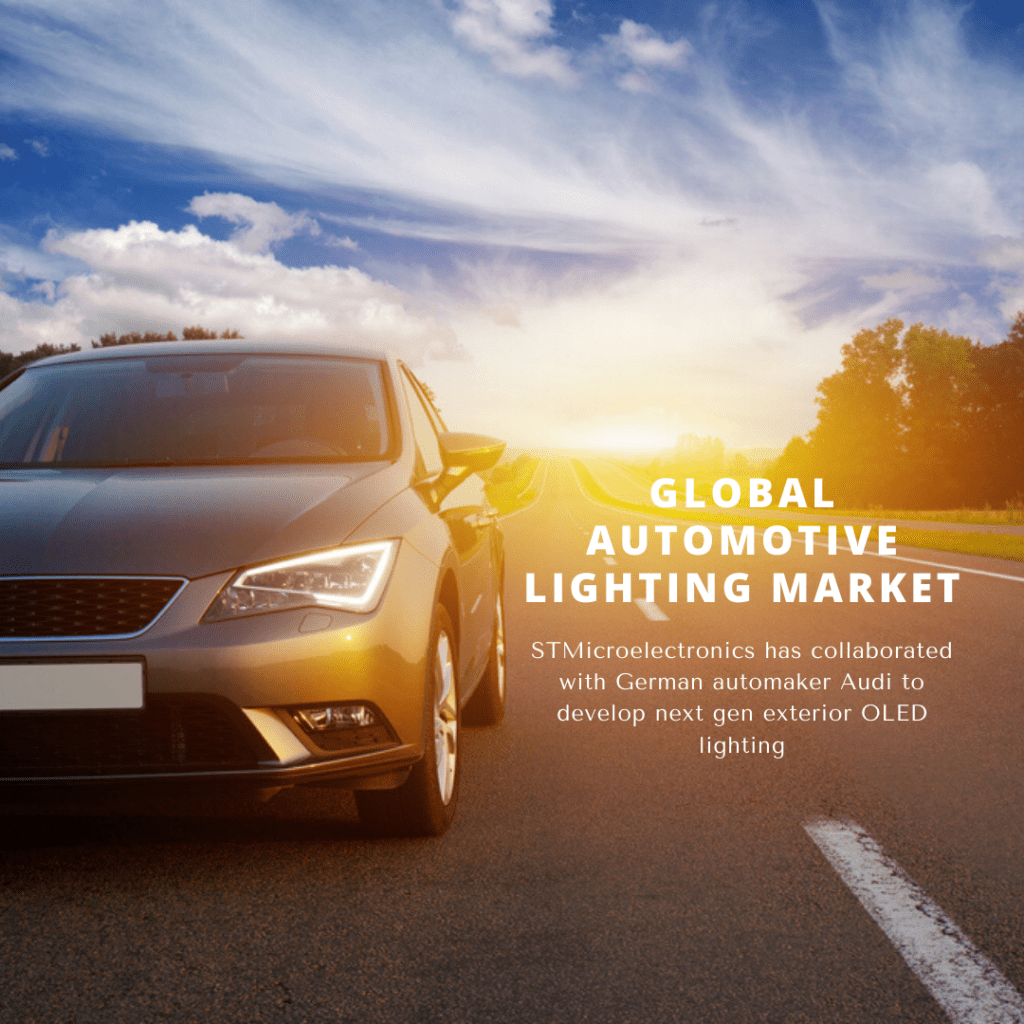 In India where people usually give emphasis on fuel economy and the price of the vehicle, they often ignore the importance of the lighting in an automobile. This makes Halogen lighting the leading market in India. LEDs have just started to gain prominence and have gained 40% penetration in tail lamps, whereas it is only around 20% in head lamps.
MARKET SIZE AND FORECAST
LEDs are ruling the majority of the global market. Since LEDs are cheaper and easier to install for tail lamps penetration of LEDs in tail lamp segment is quicker when compared to headlights.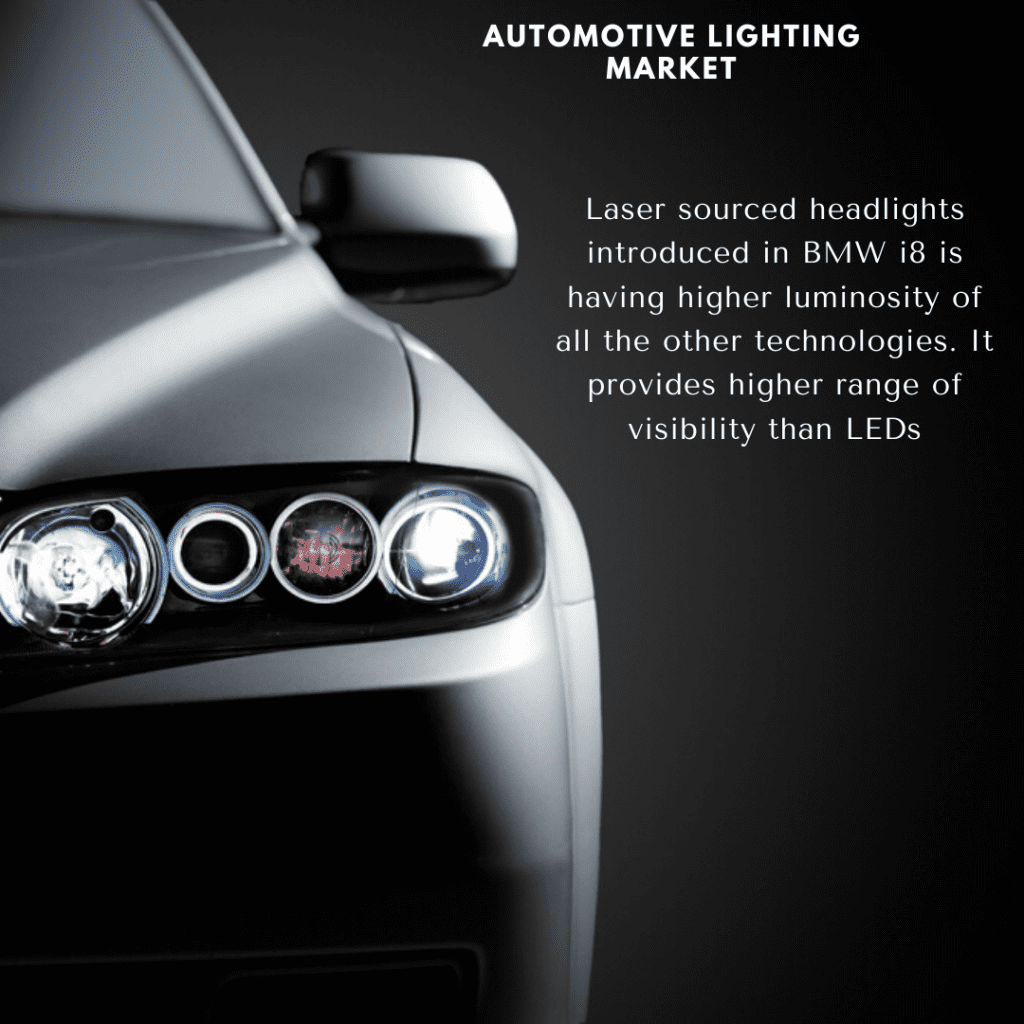 The continuous innovation in automobile lighting has promised to expand the lighting market. Leading automakers are making an effort to increase the visibility of the incoming vehicles, pedestrians or any other obstacle that hinders driver's riding. There have been efforts made to create a communication between driver driving a vehicle and other drivers and the pedestrians through lights.
With stricter norms from the government, emphasising more on safety, it's not far LED penetration in Indian market will be improved.
US AUTOMOTIVE LIGHTING MARKET
Halogen reflector lamps are mostly used in lower variant models for high-beam application. LED reflector and Bi-LED projectors are utilized on top selling vehicles.
Almost every top selling passenger cars are provided with LED DRLs for safety purpose.
There is 50:50 use of LED and Halogen lights as Fog-lamps, Turn indicator and Ambient lights inside vehicles cabin.
EUROPE AUTOMOTIVE LIGHTING MARKET
There is 30:70 split use of Halogen reflector and LED (reflector & projector)as headlights on top-selling cars.
Most of the premium vehicles are equipped with Adaptive Driving Beam (ADB) headlightsincrease roadway lighting by as much as 86% when compared to U.S. low beam headlights.
98% of the top-selling vehicles in the EU are provided with LED DRL headand tail lights as standard and Budget vehicles get DRLs as option.
There is 40:60 use of LED and Halogen lights as Fog-lamps, Turn indicator and Ambient lights inside the vehicle cabin
CHINA AUTOMOTIVE LIGHTING MARKET
There is 40:60 split use of Halogen reflector and LED (reflector & projector) asheadlights on top 50 selling cars in China.
About 40% of lower variants use halogen lamps for high-beam purpose.
Top 20 selling premium cars are provided with LED (headlights, taillights, DRLs, and Ambient light).
Premium cars get Adaptive Driving Beam (ADB) headlightsas standard.
Premium cars like BMW (X7, 7-series, X5), Audi A8L are provided with laser headlights on top variants as standard and lower variants get as an option.
Most of the top-selling vehicles in China are provided with LED (DRLs) and LED taillights as standard.
There is 50:50 splits use of Halogen lights and LED lights in Turn indicator, Fog-lamps and Ambient lights inside the cabin
RECENT PARTNERSHIPS IN AUTOMOTIVE LIGHTING MARKET
STMicroelectronics has collaborated with German automaker Audi to develop next gen exterior OLED lighting.
UNO Minda Lighting to acquire German lighting company Delvis GmbH
Hella lighting and French automotive supplier Faurecia, have partnered to develop innovative interior lighting solutions.
German auto component manufacturer Continental and Osram JV has commenced the operations at 16 locations worldwide. The objective is to develop semiconductor based lighting modules, such as LED modules for front and rear lighting.
Automotive electrical manufacturer Lucas TVS is selling its entire 30% stake in Indian Japan Lighting to its joint venture partner Koito Manufacturing, making the latter the sole owner of Indian Japan Lighting which has top car makers as its clients.
Neolite ZKW of India and Andaltec a Spanish company basically into advanced technology services in plastic have entered into an alliance where they develop new lighting products using more plastics.
RECENT LAUNCHES
Hyundai Mobis, parts and services arm for Hyundai, Genesis and Kia Motors, has launched its latest Communication Lighting Concept, uses an 'Indicating Lighting Zone' developed primarily for autonomous vehicles.
COMPETITIVE LANDSCAPE
Koito, Hella and Valeo are the top 3 players in the automotive lighting market. Koito Japanese lighting manufacturing company is the leading supplier owing to its ties with Toyota. From India Varroc Lighting System after acquiring Visteon`s lighting business has grown to become the top LED lighting supplier for TESLA.
Osram-continental-JV of Continental and Osram, Stanley Electric, Ichikoh are few others suppliers who have a reasonable presence in the global automotive lighting market.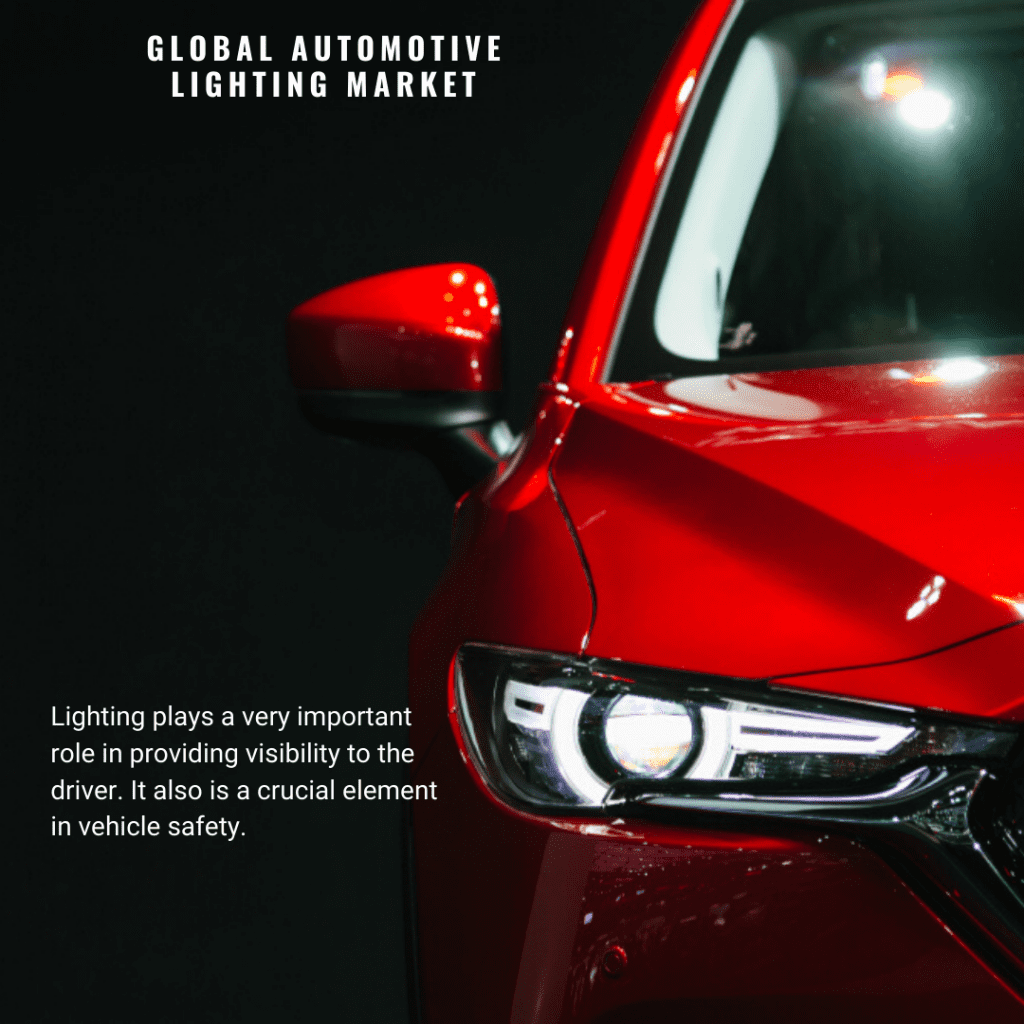 In Indian market, Lumax holds more 45% market share; others like Fiem Industries, Indian Japan Lighting (Koito) are sharing the market making them the top 3.
COMPANY PROFILE
Marelli
Valeo SA
Ichikoh
Cree SemiConductors
Lumax Industries
| | |
| --- | --- |
| Sl no | Topic |
| 1 | Market Segmentation |
| 2 | Scope of the report |
| 3 | Abbreviations |
| 4 | Research Methodology |
| 5 | Executive Summary |
| 6 | Introduction |
| 7 | Insights from Industry stakeholders |
| 8 | Cost breakdown of Product by sub-components and average profit margin |
| 9 | Disruptive innovation in the Industry |
| 10 | Technology trends in the Industry |
| 11 | Consumer trends in the industry |
| 12 | Recent Production Milestones |
| 13 | Component Manufacturing in US, EU and China |
| 14 | COVID-19 impact on overall market |
| 15 | COVID-19 impact on Production of components |
| 16 | COVID-19 impact on Point of sale |
| 17 | Market Segmentation, Dynamics and Forecast by Geography, 2020-2025 |
| 18 | Market Segmentation, Dynamics and Forecast by Product Type, 2020-2025 |
| 19 | Market Segmentation, Dynamics and Forecast by Application, 2020-2025 |
| 20 | Market Segmentation, Dynamics and Forecast by End use, 2020-2025 |
| 21 | Product installation rate by OEM, 2020 |
| 22 | Incline/Decline in Average B-2-B selling price in past 5 years |
| 23 | Competition from substitute products |
| 24 | Gross margin and average profitability of suppliers |
| 25 | New product development in past 12 months |
| 26 | M&A in past 12 months |
| 27 | Growth strategy of leading players |
| 28 | Market share of vendors, 2020 |
| 29 | Company Profiles |
| 30 | Unmet needs and opportunity for new suppliers |
| 31 | Conclusion |
| 32 | Appendix |