Global Automotive Piston Market 2020-2025
May 11, 2020

Request Sample
Coming Soon
Multi User License - $2,500
GLOBAL AUTOMOTIVE PISTON MARKET
INTRODUCTION
The need for higher power in the cars, has constantly led to development of pistons in a vehicle. This is because piston plays an important role in boosting the engine power by increasing the piston size and shape. However, over the years stricter emission norms have led to downsizing the engine and expecting higher power in smaller engines. These challenges have led to incorporating turbochargers and superchargers to the vehicle. With the automobile sector leaning towards BEVs and PHEVs, it is fair to say that piston market may witness slight descend in growth.
MARKET SEGMENTATION
By OEMs
Toyota
VW
Ford
Mercedes
BMW
Chinese OEMs
General Motors
By Geography
By Material Used
Cast Iron
Aluminium Alloy
Steel
By Vehicles used
Two-Wheeler
Passenger Vehicle
Commercial Vehicle
MARKET DYNAMICS
Among passenger vehicles there has been a continuous demand on downsizing the engine, to reduce the emissions. Piston manufacturers have continuously developed  pistons to counter this.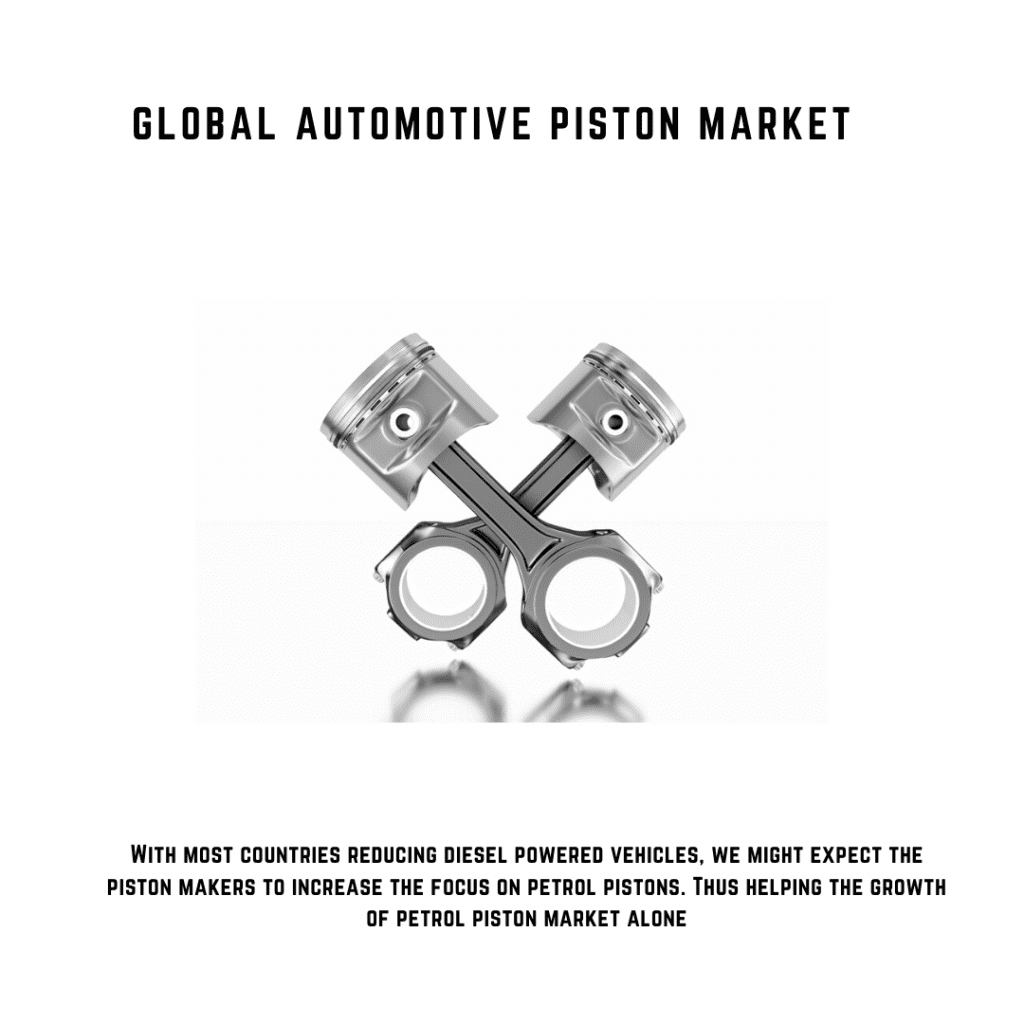 There has been an increased demand for the steel pistons. After commercial and racing vehicles, steel pistons have been incorporated in the passenger vehicles segment as well. The steel pistons are considered because of their high performance and significant reduction of CO2 emissions. Steel pistons also are known for lower thermal conductivity and low thermal expansion. This will help to boost the steel pistons market on large scale.
US AUTOMOTIVE PISTON MARKET
US is a predominantly gasoline engine powered market. Diesel cars had started gaining foothold via Volkswagen in Lat 2014 and early 2015 when VW emmissions scandal was blown first in US.
Most common engine displacement in US on top-selling vehicles is 2.5L(4 cylinder) ,3.5L (6 cylinder) and 4/4.4L(8 cylinder engines). These huge engines produce high power and for this piston must be high heat resistant. Also, the number of pistons required per car goes up from 4 in <2L engines to 6 in >3L engines creating bigger market volume than China, even though the US new car sales are 25% less than China.
We take a look at Engine strategy followed by leading OEMs in US.
Ford-  Has developed a range of Eco-boost engines since 2009, starting from 1.0L(I-3) , 1.5L(I-3), 2.0L(I-4), and 2.7L (V6). For 3.5L and higher displacement it employs its older range of naturally aspirated engines.
GM- It has also developed a range of 1.5-2.0L turbo gaoline engines but not in 3L and above engine displacements. Most of the high displacement engines are still naturally aspirated. What can be seen as a complete departure from Detroit linegae is that it also offers a 3.0L Diesel on Silverado 1500 and GMC Sierra.
Toyota- World`s most profitable car OEM of 2019 is the only OEM with not even one turbocharged engine in its lineup(inlcuding Lexus). 
Honda- Only recently it has started inducting newly developed 1.5L and 2L turbocharged engines on best-sellers like Accord, Civic and CRV
FCA- The top-selling Jeep brand is powered by naturally aspirated 3.2l and 3.6L Pentastar engines (shared with RAM) and 2.0L turbocharged engines
In the heavy truck market, class 8 trucks are powered by Diesel engines with 10-13L ( 6 cylinder) engines and their annual sales volume is 220-270k units. Cummins and Daimler owned Detroit Diesel account for more than 50% share of class 8 truck engine market per annum.
CHINA AUTOMOTIVE PISTON MARKET
Similar to US, even China has mostly petrol cars of engine size mostly 1.6-1.7L on average. 4 cylinder engines power 99% of passenger cars sold in the Country. Many domestic OEMs have now developed powerful 1.4/1.5 L direct injection equipped turbocharged engines to power compact SUVs. The average specific power output is 85Hp/L- 100HP/L which is at par with European cars. To produce significant power from these comparatively smaller engines high standard pistons are used.
About 4% of new cars sold in China in 2019 were BEV(Battery electric vehicle) and it is expected that by 2025, the share could be as high as 15% of new car sales. To know more China Electric vehicle market, read our report. Therefore, growth pf BEV sales in China is an imminent risk to global atomotive piston market.
EUROPE AUTOMOTIVE PISTON MARKET
Europe has always been the hub of compact displacement, higher horspower engines due to two reasons 1 High share of Diesel  engines between 2004-2017 2. CO2 emission  linked taxation in many EU countries.
Till 2016, 1.5L gasoline and Diesel engines powered most of the new cars sold in the region but post 2018 almost all best-selling cars like Ford Fiesta, Ford Focus, VW Golf, VW Polo have 1.0L engine  on atleast 2-3 variants.
Over the past 5 years, there has been a gradual decline in offtake of Diesel cars. As a result, the Diesel piston market has seen a decline in the European market.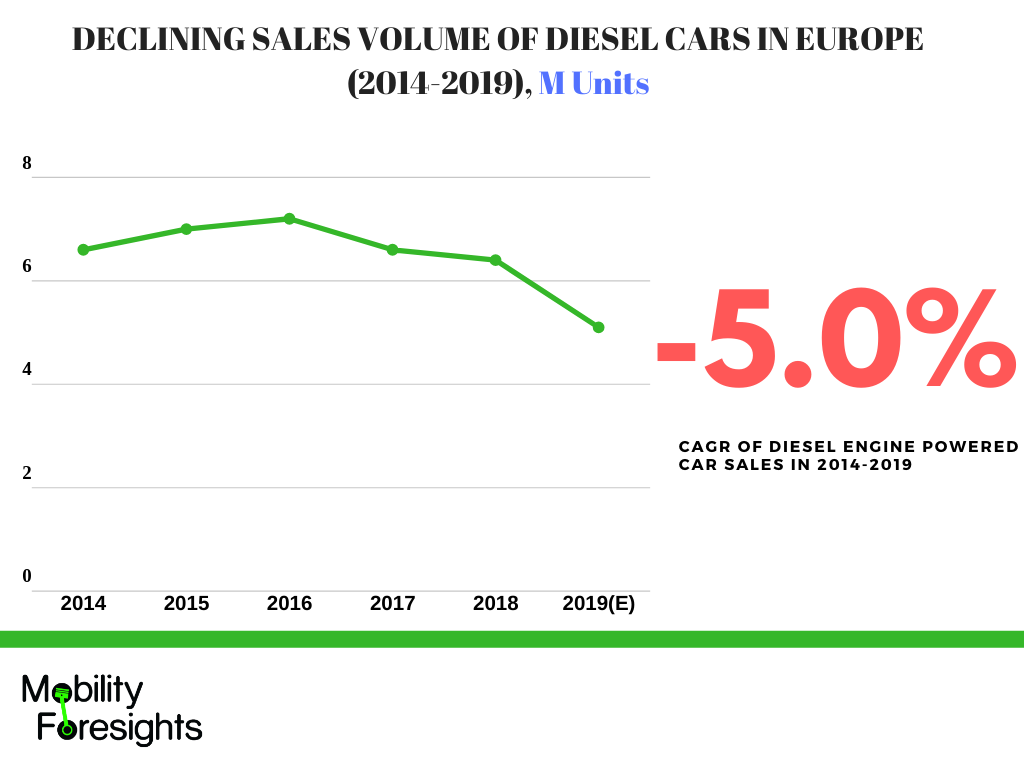 INDIA AUTOMOTIVE PISTON MARKET
Maruti Suzuki, the market leader in India offers 1.2L engine on Premium hatchbacks and 1.0L gasoline engines on entry level hatchbacks. All of them are naturally asiprated with specific power output of ~70PS/Litre which is among the lowest in the world.
Delhi NCR based Shriram Pistons(in collaboration with Four International partners) is the leading piston supplier in India followed by Mahle`s Indian subsidiary.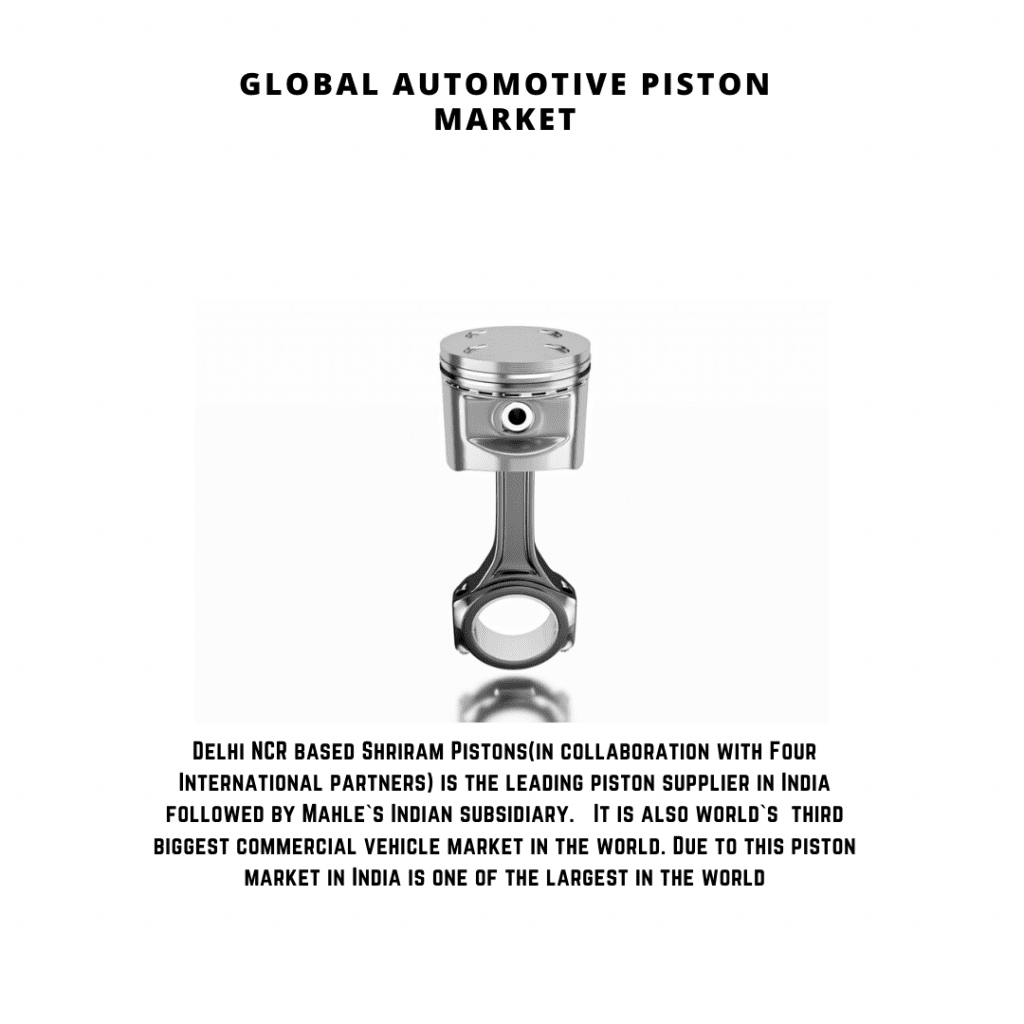 It is also world`s  third biggest commercial vehicle market in the world. Due to this piston market in India is one of the largest in the world. India has one of the biggest tractor markets in the world. All these has constituted to growth in Indian piston market.
INDIA TWO WHEELER PISTON MARKET
India is world`s biggest three wheeler and two-wheeler market  The two-wheeler sales have proportionately increased the petrol piston penetration in Indian market. With the new BS-VI regulations one might expect piston manufacturers to develop new range of pistons for the customers as fuel injection will now replace carburettors.
MARKET SIZE AND FORECAST
In US there are hardly 1-2% diesel Passenger vehicles and in China it is almost zero and this has directly resulted in fall of diesel engine piston market.
With most countries reducing diesel powered vehicles, we might expect the piston makers to increase the focus on petrol pistons. Thus helping the growth of petrol piston market alone.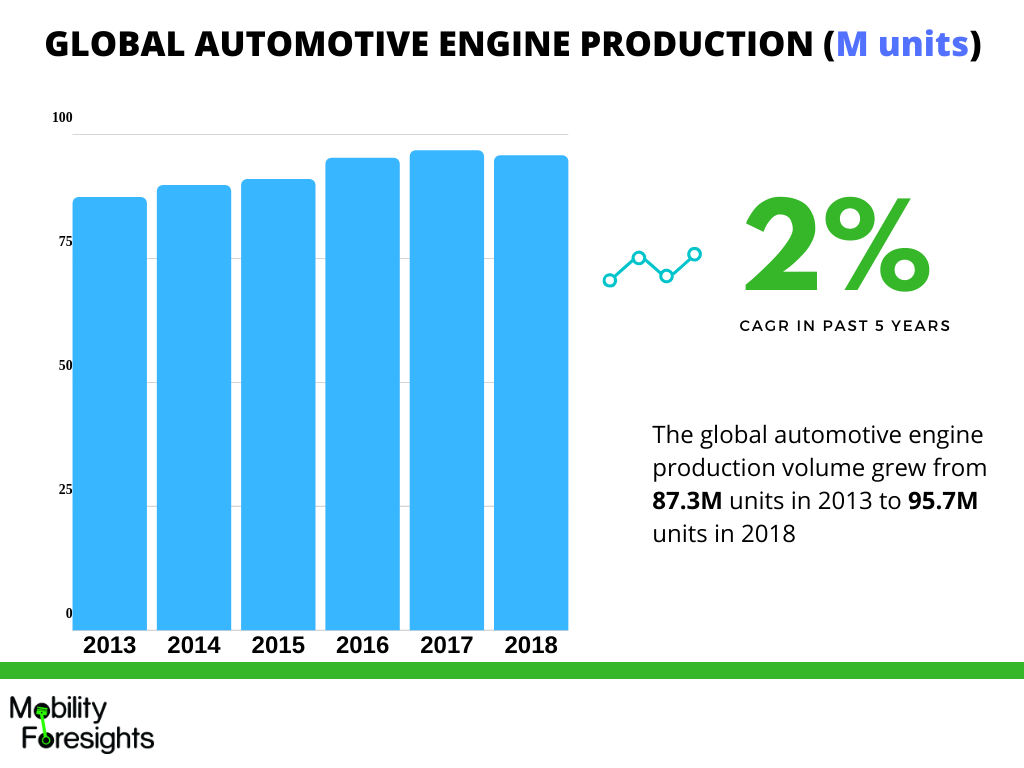 NEW PARTNERSHIPS IN AUTOMOTIVE PISTON MARKET
Rheinmetall Group has been handed a follow-up contract to supply petrol engine pistons for the 2-litre units for American OEM.
Tenneco (after acquiring Federal- Mogul) and Chinese OEM Dongfeng Motor Corporation have set up a joint venture in China. The objective is to manufacture piston for Dongfeng and other Chinese OEMs.
Rheinmetall Automtotive wins a new order to supply new state-of-the-art pistons for commercial vehicles in North American region.
NEW LAUNCHES
Freudenberg Sealing Technologies has developed a new plastic piston which relies on single part sealing technology, saving energy and helps in easy installation. Lighter in weight, these pistons improve fuel efficiency.
Mahle GmbH develops new thermally insulating pistons. The coatings are intended to reduce the heat entering into pistons and lead to improved efficiency and reduced emissions.
COMPETITVE LANDSCAPE
German auto parts manufacturer Rheinmetall Automotive under the name Kolbenschmidt has been the top supplier of pistons to the OEMs,followed by Mahle. Wossner GmbH is another German part manufacturer in the market. Tenneco US company which acquired Federal Mogul is the largest piston manufacturer in US.
Menon ,Shriram and India Pistons Ltd are the leading piston makers in India region. They supply to some of the leading car and truck manufacturers. SAMKRG piston manufacturers are one of the leading piston makers for two wheelers segment in India.
COMPANY PROFILE
Wossner GmbH
Tenneco
Menon Piston Ltd
India Pistons Ltd
Omega Pistons Limited
SAMKRG Pistons and Ring Ltd
Gould Automotive
| | |
| --- | --- |
| Sl no | Topic |
| 1 | Market Segmentation |
| 2 | Scope of the report |
| 3 | Abbreviations |
| 4 | Research Methodology |
| 5 | Executive Summary |
| 6 | Introduction |
| 7 | Insights from Industry stakeholders |
| 8 | Cost breakdown of Product by sub-components and average profit margin |
| 9 | Disruptive innovation in the Industry |
| 10 | Technology trends in the Industry |
| 11 | Consumer trends in the industry |
| 12 | Recent Production Milestones |
| 13 | Component Manufacturing in US, EU and China |
| 14 | COVID-19 impact on overall market |
| 15 | COVID-19 impact on Production of components |
| 16 | COVID-19 impact on Point of sale |
| 17 | Market Segmentation, Dynamics and Forecast by Geography, 2020-2025 |
| 18 | Market Segmentation, Dynamics and Forecast by Product Type, 2020-2025 |
| 19 | Market Segmentation, Dynamics and Forecast by Application, 2020-2025 |
| 20 | Market Segmentation, Dynamics and Forecast by End use, 2020-2025 |
| 21 | Product installation rate by OEM, 2020 |
| 22 | Incline/Decline in Average B-2-B selling price in past 5 years |
| 23 | Competition from substitute products |
| 24 | Gross margin and average profitability of suppliers |
| 25 | New product development in past 12 months |
| 26 | M&A in past 12 months |
| 27 | Growth strategy of leading players |
| 28 | Market share of vendors, 2020 |
| 29 | Company Profiles |
| 30 | Unmet needs and opportunity for new suppliers |
| 31 | Conclusion |
| 32 | Appendix |