China Electric Vehicle Market 2020-2025
January 13, 2020

Request Sample
NUMBER OF PAGES- 103
Multi User License - $1,900
CHINA ELECTRIC VEHICLE MARKET
KEY FINDINGS
In 2019, EV sales declined in China by 4% to 1.2 Million units, missing the stipulated quota of 8% of annual sales by almost 0.5 Million units
BEVs comprised 81% of total EV sales in 2019.As of Jan 2020, 242 BEV models are available for sale in China, as compared to 26 in Europe and 24 in US. BAIC Group's NEV unit BJEV sold the highest 150,000 units, the market leader of battery-only electric vehicles in China since 2013.
BYD was the market leader in 2019 with ~20% market share, followed by BAIC with ~15% share.
To arrest decline in EV sales post withdrawal of subsidy, Chinese OEMs launched lucrative schemes. For example, BAIC New Energy EC5 introduced a "double exemption policy", namely interest-free loans and no down payment for car purchases
Electric buses comprised 81% of all electric commercial vehicles sold in 2019. Yutong is the market leader with ~30% market share
Total deployed capacity in terms of Li-ion batteries across EVs (including commercial vehicles) was 62 GWh in 2019, almost 2X of US and Europe
CATL is the market leader in EV batteries with more than 51% market share, followed by BYD 17% share. CATL has more than 60% market share of installed battery capacity in electric buses in 2019.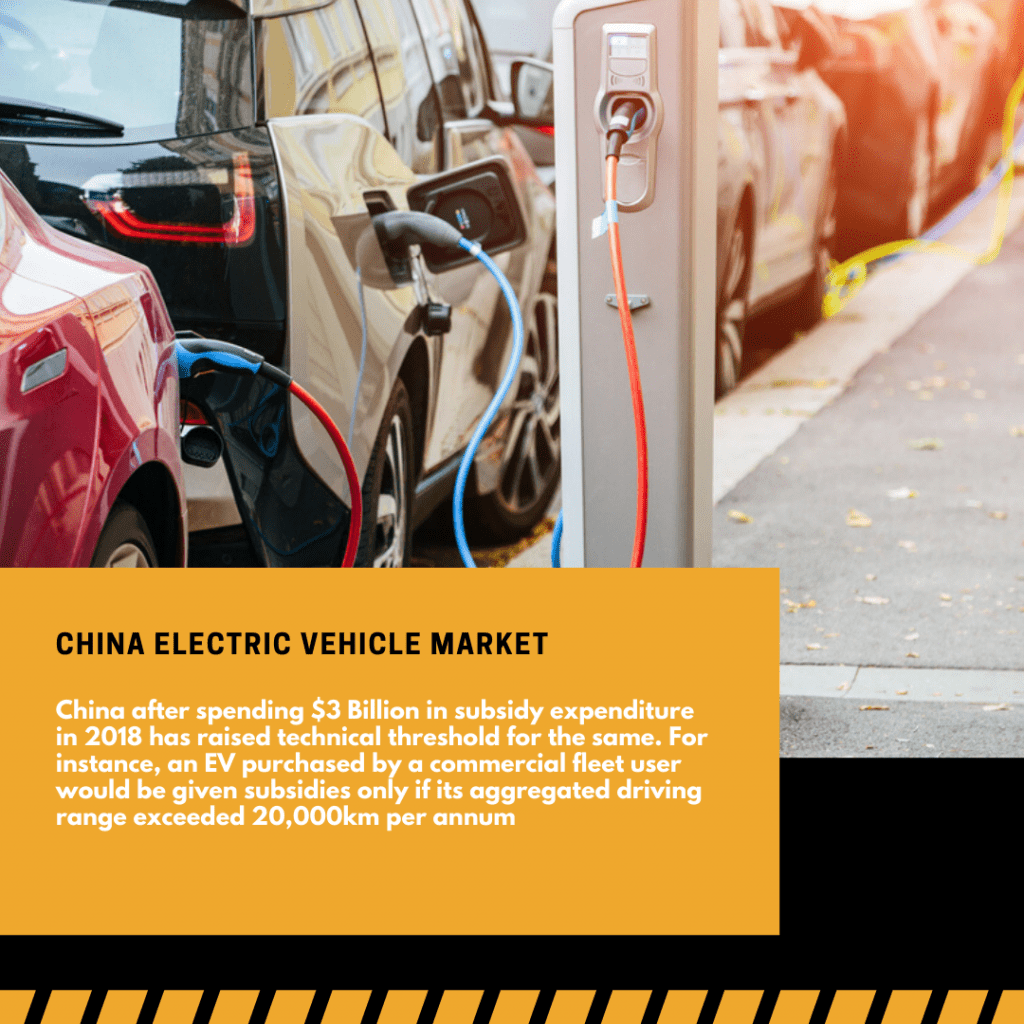 INTRODUCTION
China is world`s biggest automotive market, by volume. In 2019, the production and sales of passenger cars was 21.3 Million units and 21.4 Million units, respectively. Production and sales dropped by ~9% and 9.5% year-on-year respectively– ~12% de-growth in sales from peak of 24 Million units in 2016. But, in the premium segment (Audi, BMW, Mercedes, Lexus, Volvo and Cadillac), sales grew by 8% to 2.6 Million units or13% of annual car sales. Table- Sales volume of International brands in China
| | | |
| --- | --- | --- |
| OEM | 2019-Sales volume (M units) | YOY Growth% |
| GM | 3.09 | (15%) |
| VW | 2.01 | (3%) |
| Ford | 0.57 | (26%) |
| BMW Including Mini | .72 | 13% |
| Mercedes Including Smart | .70 | 4% |
| Audi | .69 | 4% |
| Lexus | .20 | 25% |
Electric vehicles comprised ~5% of new car sales in 2018 and 2019.
MARKET DYNAMICS
China after spending $3 Billion in subsidy expenditure in 2018 has raised technical threshold for the same. For instance, an EV purchased by a commercial fleet user would be given subsidies only if its aggregated driving range exceeded 20,000km per annum. Additionally, automakers are required to build platforms for monitoring operational status of vehicles sold and connect them with a national regulation platform that was launched in 2016. As the EV market slowed down in H2-2019, due to subsidy cut, finally dragging down full year- 2019 EV volumes, the EV startups were most affected. For example, WEY had set itself a target of 100,000 units EV sales but ended up selling just 17% of that.
THE SUBSIDY WITHDRAWAL EFFECT ON CHINA ELECTRIC VEHICLE MARKET
Starting 12th June 2019, when new subsidy rules came into effect, sales of A00 compact EVs dropped sharply pulling down the overall EV volumes by a steep ~50% in July. It was only post Q3 2019 when almost all car companies upgraded their compact EVs to >250km range that the EV sales started rebounding. In Nov 2019, sales grew ~20% (MOM) and in December it grew by ~70% (MOM).
MARKET SEGMENTATION

MARKET SIZE AND FORECAST
China electric vehicle market is estimated at $45 Billion in 2019. The Chinese EV battery market alone is estimated at $9.3 Billion. To know more about it read our report EV Battery Market in China  In 2020, SAIC-GM(2nd biggest EV player in China) will launch 10 new models, including 2 BEVs. By 2025, SAIC-GM will invest $4.5 Billion to launch more than 9 new energy models.  BAIC BJEV has developed three EV platforms, BE11, BE22 and BE22, which will underpin more than 30 vehicles by 2025.

CHINA PHEV ELECTRIC VEHICLE MARKET
The PHEV segment market in China declined in 2019, with cumulative 207 k units sold. About 60% of that was sold in H1 2019 and in H2 2019, only 80,000 units were sold. Unlike the BEV segment, which is dominated by domestic companies, in the PHEV segment, the foreign-domestic joint ventures have an upper hand. There are 16 companies active in the PHEV segment compared to 100+ in BEV segment. BYD, BMW Brilliance and SAIC Volkswagen are the market leaders in the PHEV segment. BYD Tang PHEV sold 34k units followed by BMW 5 Series PHEV with 27k units and SAIC- Volkswagen Passat with 21k units. These three models comprised 40% of PHEV sales in 2019 in China.
CHINA ELECTRIC VEHICLE BATTERY MARKET
China comprised 50% of global EV sales volume in 2016, 2017, 2018 and 2019 and more than 70% of them were BEVs in 2016, 2017, 2018. In 2019, the BEV share went up to 80%. In the commercial vehicle segment, buses comprised 81% of 100k units electric commercial vehicle market, with average battery capacity of 233kWh, pushing China`s installed power battery capacity volume to 62GWh in 2019.  
COMPETITIVE LANDSCAPE
The Chinese major, SAIC has plans to start EV manufacturing in India and Thailand. Since SAIC is well positioned to absorb the higher cost and low margin of EVs presently, we believe it can boost EV uptake in both India and ASEAN region. BYD(18% market share in EV passenger cars) declined by 4% YOY to 219,000 units  in 2019. It had 9% share of Electric bus market in China.
COMPANY PROFILES
ELECTRIC CAR MANUFACTURERS
BAIC Group
JAC
ELECTRIC BUS MANUFACTURERS
CRRC Electric
Haige Bus((Suzhou Jinlong)
Jinlong Bus
Kaiwo Automobile (Nanjing Jinlong)
THIS REPORT WILL ANSWER FOLLOWING QUESTIONS
Upcoming vehicles, by OEM, by vehicle type and by EV type (2020-2025)
EV sales, by top 10 cities and state-wise legislation
Advancements in EV battery by Chinese players
Opportunity for traction motor , motor controller, on-board charger and Inverter manufacturers
On-going developments in Electric commercial vehicle market, vehicles in pipeline and estimated sales volume
OE-supplier alignment for battery, On-board charger and DC-DC Converter
Frequently Asked Questions (FAQ)
How many Electric Vehicles were sold in China in 2019?
The Electric Vehicle Market in China de-grew by 4% YOY to 1.15 Million units in 2019.
How many Electric buses were sold in China and who was the market leader?
~76k electric buses were sold in China in 2019, decline of ~20% and Yutong was the market leader with 28% market share.
Who is the Market leader in China EV battery market?
CATL is the market leader with more than 40% market share.
Which OEMs are the leaders in BEV and PHEV sales?
BYD is the market leader in PHEV sales and BAIC is the market leader in BEV segment.
How will the market grow till 2025?
EVs constituted ~5% of new car sales in 2019. By 2025, the share is expected to grow to ~18-20%of new car sales.
| | |
| --- | --- |
| Sl no | Topic |
| 1 | Market Segmentation |
| 2 | Scope of the report |
| 3 | Abbreviations |
| 4 | Research Methodology |
| 5 | Executive Summary |
| 6 | Introduction |
| 7 | Insights from Industry stakeholders |
| 8 | Cost breakdown of Product by sub-components and average profit margin |
| 9 | Disruptive innovation in the Industry |
| 10 | Technology trends in the Industry |
| 11 | Consumer trends in the industry |
| 12 | Recent Production Milestones |
| 13 | Component Manufacturing in US, EU and China |
| 14 | COVID-19 impact on overall market |
| 15 | COVID-19 impact on Production of components |
| 16 | COVID-19 impact on Point of sale |
| 17 | Market Segmentation, Dynamics and Forecast by Geography, 2020-2025 |
| 18 | Market Segmentation, Dynamics and Forecast by Product Type, 2020-2025 |
| 19 | Market Segmentation, Dynamics and Forecast by Application, 2020-2025 |
| 20 | Market Segmentation, Dynamics and Forecast by End use, 2020-2025 |
| 21 | Product installation rate by OEM, 2020 |
| 22 | Incline/Decline in Average B-2-B selling price in past 5 years |
| 23 | Competition from substitute products |
| 24 | Gross margin and average profitability of suppliers |
| 25 | New product development in past 12 months |
| 26 | M&A in past 12 months |
| 27 | Growth strategy of leading players |
| 28 | Market share of vendors, 2020 |
| 29 | Company Profiles |
| 30 | Unmet needs and opportunity for new suppliers |
| 31 | Conclusion |
| 32 | Appendix |