Global E-Bike Market 2020-2025
July 28, 2020

Request Sample
Coming Soon
Multi User License - $2,500
GLOBAL E-BIKE MARKET
INTRODUCTION
Mobility plays a vital role in the current society that we live in. With the growing concern for preserving and sustaining environment for future generations, the governments and international organizations worldwide are enacting stringent emission norms to reduce carbon emission levels.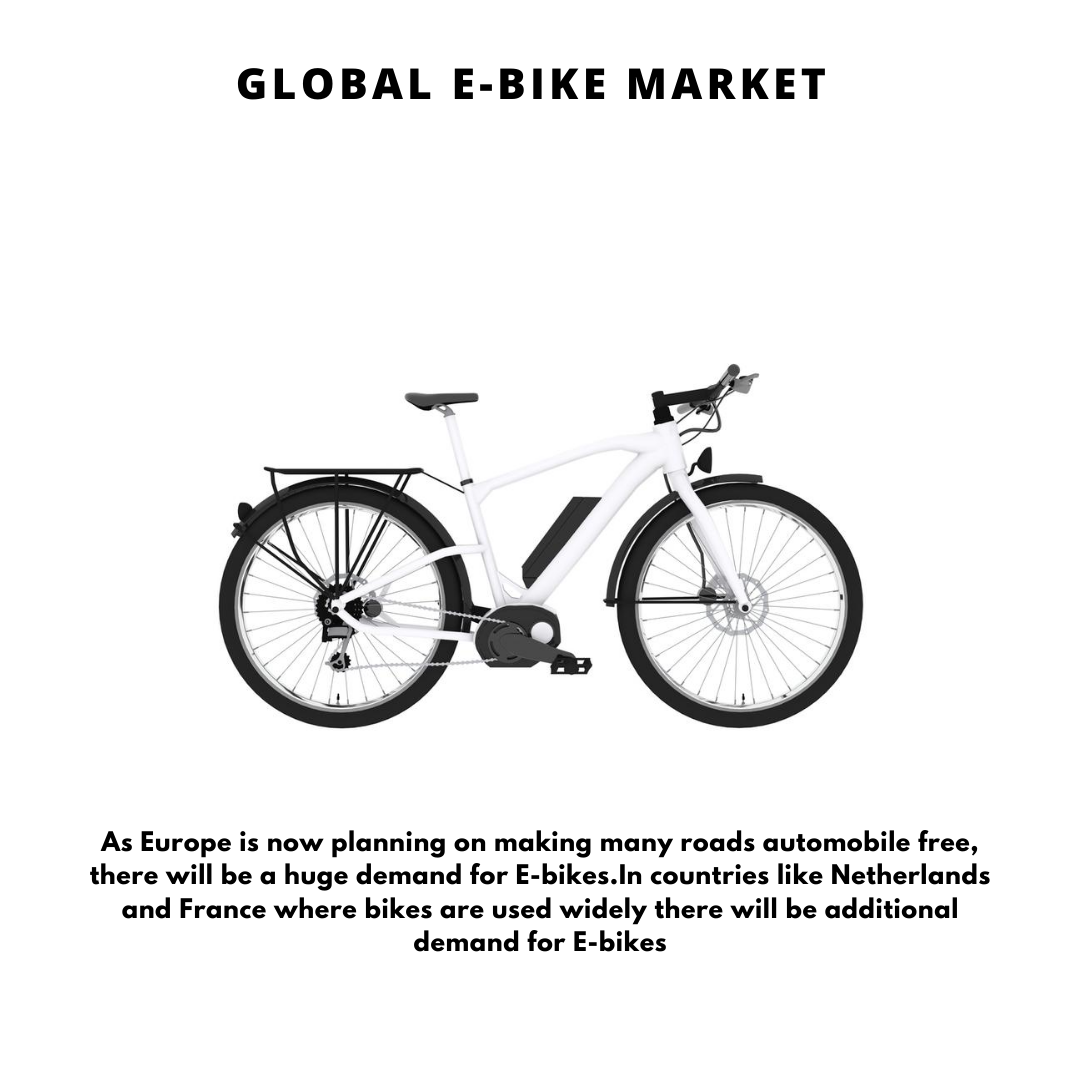 As a result, the rising demand for e-bikes is proving to be an ideal solution to the challenge.
GLOBAL E-BIKE MARKET DYNAMICS
With the gaining conscious for being fit and healthy, E-bikes provide a perfect alternative to gyms(in currentCOVID-19 situation) they also provide a sense of recreational purpose, regular bikes also saw huge jump in sales.
As Europe is now planning on making many roads automobile free, there will be a huge demand for E-bikes.In countries like Netherlands and France where bikes are used widely there will be additional demand for E-bikes and this being a Environmentally friendly option, carbon-neutral and sustainable way of commuting, E-bikes are going to see a huge demand in near future.
Harley-Davidson has been talking about launching electric bicycles to complement its LiveWire electric motorcycles. But, It's not clear when they will come to market as Harley has struggled with work stoppages and reduced sales during the COVID-19 pandemic.
It is possible that the Harley electric bicycle launch could be pushed off until at least 2021. GM also has delayed or abandoned its plans to introduce a line of e-bikes
COVID-19 IMPACT ON E-BIKE MARKET
The United Kingdom bike industry said e-bike sales growth stalled in Q1 and during the country's COVID-19 lockdown. The industry urged the government to provide financial incentives for e-bike purchases and create a public awareness campaign to encourage e-bike sales.
U.S. retailers, suppliers, and sales statistics have indicated that demand for e-bikes has increased significantly due to COVID-19 lockdowns.
US E-BIKE MARKET
By 2019, a large chunk of imports shifted away from very few companies who sold primarily through Amazon under various brands. Instead, a large portion of overall imports is now going to consumer-direct e-bike specialists, brick and mortar e-bike specialists (EBDs), and conventional bicycle brands.
US eBike Imports Could Reach Record Levels in 2020. Despite concerns over Trump's tariffs and huge disruption tp e-bike supply chains caused by coronavirus, US imports could reach 400,000 in 2020, up ~37% from 2019.
The $1,500-$3,000 price point is seeing excellent traction across all major E-bike retail points.
CHINA E-BIKE MARKET
In China, the output of electric bikes climbed ~20% YOY to reach 21 million in the January-September 2019. In September 2019 alone, bicycle output dropped 4.3 percent YOY to 3.4 million, while the output of electric bikes rose 31% YOY to 3.16 million.
Europe E-BIKE MARKET
In 2019, the French market has recorded a new increase in bicycle sales in 2019 and reached a total of $2.6 Billion, +10% YOY. About ~390k E-bikes were sold in French market or ~15% of overall bicycle sales. The average price went up by 14% in 2019.
In Germany, E-bike sales grew by 39% YOY to ~1.4 Million units in 2019.
In UK, Sales of bikes selling between $550 and $1,350) more than doubled in April 2020 compared to April 2019. Overall, bike sales rose by 60% YOY by volume and 57% by value
NEW PRODUCTS DEVELOPED IN E-BIKE MARKET
June 2020- The British motorcycle brand Triumph unveiled its first e-bike, an aluminum-frame model that will retail for about $3,750
July 2018– Yamaha introduced 600Wh multi-location in tube battery, for Electrically Power Assisted Bicycles (EPACs), which offer a 20% capacity increase.
March 2018- Accell Group acquired the US-based Beeline Bikes. Beeline Bikes is a mobile bike service company that delivers a turn-key sales, service, and data collection solutions personalized for Independent Bicycle Dealers (IBDs) in North America based on a franchise concept.
September 2017– Bosch e-bike system took over a start-up based in Frankfurt named COBI.
November 2016– Giant Bicycle continued its partnership with Cycling Development Foundation (CDF), which is a joint commitment to support the cycling development in Western Australia.
GLOBAL E-BIKE MARKET SIZE AND FORECAST
There has been a continuous increase in demand for E-bikes since 2001 and is expected to grow throughout next decade.
Europe- already a big market for E-bikes, and their demand is expected to grow now as well, countries which are expected to see growth are as follows Germany, United Kingdom,France,Italy,Rest of Europe- lesser compared to growth in these countries.
Asia-Pacific is an emerging market in E-bikes and these markets are lesser explored currently countries which are projected to have a growth in following days are as follows India,will be a leading emerging market in Asia-pacific, followed by China, and the Japan and lastly South Korea. Rest of Asia-Pacific would also see an increase in demand but their growth wouldn't be as high as compared to other countries in Asia-pacific.
The global E-bike market is estimated at $XXM in 2020, growing at double digits till 2025.
COMPANY PROFILES
Aima Technology Group Co., Ltd
MERDIA INDUSTRIES Co.Ltd
| | |
| --- | --- |
| Sl no | Topic |
| 1 | Market Segmentation |
| 2 | Scope of the report |
| 3 | Abbreviations |
| 4 | Research Methodology |
| 5 | Executive Summary |
| 6 | Introduction |
| 7 | Insights from Industry stakeholders |
| 8 | Cost breakdown of Product by sub-components and average profit margin |
| 9 | Disruptive innovation in the Industry |
| 10 | Technology trends in the Industry |
| 11 | Consumer trends in the industry |
| 12 | Recent Production Milestones |
| 13 | Component Manufacturing in US, EU and China |
| 14 | COVID-19 impact on overall market |
| 15 | COVID-19 impact on Production of components |
| 16 | COVID-19 impact on Point of sale |
| 17 | Market Segmentation, Dynamics and Forecast by Geography, 2020-2025 |
| 18 | Market Segmentation, Dynamics and Forecast by Product Type, 2020-2025 |
| 19 | Market Segmentation, Dynamics and Forecast by Application, 2020-2025 |
| 20 | Market Segmentation, Dynamics and Forecast by End use, 2020-2025 |
| 21 | Product installation rate by OEM, 2020 |
| 22 | Incline/Decline in Average B-2-B selling price in past 5 years |
| 23 | Competition from substitute products |
| 24 | Gross margin and average profitability of suppliers |
| 25 | New product development in past 12 months |
| 26 | M&A in past 12 months |
| 27 | Growth strategy of leading players |
| 28 | Market share of vendors, 2020 |
| 29 | Company Profiles |
| 30 | Unmet needs and opportunity for new suppliers |
| 31 | Conclusion |
| 32 | Appendix |