Global ADAS Camera Market Size, Trends, Forecast & Risks 2019-2025
February 20, 2020

Request Sample
NUMBER OF PAGES-125
Multi User License - $2,500
INTRODUCTION
Cameras are to computers (of ADAS systems), what mirrors and windows are to human drivers. They allow vehicle`s computer to asses outside environment and take corrective measures to enhance vehicle`s safety.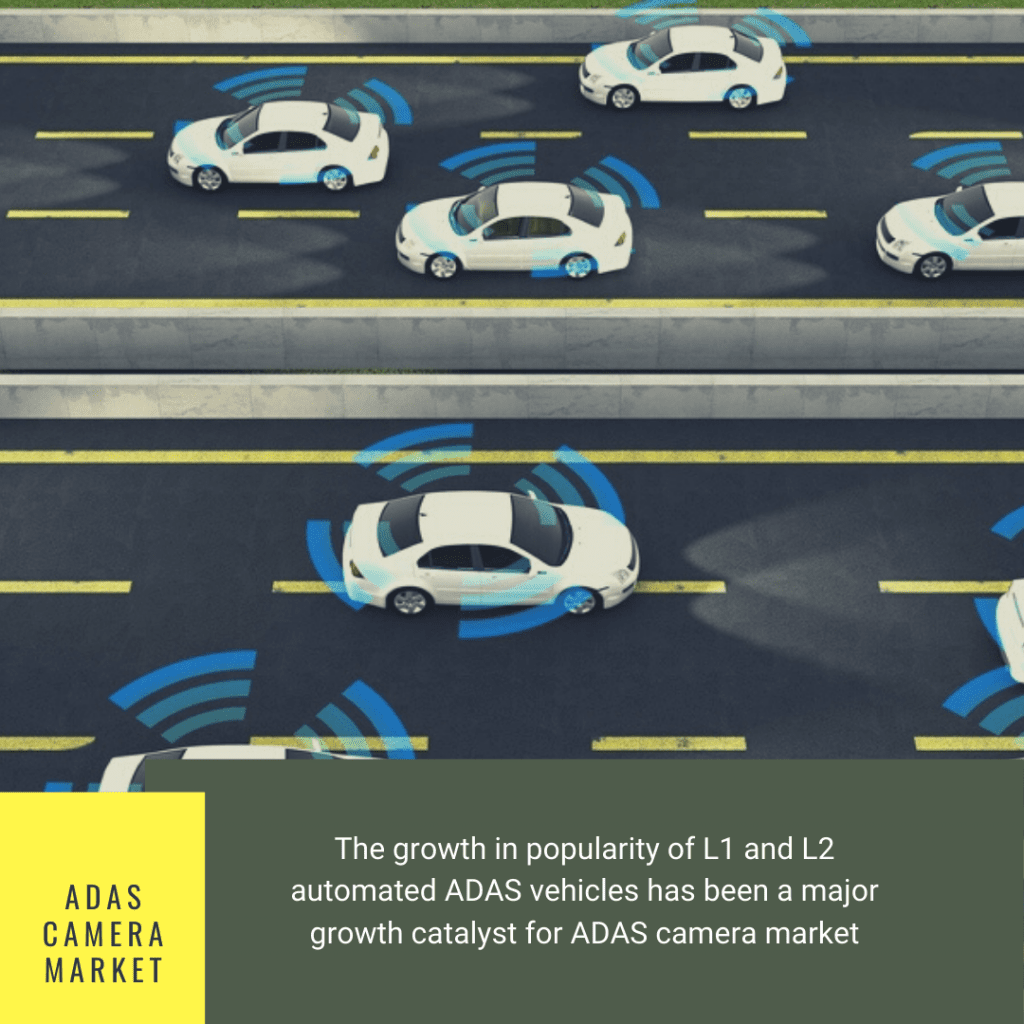 Mono cameras, which supported limited ADAS functionalities laid the foundation for growth of automotive camera market, followed by stereo cameras which could support multiple functionalities. But in the coming years it will be Multi-purpose camera- combines AI and image recognition software to facilitate object detection, driving growth of ADAS camera market.
MARKET DYNAMICS
Camera based ADAS has been growing at an unprecedented rate in US, Europe, and China.
The growth in popularity of L1 and L2 automated ADAS vehicles has been a major growth catalyst for ADAS camera market.
In China, many OEMs are now planning to launch L3 automated vehicles by 2020-21 and as per our Autonomous Car HD maps report, – upto 25 L3 automated vehicles from 15 OEMs could be offered by 2025.
ADAS TECHNOLOGIES SUPPORTED BY CAMERA
| | | |
| --- | --- | --- |
| Sl no | ADAS | Required number of camera(s) per Vehicle |
| 1 | 360 degree /Surround view system | 4 |
| 2 | Adaptive headlights | 1 |
| 3 | Blind Spot Monitoring System | 2 |
| 4 | Driver Monitoring System | 1 |
| 5 | Lane departure warning/ Lane keep assist/Lane centring assist | 1 |
| 6 | Camera mirror system | 1 |
| 7 | Automated valet parking | 4-8 |
| 8 | Wing mirror replacement camera system | 2 |
| 9 | Rear cross traffic alert (backup camera) | 1 |
| 10 | Highway autopilot (L2-L2+ automation) | Up to 8 |
| 11 | Traffic sign recognition | 1 |
| 12 | Adaptive cruise control | 2 |
| 13 | Pedestrian/Cyclist detection | 2 |
| 14 | Night Vision System | 1 |
| 15 | Traffic Jam Assist/Pilot | 1 |
In terms of sub-components, the ADAS module designers have multiple design constraints while designing the cameras modules, and therefore there is a growing demand for more advanced power management Integrated chips.
The front ADAS cameras have been performance-constrained due to power consumption limits inherent in the form factor. This has not allowed tier-1 suppliers and OEMs to improve the performance and accuracy of ADAS algorithms.
The upcoming cameras will have Image signal processor with low-light capabilities, HDR processing to facilitate video recording and streaming capabilities to their ADAS cameras.
The ever-growing need to support more multi-modal systems with multiple sensors per system is pushing the boundaries for semi-conductor technology providers, and the automotive OEMs face the challenge of how to integrate new sensors around the vehicle seamlessly.
OEMs` PERSPECTIVE ON ADAS CAMERA MARKET
BMW continues to gradually phase out Mono vision systems from its lineup. Stereo vision will be the standard ADAS vision system in many other European OEMs` lineup.
MARKET SEGMENTATION
By Camera Type
Mono Camera
Stereo Camera
Night vision Camera
Multi-purpose Camera
By OEM
GM
Ford
Luxury car OEMs(Audi, BMW, Mercedes, Volvo, JLR)
FCA
Toyota
Nissan
Honda
VW Group
Tesla
PSA Group
Chinese OEMs
By Geography
US
Europe
China
Japan
India
Canada
South Korea
ASEAN
Latin America
ROW
COMPETITIVE LANDSCAPE
Owing to rapid growth in past few years, there are now more than 20 vendors in the ADAS camera market.There have been many partnerships (Ex- Valeo-Mobileye, Hella-Ambarella etc) among suppliers across value chain to expand their reach and we expect this to continue in coming years as well.
Hella is following a different go-to-market strategy, where it is providing customers with the possibility of updating hardware components and software functions, such as lighting control, lane/object recognition per individual preferences and needs. The software system is not bound to a specific hardware but can be flexibly used with other components by Hella across vehicle platforms.
During Q1 2020, Veoneer will be launching its Generation 4 Mono Vision camera system and Zenuity software suite for autonomous driving. During Q2-Q3 2020, it plans to launch other camera technologies, including Thermal Night Vision Generation 4 technology;  driver monitoring system; Generation 4 Stereo vision camera, as well as a  stereo vision solution.The company expects these products to be the foundation of growth for coming years. 
COMPANY PROFILES
Denso Corporation
Mitsubishi Electric(Upcoming)
Jabil Circuits, Inc.
Samvardhana Motherson
Stonkam Co., Ltd
LG Innotek
THIS REPORT WILL ANSWER THE FOLLWING QUESTIONS
Camera based ADAS installation rate in Top 20 vehicle platforms, by region
ADAS Camera Market size and Forecast by vehicle segment, geography, application, and position
B-2-B Price increase in ADAS camera market due to integration of new capabilities
Market share of major vendors and their growth strategy
OE-supplier alignment in ADAS camera market
| | |
| --- | --- |
| 1 | Market Segmentation |
| 2 | Executive Summary |
| 3 | Introduction |
| 4 | Insights from Industry stakeholders |
| 5 | Breakdown of new concept vehicles by ADAS |
| 6 | Disruptive innovations in ADAS camera |
| 7 | Cost breakdown of ADAS camera by sub-components and average profit margin |
| 8 | Top 10 vehicle platforms with ADAS camera, By region |
| 9 | Suppliers order intake in ADAS Camera market |
| 10 | Market Size ,Dynamics and Forecast By OEM |
| 11 | Market Size ,Dynamics and Forecast By Geography |
| 12 | Market Size ,Dynamics and Forecast By Camera type |
| 13 | Competitive Landscape, Earnings comparison of suppliers and market share |
| 14 | About new companies/startups in ADAS camera market |
| 15 | OEM-supplier relationship in ADAS camera market |
| 16 | Company Profiles |
| 17 | Mergers and acquisitions in past 5 years |
| 18 | Unmet needs and Market Opportunity for suppliers |
| 19 | Conclusion |
| 20 | Appendix |