Global Rolling Stock Market 2020-2025
February 19, 2020

Request Sample
Number Of Pages – 140
Multi User License - $2,500
Global Rolling Stock Market 2020-2025
As of Dec 2019, there are more than  200 passenger railway operating companies in the European Union, generating more than 9 billion trips annually. Germany and Switzerland alone have more than 100 rail operators.About 70% of all operators are public(government) owned whereas the remaining are private owned.
In terms of infrastructure, about 230,000km long rail tracks exist in all EU countries.Germany, France and Poland have more than 30% cumulative share, Germany being the biggest.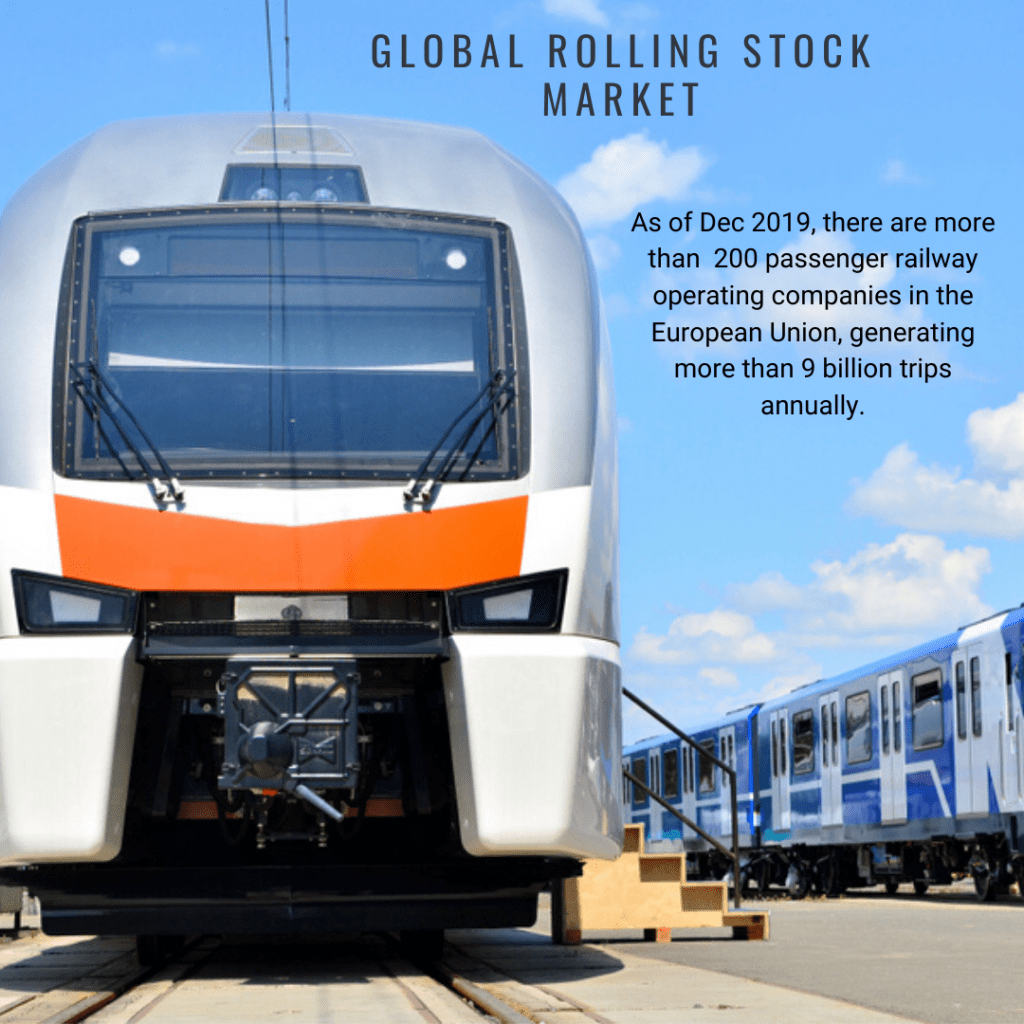 China is now a powerhouse in high speed rolling stock manufacturing and exports, and much of that has happened between 2005-2015. 16 years ago(2004), China abandoned its own development attempt at high speed rail development, deciding instead to rely upon Japanese, German, and French technology.
MARKET DYNAMICS
Rail transit is not as big in North America as Europe or China. US has just over 1,500km network of light rail transit whereas Canada has just over 200km network length.
The freight rail market in North America is 3X bigger than passenger transit because of the sheer length and breadth of the two countries.
The Indian Railways contributes to ~3% of the country's gross domestic product (GDP) and has social obligations pegged at $5.3 Billion annually. It is among the few government-owned enterprises which has been incurring losses year-after-year. Railways around the world, like in the US, Europe and Japan have undergone ownership changes. But, Indian railways, continues to be monitored by government.
The Indian railways' plan of exporting its coaches in the global $180 Billion rolling stock market will be major growth driver for rolling stock market in India. New coach manufacturing in India has already got a boost by record high CAPEX allocation of ~$900M in the FY 2019-20 budget, a sharp increase as compared to just ~$500M in FY 2018-2019.
RECENT DEVELOPMENTS IN ROLLING STOCK MARKET IN EUROPE
Jan 2020– Stadler won an order for its new gen tram which features  driver assistance system with traffic sign recognition, a new bogie design  to optimize the use of space and improve maintainability, and an air- conditioning system with CO2 as the refrigerant
Jan 2020-  The first driver-less metro line in Hamburg has been formally handed over to operator Hamburger Hochbahn for construction to be completed by 2021
Jan 2020– Switzerland based Chemin de Fer Nyon-Saint-Cergue-Morez  awarded Stadler a contract to supply six two-car electric multiple-units. The EMUs will be delivered between late 2021 and early 2022
RECENT DEVELOPMENTS IN ROLLING STOCK MARKET IN CHINA
Dec 2019– A hydrogen fuel cell Tram has started test running  in Foshan ahead of opening of the city's first tram route. CRRC Qingdao Sifang is supplying eight trams powered by hydrogen fuel cells developed with Canada based Ballard Power Systems
Sep 2019– The first of 49 driverless trains to operate on Shanghai metro Line 14 was officially rolled out by CRRC Nanjing Puzhen. The eight-car Type A trainsets are equipped with Bombardier's Mitrac propulsion and control systems
April 2019– CRRC Tangshan  completed pre-delivering testing of a variable configuration EMU, which is designed for two power cars and up to 16 single or double-deck coaches
RECENT DEVELOPMENTS IN ROLLING STOCK MARKET IN NORTH AMERICA
Dec 2019– CRRC started testing Chicago Series 7000 metro cars. CRRC won the order to supply upto 846 metro vehicles in 2016 and will be assembling it in the Hegewisch district.
November 2019 –Southern California's San Bernardino County Transportation Authority awarded Stadler a contract to supply a Flirt H2 hydrogen fuel cell powered multiple-unit to enter passenger service in 2024, with an option for four more units.
September 2019- Massachusetts Bay Transportation Authority awarded Hyundai Rotem a $278·5 Million sole-source contract to supply 80 double-deck coaches. The new coaches will replace single deck vehicles to increase capacity on the Boston commuter rail network by more than 14 000 seats/day.
RECENT DEVELOPMENTS IN ROLLING STOCK MARKET IN INDIA
Oct 2019– BEML which has ~almost 50% market share in metro cars in India inaugurated a bogie and traction motor testing facility at its metro car manufacturing plant at the BEML Bangalore Complex
Oct 2019– State run, loss making, Indian Railways planned to invite private domestic and international operators to bid for operating passenger trains on a lease basis on 25 inter-city routes covering distances from 500-700km.Private operators will be required to pay haulage fees along with the lease fee
Oct 2019-  Indian Railways planned to procure 100 new trains by 2022 to increase the speed of services. Initially seven trains will be imported and the remaining trains will be manufactured in India under a technology transfer arrangement
COMPANY PROFILES
China Railway Rolling Stock Corporation (CRRC Qingdao Sifang)
Bombardier Sifang (Qingdao) Transportation Ltd.
CRRC Nanjing Puzhen Co, Ltd
THIS REPORT WILL ANSWER FOLLOWING QUESTIONS
Market Size and Forecast, by geography($M)
Opportunities and risks in Global Rolling Stock Market 
Important technology trends and regulatory changes
5 key predictions for next 5 years in Global Rolling Stock Market  
Competitive landscape and market share of leading vendors
| | |
| --- | --- |
| Sl no | Topic |
| 1 | Market Segmentation |
| 2 | Scope of the report |
| 3 | Abbreviations |
| 4 | Research Methodology |
| 5 | Executive Summary |
| 6 | Introduction |
| 7 | Insights from Industry stakeholders |
| 8 | Cost breakdown of Product by sub-components and average profit margin |
| 9 | Disruptive innovation in the Industry |
| 10 | Technology trends in the Industry |
| 11 | Consumer trends in the industry |
| 12 | Recent Production Milestones |
| 13 | Component Manufacturing in US, EU and China |
| 14 | COVID-19 impact on overall market |
| 15 | COVID-19 impact on Production of components |
| 16 | COVID-19 impact on Point of sale |
| 17 | Market Segmentation, Dynamics and Forecast by Geography, 2020-2025 |
| 18 | Market Segmentation, Dynamics and Forecast by Product Type, 2020-2025 |
| 19 | Market Segmentation, Dynamics and Forecast by Application, 2020-2025 |
| 20 | Market Segmentation, Dynamics and Forecast by End use, 2020-2025 |
| 21 | Product installation rate by OEM, 2020 |
| 22 | Incline/Decline in Average B-2-B selling price in past 5 years |
| 23 | Competition from substitute products |
| 24 | Gross margin and average profitability of suppliers |
| 25 | New product development in past 12 months |
| 26 | M&A in past 12 months |
| 27 | Growth strategy of leading players |
| 28 | Market share of vendors, 2020 |
| 29 | Company Profiles |
| 30 | Unmet needs and opportunity for new suppliers |
| 31 | Conclusion |
| 32 | Appendix |