Global Truck Engine Market 2020-2025
January 10, 2020

Request Sample
NUMBER OF PAGES- 110
Multi User License - $2,500
TRUCK ENGINE MARKET
Trucks play an important role in carrying freight and vocational applications like construction, mining, food service, landscaping etc. The engines powering these heavy vehicles are predominantly Diesel and CNG in 98% of all applications.
North America relies on trucks for moving more than 2 thirds of its freight.More than 92% of fleet operators in North America are small i.e. own less than 6 tractors. The fleet operators with more than 500 trucks have close to 45% share of new registrations, but they only represent about 24% of trucks in operation. The bigger fleet operators who own thousands of tractors differentiate themselves from smaller operators at multiple levels.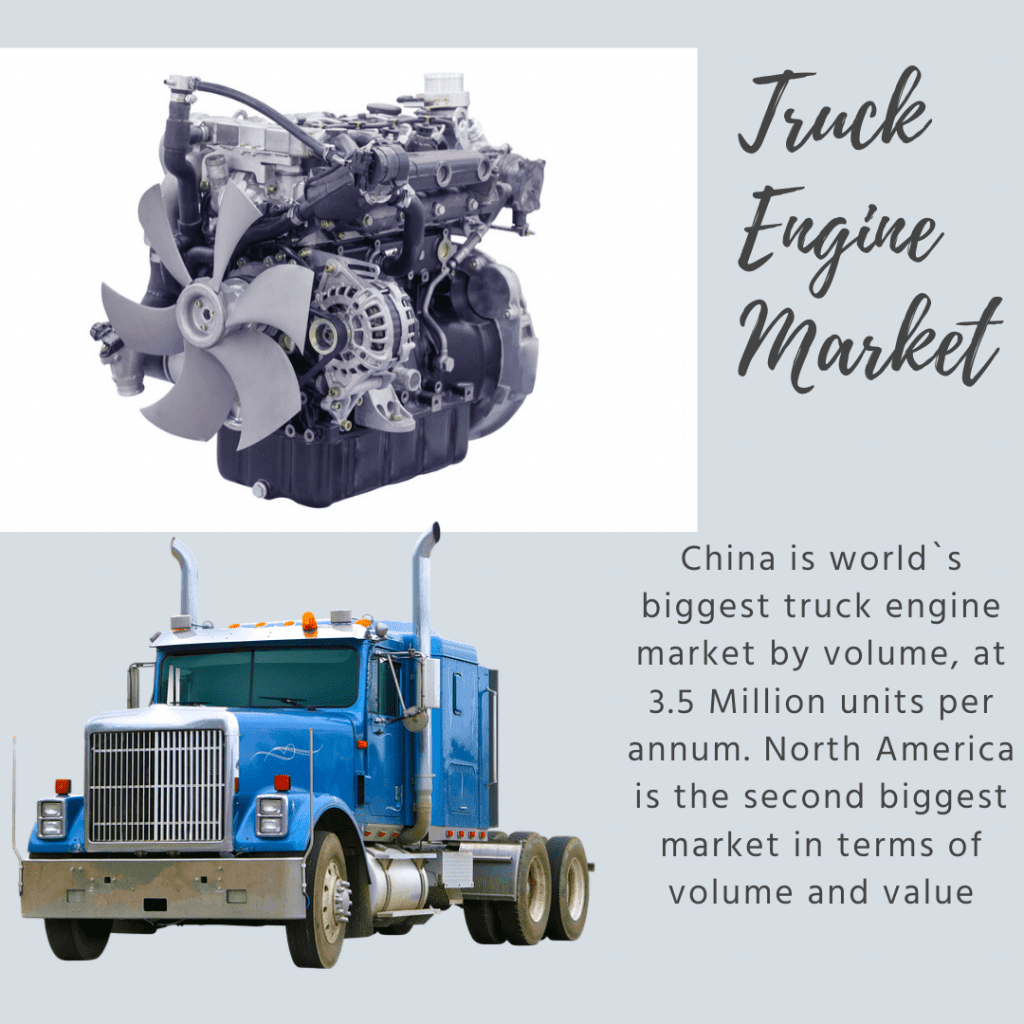 Light trucks or Light commercial vehicles are used in last mile delivery as well as intra-city applications and they account for more than 60% commercial vehicles sold globally.
Diesel powertrain has long dominated the trucking industry as the most preferred propulsion choice. However, with the evolution of lithium ion battery, mostly driven by development of electric car market, electric light trucks seem like the obvious next thing.
MARKET DYNAMICS
Engine downsizing and down speeding, both are not a new concept in the automotive industry. The internal combustion engine generates a lot of friction and consumes more fuel at a higher engine RPM (revolution per minute), therefore it is only natural to reduce the size of the engine and produce more torque at lower RPM.
Down speeding is very useful in long haul applications where the trucks would be running at a higher speed consistently and a lower engine RPM would reduce NVH(Noise, vibration and harshness )along with fuel consumption. Downsizing is not that effective in regional hauling where the trucks would run at inconsistent speed for shorter duration,including rapid acceleration and deceleration.
The long haul class 8 trucks typically cruise at around ~1100 RPM at 65 mph but the future targets for the same speed are in the range of ~900 RPM. The engine downsizing on the other hand will be useful in every possible application if the downsized engine is making as much power and torques as it was making earlier, only with less fuel required now.
Volvo has been focussing on turbo compounding on its engines to deliver 5%-6% more power and equally higher fuel economy as compared to similar displacement engines.
MARKET SEGMENTATION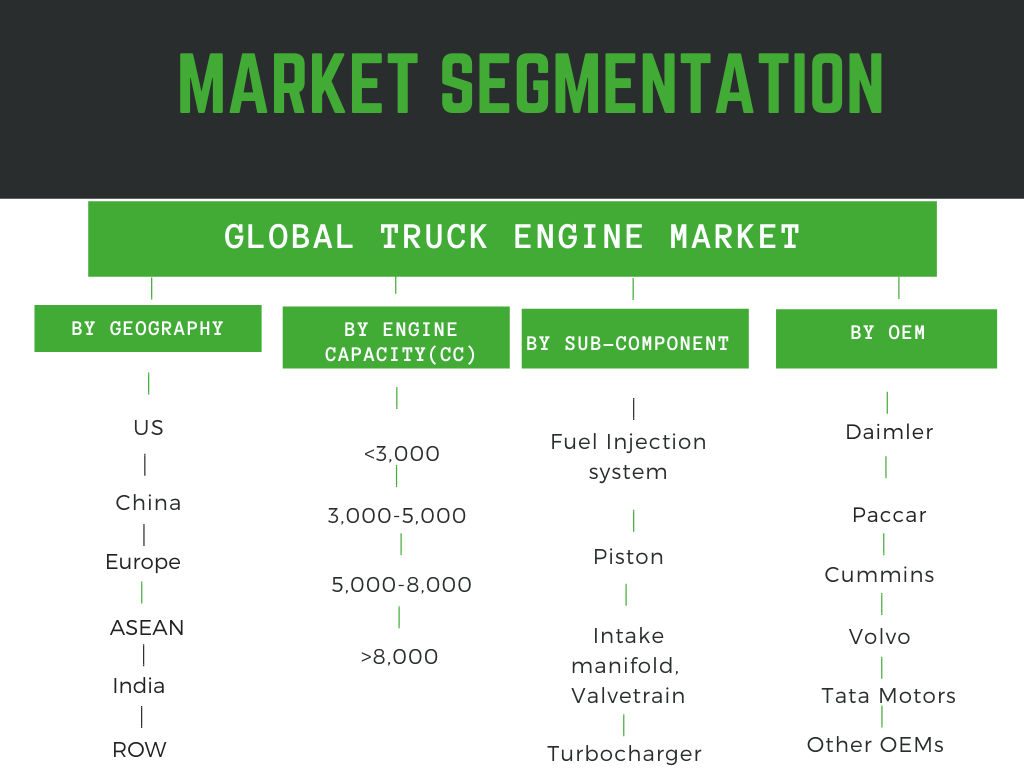 INDIA TRUCK ENGINE MARKET
India, is world`s third biggest Medium and Heavy truck market with annual sales of 220,000- 280,000 units per annum. To know more about India truck market, read our report.
Tata Motors, is the market leader in India with more than 40% market share. The engines used in their light commercial trucks (LCV) range from 3L to 5L and power ranging from 85hp to 180hp and torque 250Nm to 590Nm. The GVW for LCVs ranges from 4 Tons to 16 Tons and Gradeability of these light truck's ranges from 18% to 39%.
The engine capacity used in M&HCV range in India is among the lowes, globally i.e. from 5L to 7.5L and power ranging from 135hp to 300hp and torque 400Nm to 1100Nm. The GVW for these vehicles ranges from 16T to 55T and gradeability for these heavy trucks range from 18% to 72% in crawler gear.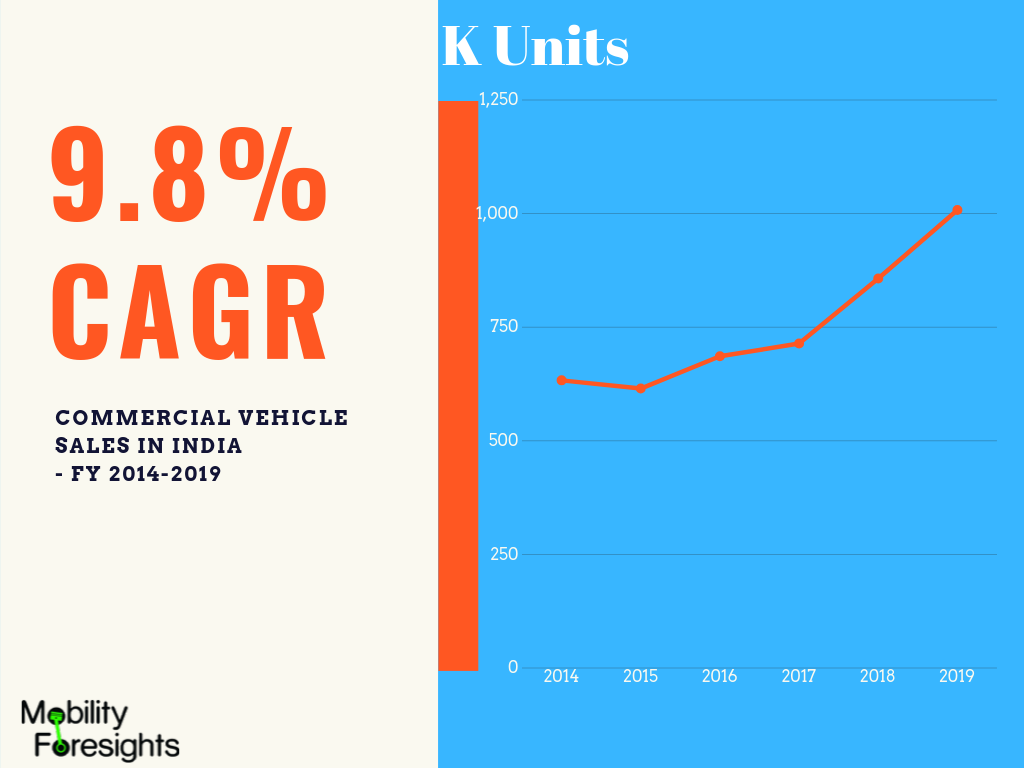 US TRUCK ENGINE MARKET
There are close to 40 Class 8 Truck models available in the North American market. To know more about Class 8 truck market in North America, read our report.
Cummins ISX 15 is the most sought-after Cummins heavy duty engine in North America.Paccar has been the single largest customer of Cummins for heavy duty engines for many decades. In past 2-3 years, Paccar has been promoting and updating its own MX-11 and MX-13 engines. In 2017-18, the uptake of its MX series engines was upwards of 45%.
The 1 ton power plants under the hood of Class 8 trucks are consistently shrinking in size and they will continue to do so in the foreseeable future as well.
MARKET SIZE AND FORECAST
China is world`s biggest truck engine market by volume, at 3 Million units per annum. North America is the second biggest market in terms of volume and value. 
The global truck engine market size is estimated at 6 Million units per annum, growing at 5.3% CAGR.

COMPETITIVE LANDSCAPE
In Light truck segment, almost all truck manufacturers prefer manufacturing engines in-house but in M&HCV segment, many OEMs are relying on Cummins. Cummins is the global leader in Diesel truck engine market with more than 30% share in US market alone.PACCAR and Navistar are the biggest buyers of Cummins Class 8 truck engines.
THIS REPORT WILL ANSWER THE FOLLOWING QUESTIONS
Share of outsourced vs in-sourced engine production in 2020-2025, by truck segment
Market size and Forecast of global truck engine market, split by components and fuel type
Opportunity for sub-component(Piston, CRDI system, valvetrain, turbocharger, Exhaust) manufacturers
Impact of electric commercial vehicles on truck engine market
What will be the future of natural gas truck engines?
Important trends in next gen truck engine development
| | |
| --- | --- |
| Sl no | Topic |
| 1 | Market Segmentation |
| 2 | Scope of the report |
| 3 | Abbreviations |
| 4 | Research Methodology |
| 5 | Executive Summary |
| 6 | Introduction |
| 7 | Insights from Industry stakeholders |
| 8 | Cost breakdown of Product by sub-components and average profit margin |
| 9 | Disruptive innovation in the Industry |
| 10 | Technology trends in the Industry |
| 11 | Consumer trends in the industry |
| 12 | Recent Production Milestones |
| 13 | Component Manufacturing in US, EU and China |
| 14 | COVID-19 impact on overall market |
| 15 | COVID-19 impact on Production of components |
| 16 | COVID-19 impact on Point of sale |
| 17 | Market Segmentation, Dynamics and Forecast by Geography, 2020-2025 |
| 18 | Market Segmentation, Dynamics and Forecast by Product Type, 2020-2025 |
| 19 | Market Segmentation, Dynamics and Forecast by Application, 2020-2025 |
| 20 | Market Segmentation, Dynamics and Forecast by End use, 2020-2025 |
| 21 | Product installation rate by OEM, 2020 |
| 22 | Incline/Decline in Average B-2-B selling price in past 5 years |
| 23 | Competition from substitute products |
| 24 | Gross margin and average profitability of suppliers |
| 25 | New product development in past 12 months |
| 26 | M&A in past 12 months |
| 27 | Growth strategy of leading players |
| 28 | Market share of vendors, 2020 |
| 29 | Company Profiles |
| 30 | Unmet needs and opportunity for new suppliers |
| 31 | Conclusion |
| 32 | Appendix |