Used car Market in US Size,Trends, Forecast & Risk 2019-2025
December 23, 2019

Request Sample
COMING SOON
Multi User License - $1,800
US USED CAR MARKET
KEY FINDINGS
Automotive retailers are now improving Omni-channel presence( swift movement between online platform and physical store/experience centers) across the country to sell more cars and increase their GPU( Gross profit per unit)
The acquisition price for dealers has remained more or less flat in 2019, which went up by $400-$500 each in 2017 and 2018
In California, the biggest car market in US, the sales of new cars are higher than <6 year old used cars. Los Angeles is the largest 0-3 year old used car market in US. Contrary to new car sales, sedans outsell trucks by a significant margin in used car market in California
In 2019, small(Honda Civic, Toyota Corolla etc) and midsize cars(Honda Accord, Toyota Camry etc) showed the strongest price appreciation. SUVs/ crossovers and Pickups have also shown strong demand, too, but a higher supply inventory has suppressed prices so far
INTRODUCTION
Used car sales in any country is a derivative of the new car market.  In a market like US where 70-80% of new vehicles sold are either leased/financed, the new cars make their way to used car market in a span of 3-4 years, when the lease/finance period gets over.
MARKET SEGMENTATION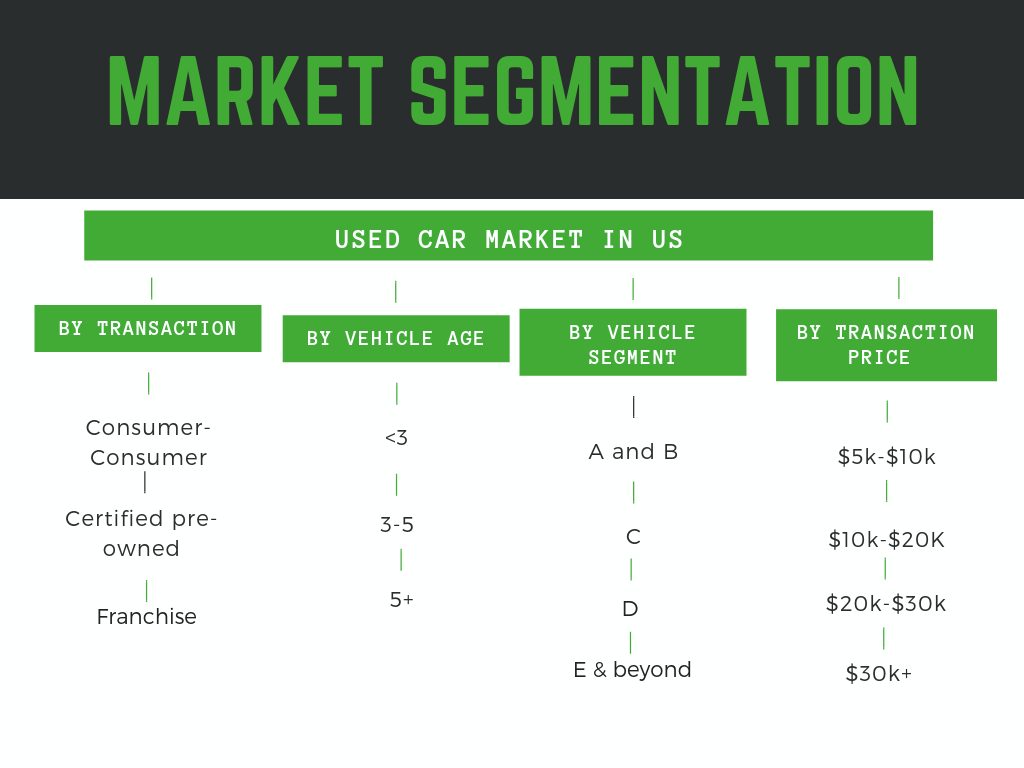 TRANSACTION PRICES
Now that the average transaction prices of new cars in US have gone up to ~$34,500, due to consumer shift to high priced and well-equipped pickups and SUVs, they are now out of reach for many low and mid-income buyers. On the other hand, the average transaction prices in used car segment have now inched closer to $20k mark still offering a ~40%-50% saving on new cars depending on vehicle segment and trim.
POPULAR CONSUMER TRENDS
Connectivity and convenience features have been big selling points for consumers whereas hybridization and other hi-tech features have found very few takers
SUVs and pickups now make up for ~70% of new car sales but in the used car market, their combined share is only ~55-60%.
The average age and miles driven by used cars in 2019 has come down by ~15% as compared to 2013-2014
The share of franchise and certified pre-owned vehicles in total used car sales has come down from 38% to 34% in past few years, indicating growth in consumer to consumer transactions
The average savings in buying a 3 yr old used sedan as compared to new cars is ~35%-45% whereas in SUVs and pickups it ranges between 25%-38%
CPO(Certified Pre-owned) vehicles now account for ~6% of total used car sales and are an important tool for OEMs to reach first time Millenial buyers
TOP 5 OFF-LEASE VEHICLE MARKETS IN US
| | |
| --- | --- |
| Sl no | City |
| 1 | NewYork |
| 2 | LosAngeles |
| 3 | Detroit |
| 4 | Miami |
| 5 | Philadelphia |
MARKET SIZE AND FORECAST
The annual used car sales in US are typically in the range of ~40-42 M units i.e. 2-2.5X of new car sales. More than 90% used car  transactions happen in the $5k-$33k price range
The used car market in US is estimated at $750B in 2019 growing at –% CAGR till 2025
THE PROLIFERATION OF DIGITAL PLATFORMS
The used car sales which are now enabled by simple click of a button ensure more transparency about the vehicle, buyer and seller , significantly enhancing the overall process. Most prominent examples include 
Sonic Automotive launched an app for vehicle appraisals 
Group 1 Motors launched "Accelride" which allows users to browse vehicle inventory, select financing and payment terms and coordinate home-delivery
Carvana developed a proprietary vehicle-acquisition algorithm to customize its vehicle inventory to an individual customer`s needs
In China, the online used car companies raised more than $1 Billion in 2018 alone. To know more about it, read our Online used car market in China report
COMPETITIVE LANDSCAPE
The used car market in US is fragmented and open for new entrants. The top 10 used vehicle retailers contribute to less than 10% used car sales in US. CarMax is the market leader with less than 2% market share, followed by Penske Automotive Group.
Certified pre-owned vehicles are selling quicker with better margins than similar non-certified pre-owned vehicles.As a result,Honda and Acura are now re-branding and creating a second tier of certification of their certified pre-owned vehicles, offering free oil changes and road-side assistance. Costco is reportedly in talks with multiple OEMs to offer its Costco Automotive program.
COMPANIES PROFILED
Lazy Chimp
Tred
THIS REPORT WILL ANSWER FOLLOWING QUESTIONS
Estimated and Forecasted market size for 2019-2025
Most important consumer trends, which features are most sought after in different regions
Underlying opportunity for automotive aftermarket components and services
Market share of leading vendors and their growth strategies
Impact of digital disruption and opportunity for new vendor or a new tech platform in used car market in US
| | | |
| --- | --- | --- |
| 1 | Market Segmentation | 3 |
| 2 | Executive Summary | 5-6 |
| 3 | Introduction | 7-10 |
| 4 | Wholesale car volumes and Pricing – Past analysis and future outlook | 11-14 |
| 5 | Certified Pre-owned car volumes and Pricing – Past analysis and future outlook | 15-19 |
| 6 | Gross profit per unit analysis(2014-2019), by region, future outlook | 20-24 |
| 7 | Retail sales by franchised dealers(2014-2019), by vehicle type, future outlook | 25-28 |
| 8 | Average marketing/advertising cost per unit (2014-2019), by media, future outlook | 29-30 |
| 9 | Used car dealerships expansion, by region, future outlook | 31-33 |
| 10 | Potential in used electric car market, future outlook | 34-35 |
| 11 | Impact of online used car platforms on brick and mortar dealerships | 36-38 |
| 12 | Used Car Finance, by lender type | 39-41 |
| 13 | Vehicle inventory assessment, by vehicle age and region | 42-45 |
| 14 | Market Size ,Dynamics and Forecast By Vehicle segment | 46-60 |
| 15 | Market Size ,Dynamics and Forecast By Vehicle age | 61-178 |
| 16 | Market Size ,Dynamics and Forecast By Transaction type | 80-95 |
| 17 | Market Size ,Dynamics and Forecast By Transaction price | 96-104 |
| 18 | Competitive Landscape, Market share of major vendors | 105-107 |
| 19 | Company Profiles | 108-120 |
| 20 | Unmet needs and Market Opportunity for new vendors | 121-122 |
| 21 | Conclusion | 123-125 |