Global Automotive Seats Market 2020-2025
May 31, 2020

Request Sample
Coming Soon
Multi User License - $2,500
GLOBAL AUTOMOTIVE SEATS MARKET
KEY FINDINGS
The seat dollar content per car continues on an increasing trend as more buyers opt for higher trims of pickups in US and SUVs in China. Europe continues to grow at a moderate level 
Power adjust seats including lumbar support have highest penetration in US, followed by EU and now China is catching up quickly. Continued growth in compact and Mid-size SUVs is the biggest growth driver
Massage seats are still a niche but due to growth in Premium MPV market in US,China, Japan and India, further growth is expected
Leather/Artificial leather trimmed seats are in higher demand in US, but in EU fabric upholstered seat have higher fitment rate
The global automotive seat market is and will remain consolidated with less than 10 players accounting for more 68% share of global market
INTRODUCTION
The primary function of seating system is to accommodate and provide comfort for the passengers. With the increase in demand by customers for more comfort and luxury OEMs and tier 1 manufacturers are striving hard to meet the requirements of the customers. Seating system also plays crucial role in safety of the passengers. Airbags are incorporated within the seats and this demands for smooth seat function.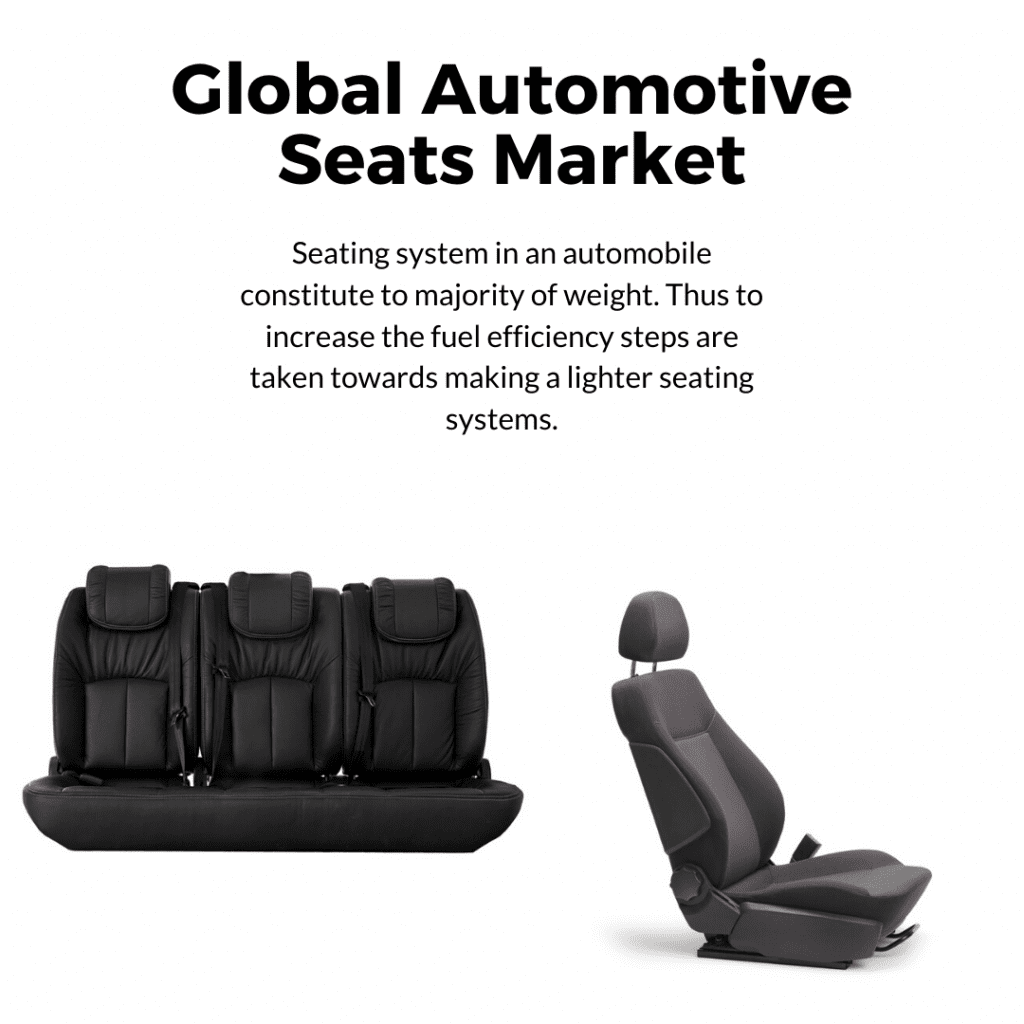 MARKET SEGMENTATION
By type of seats used
Standard
Powered
Ventilated
By OEM
VW Group
Ford
FCA
GM
Toyota
BMW
Daimler
Chinese OEMs
Indian OEMs
Honda
Hyundai-KIA
Other OEMs
By Vehicle
Passenger Cars
Commercial Vehicles
By Geography
US
Europe
China
Asia ex China
ROW
US AUTOMOTIVE SEATS MARKET
The US automotive market is dominated by pickup trucks and commercial vehicles and also luxury car market is one of the largest in the world.
Many top selling US car are have either Powered/climate controlled seats to keep the passengers warm in extreme cold conditions. The rear heated seats come as an option in these cars. As of May 2020, 8 way driver powered seats are a standard fitment on at least 44% of new vehicles sold in the country.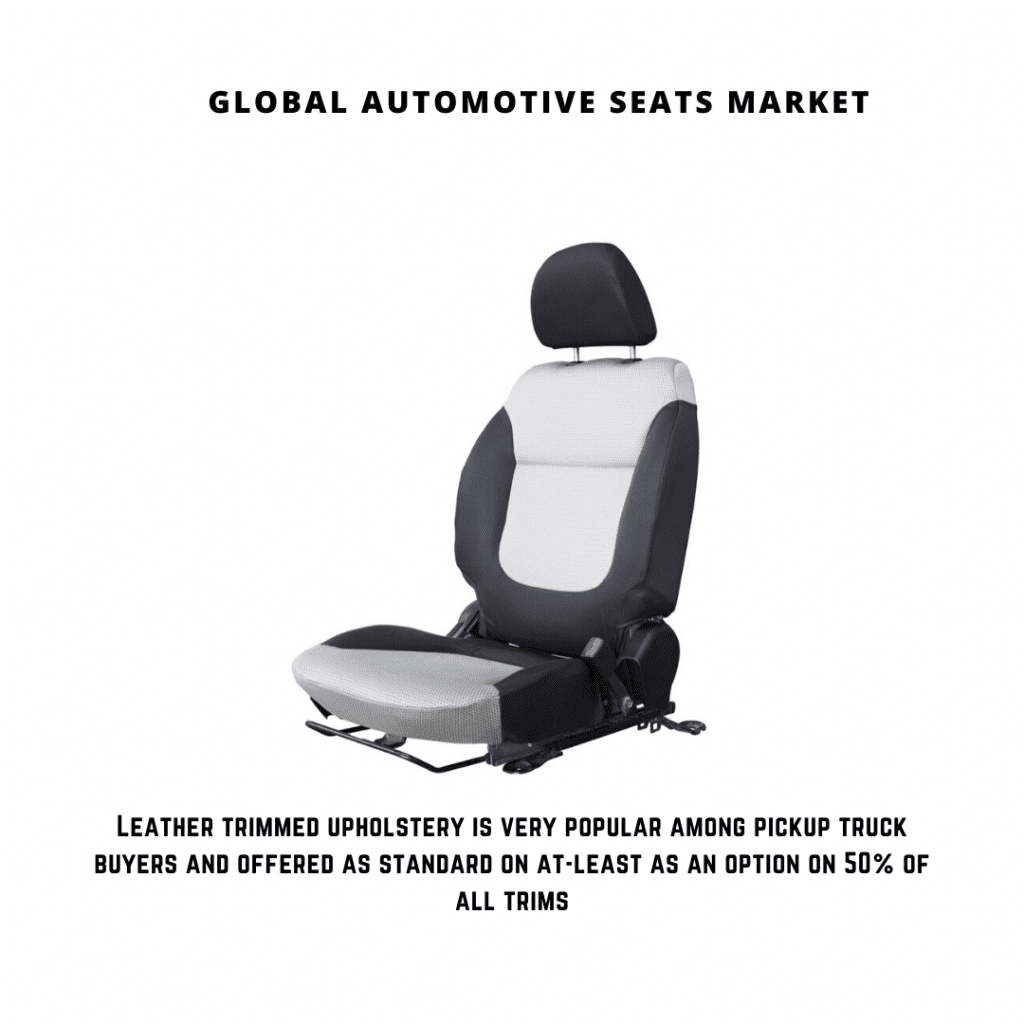 Leather trimmed upholstery is very popular among pickup truck buyers and offered as standard on at-least as an option on 50% of all trims.The installation rate of Heated seats was 53% in 2019 in pickup truck segment and it continues to gain further momentum in Jan-May 2020 as well. Dual tone upholestry is also more common on pickups than SUVs/crossovers in US.
Top seat manufacturers are Lear and Adient Group supplying to major OEMs all over the world.Lear Corporation supplies its seating products to all high volume GM platforms like Chevrolet Tahoe, GMC Yukon, Cadillac Escalade etc. 
EUROPE AUTOMOTIVE SEATS MARKET
Customers' preference for luxury cars has led to rapid increase in seats market in Europe. Almost all vehicles sold in EU have a standard seat side airbag, which is the reason why the average B-2-B prices per seat are higher.
Three out of top 10 best-selling vehicles in EU like Ford Fiesta, VW Polo and Renault Clio do not get a Power adjust driver seat on any trims.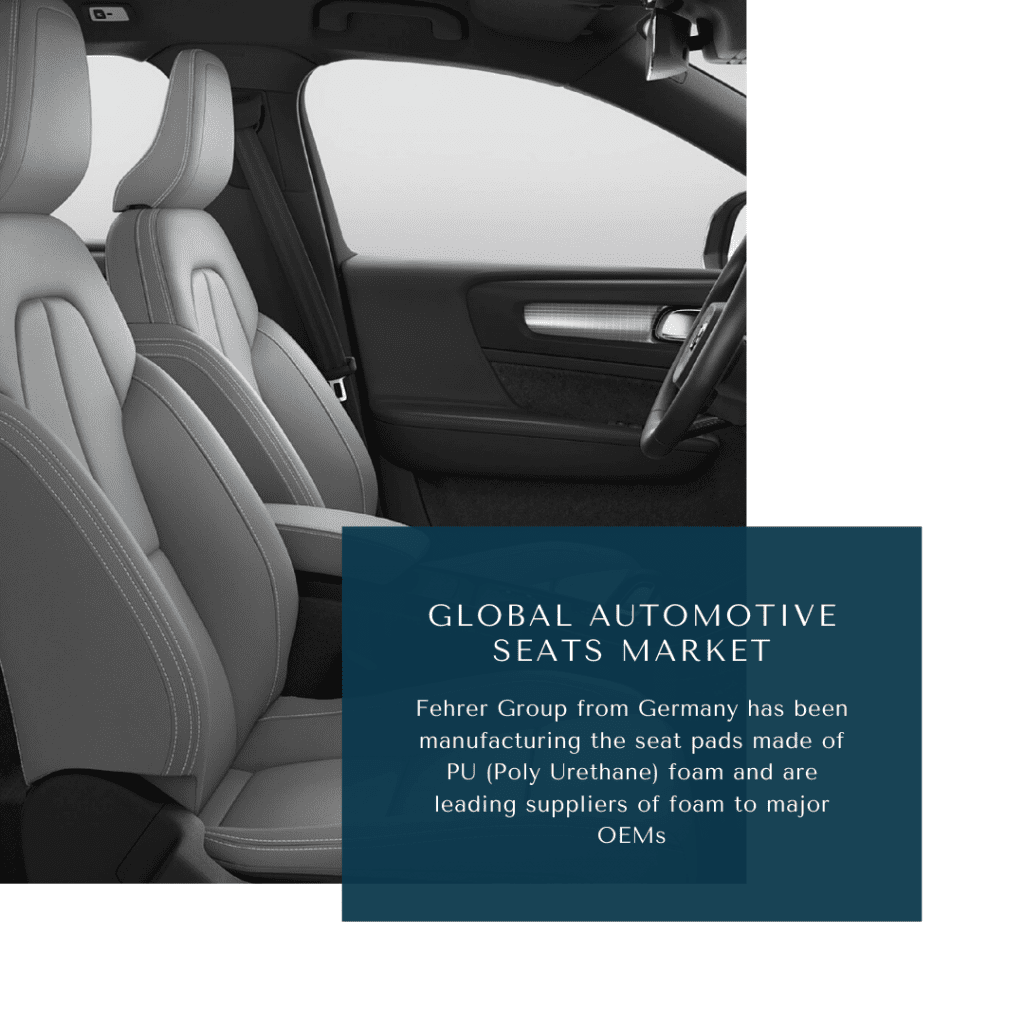 Among Premium OEMs, Mercedes has the highest fitment volume of Memory seats worldwide.The lumbar support feature is also more prominent on premium cars and less than 23% fitment in mass segment cars in 2019.
Europe is home for large seat manufacturers and plants all over the Europe. All top selling higher segment cars come with heated front seats and optional heated rear seats.  Faurecia, Recaro and Grammer Group are renowned seat manufacturers in the region.
CHINA AUTOMOTIVE SEATS MARKET
China is the single biggest country in seats production for cars. The low tariffs for raw materials have drawn many seat manufacturers to set up a plant in China. This has led to rapid growth in Chinese market.
The increase in sales of premium cars(~2 Million units per annum) has further propelled the seats market in China. Many low cost cars from domestic manufacturers have powered seats on Mid and high variants.Haval H6, the top selling SUV in China comes with front powered seats as standard.
INDIA AUTOMOTIVE SEATS MARKET
Bharat seats Ltd(owned by Maruti Suzuki) is a dominant supplier to the market leader of Passenger cars in India- Maruti Suzuki. Almost all seats supplied to Maruti Suzuki have manual adjust feature and no Climate control content.
The average seating content per passenger vehicle in India is less than ~$120-$150, far lesser than European, American or even Chinese average.
Powered seats are still a novelty feature in India, only D segment and above vehicles like Mahindra XUV 500, MG Hector etc get it. 
MARKET SIZE AND FORECAST
Seating system in an automobile constitute to majority of weight. Thus to increase the fuel efficiency steps are taken towards making a lighter seating systems. The production of lighter seating systems is expected to boost the seating market worldwide.
The Ventilated seats are extensively used in Electric cars. The rise in Electric cars numbers will boost the seating production and sales but due to COVID-19, we expect EV market in 2020 to decline by ~25% YOY.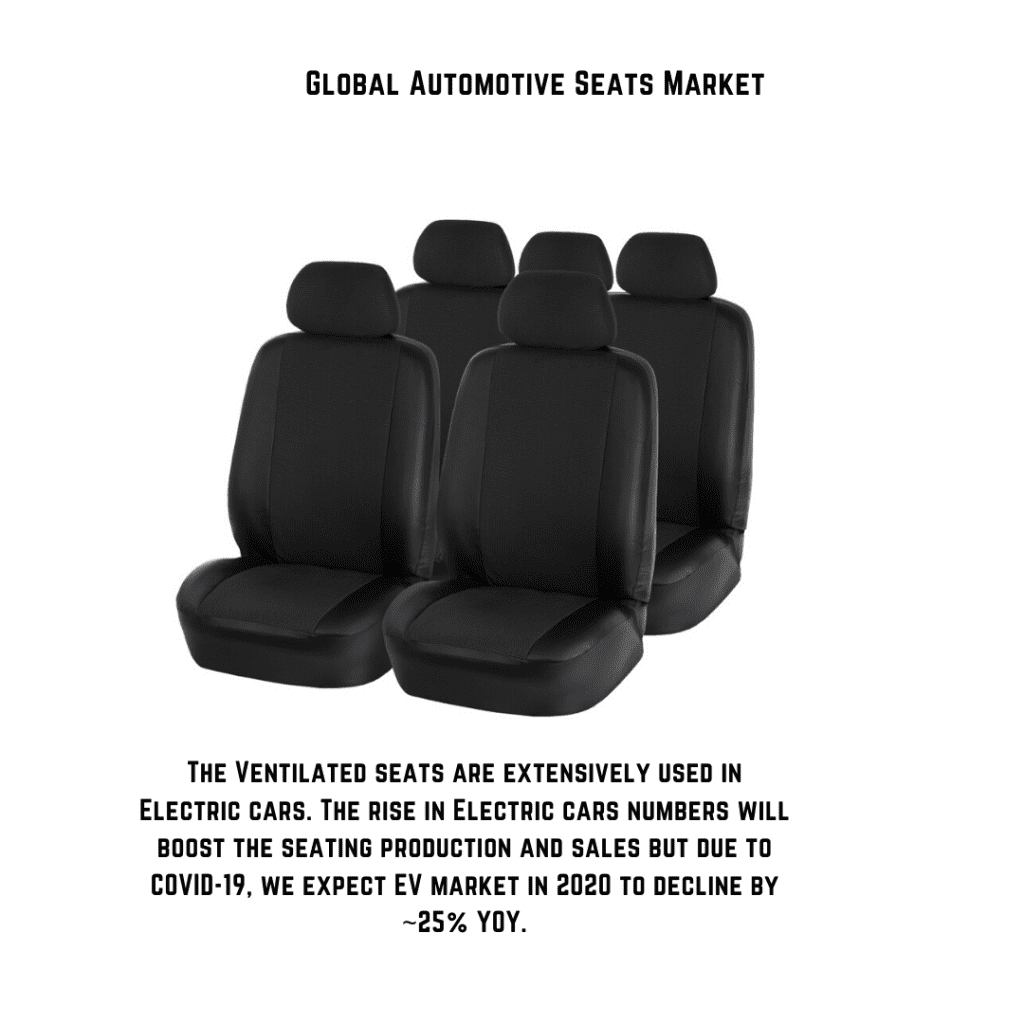 There has been a surge in sales of SUVs and MPVs around the world. Since the numbers of seats in these segments are more, the sales of SUVs are expected to increase the seating market appreciably.
The car sales of luxury car brands such as Mercedes-Benz, BMW and Audi has propelled the seat market. The below table shows the sales of luxury car brands over past 5 years.
The global Automotive seats market size is estimated at $XX Billion in 2020, growing at –% CAGR till 2025.
RECENT PARTNERSHIPS IN AUTOMOTIVE SEATS MARKET
Minda Industries has approved the merger of Harita seating systems with itself. Minda holds 51% stake in the merger.
Global leader Adient  announced launch of JV with Arvind Group for manufacturing and selling of automotive fabrics in India.
Grammer and AllyGrow Technologies from India have announced a JV to develop a world-class technology in automotive and commercial vehicle industry.
Adient has invested on opening a largest prototyping and testing facility in Pune, India.
Faurecia has partnered with ZF, to develop AVS (Advanced Versatile Structure) for future autonomous vehicles
Yanfeng Automotive Interiors has acquired a 30% stake from Adient Plc in the existing joint venture.
COMPETITVE LANDSCAPE
US seating manufacturers like Lear, Adient, Bridgewater Interiors are the leading manufacturers in US region.. Magna International from Canada has been a pioneer in manufacturing seating system completely whether its foam and trim, the structure or the seats.
US based Gentherm is the leading supplier of sub-components of Climate controlled seats, used on a variety of American and Euroepan OEMs.
Adient Yanfeng Joint venture formed in 2013, produces Seating sub-components like recliners, track, height adjusters. Another US based company Leggit & Platt is a leading manufacturer of Seat actuators used on a variety of powered seats.
In Europe, Faurecia, Recaro and Grammer from Germany are the leaders in seat making. Grammer is known for seat manufacturing for commercial vehicles and public transport. They are also manufacturing headrests for the passenger cars. Faurecia, French leading automotive part supplier has been developing seat structures for passenger cars.
There is absolutely no doubt that COVID-19 is going to hurt Revenues of all seating suppliers. There will also be supply chain issues and a hit on Bottom line to all as long as " Premium Freight" is used to fill gaps created by long term established supply-chain.
Fehrer Group from Germany has been manufacturing the seat pads made of PU (Poly Urethane) foam and are leading suppliers of foam to major OEMs. Brose Fahrzeugteile GmbH has been developing latest seating structures and components of powered seats.
Japanese manufacturers like Toyota Boshoku and TS Tech has been players in this market from Asia region. Toyota Boshoku products are extensively used in Lexus and Toyota cars. TS Tech products range from 2 wheeler vehicles to cars supplying to leading OEMs in Japan.
In India Harita Seating and Bharat Seats are the leading seat makers. Harita seating has been involved in commercial vehicles and public transport seats. 
M&A IN AUTOMOTIVE SEATING MARKET
Of late, there has been just one  transaction in the Auto seating market and that is the sell-off by by US major Adient of its RECARO(Premium Seating) to Raven Acquisitions LLC completed on 1st Jan 2020. It must be noted that Adient has a strong presence in EV market in Europe and is also one of the suppliers to Tesla Model 3 seating, which is world` biggest success story in terms of EV sales.
COMPANY PROFILE
Harita Seating Systems
Magna
Bharat Seats
Bridgewater Interiors
THIS REPORT WILL ANSWER FOLLOWING QUESTIONS
Market size and Forecast, ( Volume and value)
Average B-2-B price per region,OEM
Installation rate of powered seats by major OEMs and region
Details on seat actuator, thermal management suppliers
COVID-19 impact on Automotive seats market worldwide
OE-supplier alignment in all major markets and market share of leading vendors
| | |
| --- | --- |
| Sl no | Topic |
| 1 | Market Segmentation |
| 2 | Scope of the report |
| 3 | Abbreviations |
| 4 | Research Methodology |
| 5 | Executive Summary |
| 6 | Introduction |
| 7 | Insights from Industry stakeholders |
| 8 | Cost breakdown of Product by sub-components and average profit margin |
| 9 | Disruptive innovation in the Industry |
| 10 | Technology trends in the Industry |
| 11 | Consumer trends in the industry |
| 12 | Recent Production Milestones |
| 13 | Component Manufacturing in US, EU and China |
| 14 | COVID-19 impact on overall market |
| 15 | COVID-19 impact on Production of components |
| 16 | COVID-19 impact on Point of sale |
| 17 | Market Segmentation, Dynamics and Forecast by Geography, 2020-2025 |
| 18 | Market Segmentation, Dynamics and Forecast by Product Type, 2020-2025 |
| 19 | Market Segmentation, Dynamics and Forecast by Application, 2020-2025 |
| 20 | Market Segmentation, Dynamics and Forecast by End use, 2020-2025 |
| 21 | Product installation rate by OEM, 2020 |
| 22 | Incline/Decline in Average B-2-B selling price in past 5 years |
| 23 | Competition from substitute products |
| 24 | Gross margin and average profitability of suppliers |
| 25 | New product development in past 12 months |
| 26 | M&A in past 12 months |
| 27 | Growth strategy of leading players |
| 28 | Market share of vendors, 2020 |
| 29 | Company Profiles |
| 30 | Unmet needs and opportunity for new suppliers |
| 31 | Conclusion |
| 32 | Appendix |