Europe Electric Vehicle Market 2020-2025
February 13, 2020

Request Sample
COMING SOON
Multi User License - $1,900
EUROPE ELECTRIC VEHICLE MARKET
KEY FINDINGS
In 2019, EV sales grew in Europe by ~25% to 0.5 Million units, highest worldwide
BEVs comprised ~60% of total EV sales in 2019, compared to 55% in 2018.As of Jan 2020, 26 BEV models are available for sale in Europe, as compared to 242 in China and 24 in US. 
Total deployed capacity in terms of Li-ion batteries across EVs (including commercial vehicles) was 20.3 GWh in 2019, 12% more than US, 1/3rd of China market
HEVs( Non-plugin) are the fastest growing segment, accounting for ~0.6 Million units in 2019, growing at a CAGR of 22% in past 5 years. Toyota has more than 65% market share of this segment
H2 infrastructure development and promotion by the EU legislators is comparatively behind China, Japan and South Korea
MARKET DYNAMICS
Upcoming 95gm Co2/km fleet average limit, WLTP emission and fast charging network expansion across Europe will address range anxiety and boost EV uptake.
Germany, where the tax on PHEV company cars is half that of conventional cars(valid for <40,000 Euros sticker price) after new rule in Sep 2019, and France now has a steep CO2-based taxation will boost PHEV sales.
Audi, PSA, BMW and Mercedes have a strong line-up of PHEVs in pipeline (more than 20 PHEVs in 2019-2022), to be manufactured post Q2-2020 to meet the 2021 95gm/km CO2 regulation.
MARKET SEGMENTATION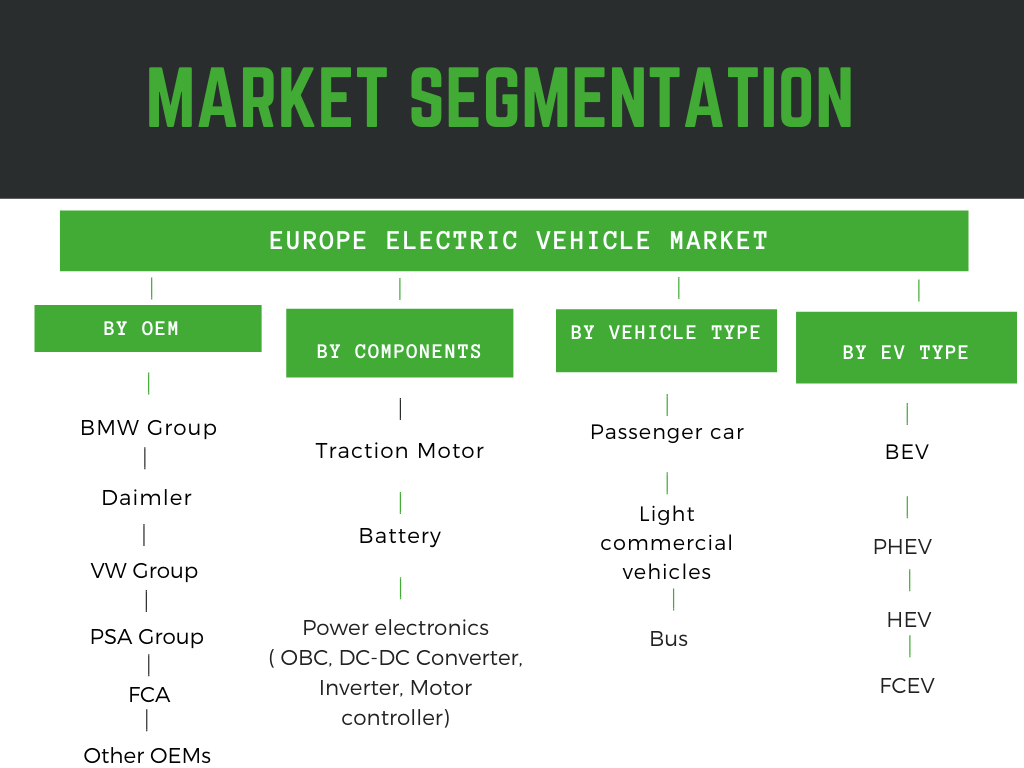 MARKET SIZE AND FORECAST
Europe electric vehicle market was estimated at $20 Billion in 2019. With more than 35 EVs (BEV+ PHEV) in pieline, the market volume  could grow up-to 1.5 Million or 10% of new car sales by 2025.
BEV sales in Europe, grew YOY by ~90% whereas PHEV sales declined by ~10%. Norway,Germany and Netherlands accounted for almost 50% share of BEVs sold in Europe.

EUROPE ELECTRIC VEHICLE MARKET SHARE- JAN-NOV 2019

Tesla Model 3 is now the best-seller in US and Europe, followed by Renault ZOE.BMW i3, 2 Series and 5 Series PHEV are also among the top-selling EVs in Europe.
ELECTRIC VAN MARKET IN EUROPE
The access restriction by major European cities like London, Madrid to allow only plug-in vehicles to ply in city centers is a major growth driver for electric van market.
Most of the electric vans will be available with two battery sizes (50-55/70-80 kWh) and are expected to deliver range of  200 and 300 kilometers respectively as per the new WLTP cycle.
In UK, which accounts for 15% of Europe van market, sales of electric vans grew to ~3,200 units in 2019, just 1% of the total light van market. The top selling electric vans were Nissan NV200, Renault Kangoo (including  Kangoo Maxi), Peugeot Partner and LDV V80.
UPCOMING ELECTRIC VANS IN EUROPE
| | | | |
| --- | --- | --- | --- |
| Sl  no | OEM | BEV/PHEV | Deliveries to begin |
| 1 | LEVC(Geely) | PHEV | 2021 |
| 2 | Ford | BEV | 2021 |
| 3 | PSA | BEV | 2020 |
| 4 | Volkswagen | BEV | 2022 |
| 5 | Mercedes | BEV | 2020 |
| 6 | Toyota | BEV | 2020 |
| 7 | Fiat | BEV | 2020 |
ELECTRIC VEHICLE CHARGING INFRASTRUCTURE IN EUROPE
Netherlands(26%), Germany(19%), France(17% and the UK(13%) – account for 75% of all  public EV charging points in the EU as of Jan 2020.
About 6,500 DC Fast chargers are operational as of Jan 2020. Tesla has more than 70% market share and more than 52% of them are in just 4 countries i.e. Norway(15%), France(13%), Germany(12%) and UK(11%). To know more about DC fast charger market, read our report
COMPETITIVE LANDSCAPE
Tesla and BMW are the top 2 players in the Europe electric vehicle market, cumulatively accounting for 34% market share. Tesla sells only BEVs whereas BMW`s lineup is completey comprised of PHEVs except BMW i3. Renault- Nissan- Mitsubishi alliance have 3 best-sellers i.e. Renault ZOE, Mitsubishi Outlander PHEV, Nissan Leaf cumulatively accounting for 22% market share.
VW brand which has 12% market share of new car sales in Europe is so far lagging behind in EV development, but it has recieved good response to its upcoming ID3 all-electric hatchback.
Unlike China, where more than 400 EV startups are functional due to conducive  government incentives and policies( till H2 2019), Europe is home to less than 5 EV startups.
COMPANY PROFILES
ELECTRIC CAR MANUFACTURERS
Renault-Nissan-Mitsubishi Alliance
StreetScooter GmbH
THIS REPORT WILL ANSWER FOLLOWING QUESTIONS
Upcoming vehicles, by OEM, by vehicle type and by EV type (2020-2025)
EV sales, by top 10 countries and state-wise legislation
EV powertrain manufacturing activity in Europe
Opportunity for traction motor , motor controller, on-board charger and Inverter manufacturers
On-going developments in Electric commercial vehicle market, vehicles in pipeline and estimated sales volume
OE-supplier alignment for battery, On-board charger and DC-DC Converter
| | |
| --- | --- |
| Sl no | Topic |
| 1 | Market Segmentation |
| 2 | Scope of the report |
| 3 | Abbreviations |
| 4 | Research Methodology |
| 5 | Executive Summary |
| 6 | Introduction |
| 7 | Insights from Industry stakeholders |
| 8 | Cost breakdown of Product by sub-components and average profit margin |
| 9 | Disruptive innovation in the Industry |
| 10 | Technology trends in the Industry |
| 11 | Consumer trends in the industry |
| 12 | Recent Production Milestones |
| 13 | Component Manufacturing in US, EU and China |
| 14 | COVID-19 impact on overall market |
| 15 | COVID-19 impact on Production of components |
| 16 | COVID-19 impact on Point of sale |
| 17 | Market Segmentation, Dynamics and Forecast by Geography, 2020-2025 |
| 18 | Market Segmentation, Dynamics and Forecast by Product Type, 2020-2025 |
| 19 | Market Segmentation, Dynamics and Forecast by Application, 2020-2025 |
| 20 | Market Segmentation, Dynamics and Forecast by End use, 2020-2025 |
| 21 | Product installation rate by OEM, 2020 |
| 22 | Incline/Decline in Average B-2-B selling price in past 5 years |
| 23 | Competition from substitute products |
| 24 | Gross margin and average profitability of suppliers |
| 25 | New product development in past 12 months |
| 26 | M&A in past 12 months |
| 27 | Growth strategy of leading players |
| 28 | Market share of vendors, 2020 |
| 29 | Company Profiles |
| 30 | Unmet needs and opportunity for new suppliers |
| 31 | Conclusion |
| 32 | Appendix |