Global EV Traction Motor Market 2019-2025
March 1, 2020

Request Sample
Number of Pages-125
Multi User License - $2,500
GLOBAL EV TRACTION MOTOR MARKET
KEY FINDINGS
As of March 2020,the average power output of traction motors(BEVs) was  102hp in China, 190hp in Europe and 220hp in US
Permanent magnet synchronous motor type was the most preferred construction type of traction motors. In China, 98% BEVs sold in 2019 had AC Permanent magnet synchronous type motor
In-sourcing traction motors is the #1 trend in global ev traction motor market.More than 75% traction motors produced globally in 2020 will be manufactured in-house
In PHEV segment, dedicated hybrid transmission and e-axle are predominant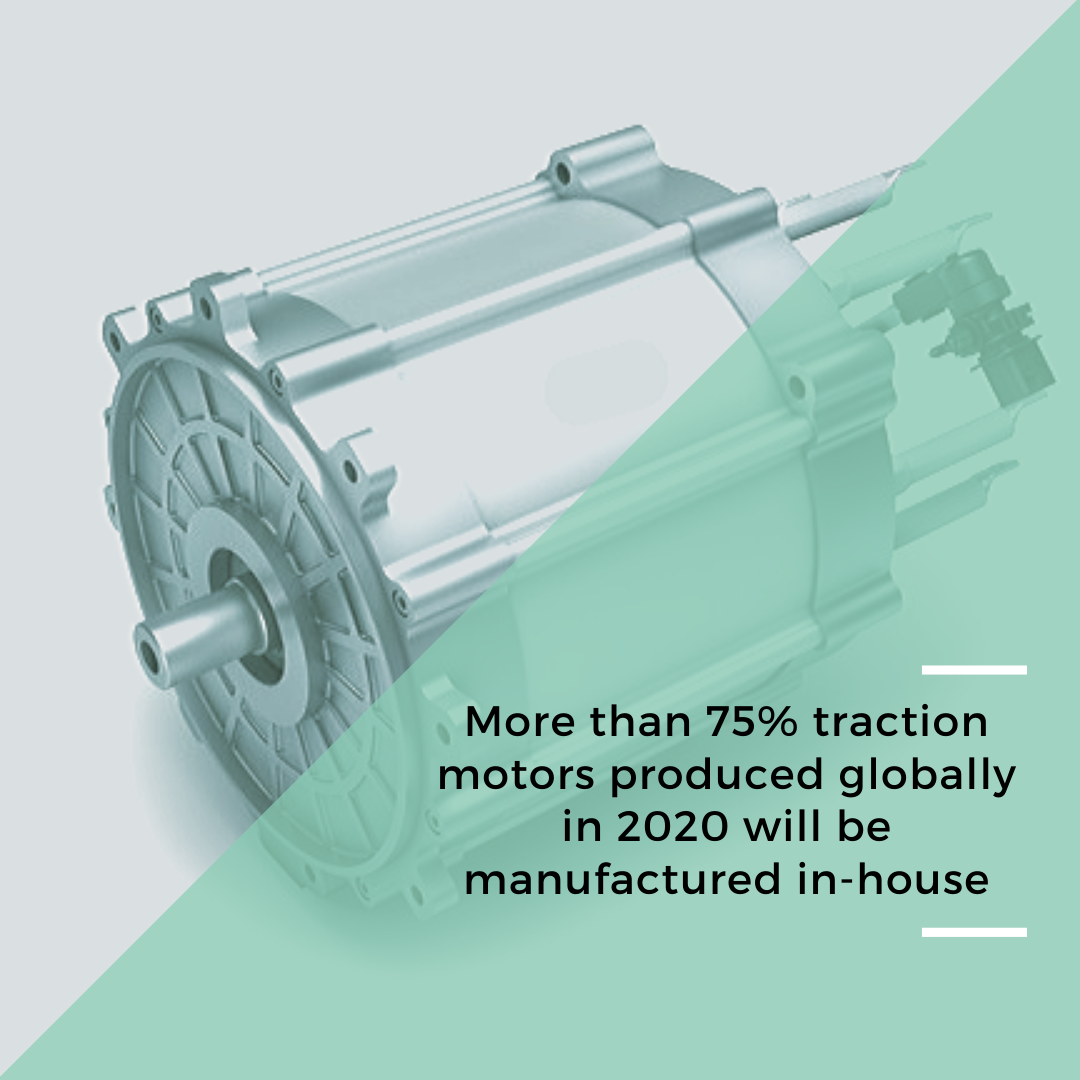 Electric vehicles accounted for 2.4% of new passenger car sales in 2019 i.e. ~ 2.2 Million units. By 2025, this share is expected to go past 10% or 9 Million units. The internal combustion engine component manufacturers who are yet to diversify into e-powertrain manufacturing will be among the direct losers of this growth.
MARKET SEGMENTATION

 Click on image for higher resolution
MARKET DYNAMICS
The market push at the moment is in favor of permanent magnet synchronous motors, due to relatively easy construction, cooling and packaging benefits.
AC Induction motors are predominantly being manufactured in-house by Tesla in Fremont, California.
There is a growing trend of manufacturing EV traction motors in-house by Audi, VW, BMW and PSA.
In the premium PHEV segment, e-axle is a preferred choice of many car manufacturers. To know more about E-axle, read our E-axle market report
CHARACTERISTICS COMPARISON OF EV TRACTION MOTORs
AC Induction Motor

(three-phase asynchronous motor)

AC Permanent Magnet Synchronous Motor (PMSM)
Interior Permanent Magnet Synchronous Motor(IPMSM)
Power Density
Normal
Good
Normal
Motor Cost
Mid
High
High
Torque
High
Good
Good
Control Unit Cost
High
Mid
Mid
Rare Earth Dependent
No
Yes
Yes
Cast in cooling channels
No
Yes
Yes
OEM Adoption
Tesla
Nissan, GM, Toyota, most Chinese OEMs
Hyundai/Kia
ELECTRIC TRACTION MOTOR MARKET SIZE AND FORECAST
In Europe, many OEMs are into final stage of planning to setup motor manufacturing in-house. So far, they were largely dependent on imports from Asia.
In China, world`s biggest market for EVs (50% share), BYD and many other OEMs manufacture traction motors in-house. It has been possible because of presence of local well-established aluminum diecast manufacturing industry and China`s hold on cobalt mining in Republic of Congo.
Chinese OEMs like BYD, Geely and BAIC in-source traction motors because of the mandatory sales quota put by the Chinese government.
VW and Audi are the latest entrant to start in-sourcing of motors. Given the negative perception of Diesel in Europe by regulatory authorities and 95gm CO2 fleet average limit by 2021 in EU, left VW and Audi with no choice but go all electric and manufacture motors in-house.
The global EV traction motor market is estimated at $2.9 Billion in 2019 and will grow to $7.8 Billion in 2025. <100kW motors accounted for 72% of all traction motors produced in 2019.
COMPETITIVE LANDSCAPE
The global EV traction motor market at present is consolidated due to long term OEM-supplier contracts and sizeable share of in-house manufacturing in all regions except Europe.
Nissan and Toyota- Both OEMs saw the impending vehicle electrification early in 2000s and thus started extensive research on EVs. This led to both of them launching competent PHEV and BEV models respectively, faster than any other company. Nissan produced not just motors but batteries in-house (now sold to a Chinese manufacturer) to keep costs in check.
In the commercial vehicle segment, electric transit buses are growing in volume to replace polluting diesel buses. BYD is the global market leader of electric buses. BYD buses have a wheel hub mounted motor which are very compact and manufactured in-house whereas European electric transit buses have locally sourced e-axles for propulsion.
In coming years, we expect new entrants from industrial motor segment to enter the traction motor market owing to high volumes and reasonable margins.
COMPANY PROFILES
Tesla Motors, Inc.
Toyota Industries Corporation
Zhongshan Broad-ocean Motor Co., Ltd
BYD Co Ltd
Nissan Motors
THIS REPORT WILL ANSWER THE FOLLOWING QUESTIONS
Market size,dynamics and forecast of EV traction motors in top 10 EV markets globally
Impact of tariff war on motor imports in US and Europe
Upcoming EV platforms powered by dual motors, e-axle and single traction motors
Availability of electrical grade steel in US and China
EV traction motor market for city transit bus and select off-highway application
Different thermal management techniques used by motor manufacturers
Which motor type will be the most popular choice of car manufacturers and why?
Potential of in-wheel motor technology in passenger car application
Traction motor sourcing trends and share of outsourced vs in-sourced motors in all key regions.
Trends in traction motor construction and speed (RPM)
Market size and dynamics of EV traction motor sub-components and auxiliaries like motor controller, inverter, magnets etc.
Competition from e-axle (integrated motor+ transmission+ power electronics) in the premium segment
Market share of EV traction motor manufacturers in US, China and globally
Who will be the leading external supplier of EV traction motors globally and why?
Strategies of major suppliers to increase their presence, profitability and market share in global EV traction motor market
| | | |
| --- | --- | --- |
| 1 | Market Segmentation | 3 |
| 2 | Executive Summary | 5-6 |
| 3 | Introduction | 7-15 |
| 4 | Global EV traction motor technology trends | 16-17 |
| 5 | About EV Start-ups and e-powertrain used on their vehicles | 18-19 |
| 6 | Cost breakdown of EV traction motors, by weight and components | 20 |
| 7 | Global EV traction motor sourcing trends | 21 |
| 8 | Upcoming EV platforms and their traction motors | 22 |
| 9 | Market Size, Dynamics and Forecast, By EV Type | 23-30 |
| 10 | Market Size, Dynamics and Forecast, By Motor type | 31-40 |
| 11 | Market Size, Dynamics and Forecast, By Power output | 41-48 |
| 12 | Market Size, Dynamics and Forecast, By Sub-components | 49-55 |
| 13 | Market Size, Dynamics and Forecast, By sourcing type | 56-68 |
| 14 | Competitive Landscape | 69-70 |
| 15 | Company Profiles | 71-85 |
| 16 | Details on die-cast aluminium suppliers | 86-87 |
| 17 | Unmet needs and Market Opportunity for suppliers | 88 |
| 18 | Conclusion | 89 |
| 19 | 5 Key Predictions for next 5 years | 90-91 |
| 20 | Appendix | 92-100 |