Global Automotive Head-Up Display (HUD) Market 2020-2025
May 15, 2020

Request Sample
Coming Soon
Multi User License - $2,500
GLOBAL AUTOMOTIVE HEAD-UP DISPLAY (HUD) MARKET
INTRODUCTION
The Automotive head-up display (HUD) is a transparent display that details vehicle info on the windshield to present instrument cluster data without requiring the driver to take his eyes off the road.
HUD like Electric Parking brake is among the premium features which have trickled down from Premium European higher segment vehicles to Mid-segment vehicles. 
MARKET SEGMENTATION

EUROPE HEAD UP DISPLAY MARKET
About 21% of new car sales in Europe per annum are attributed to Premium brands (BMW, Mercedes, Audi, Volvo etc), world`s highest.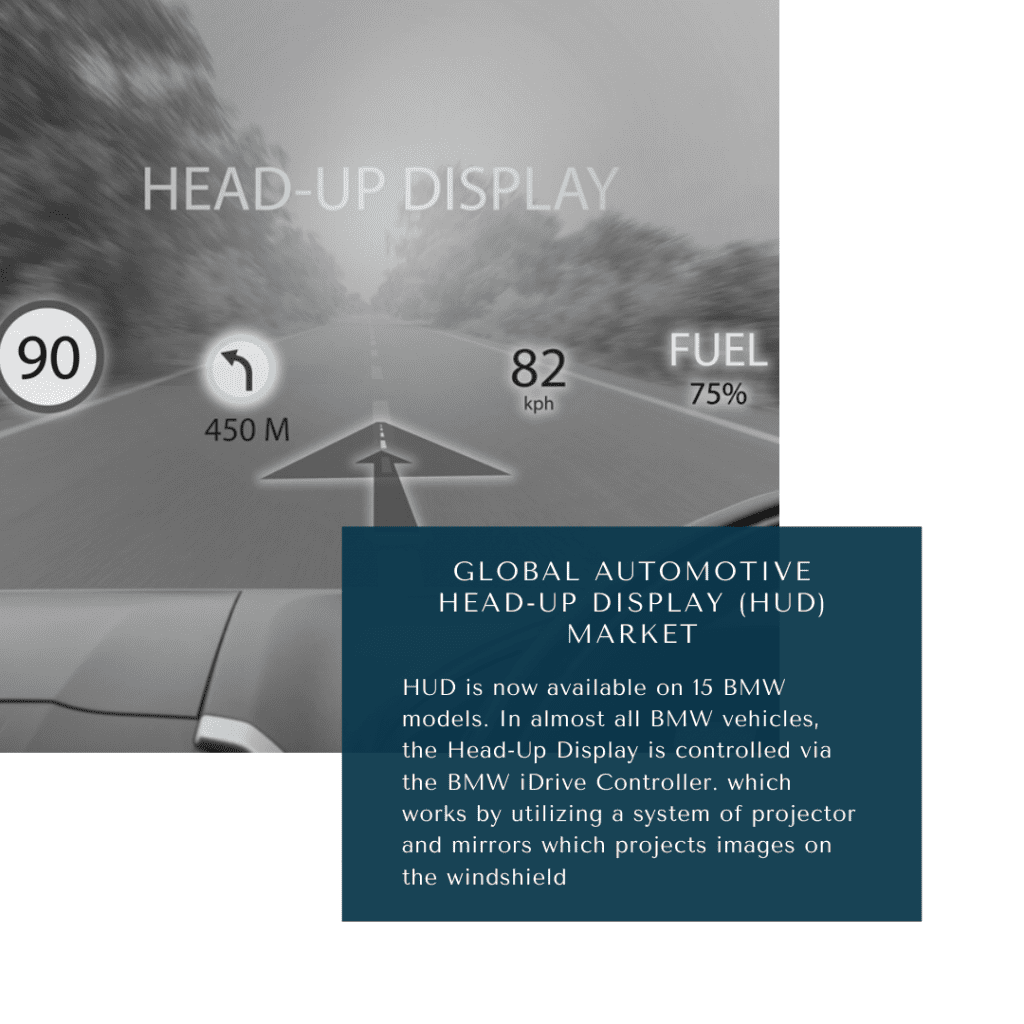 Continental is the leading supplier earlier primarily to multiple BMW name plates and now to many OEMs. HUD is now available on 15 BMW models. In almost all BMW vehicles, the Head-Up Display is controlled via the BMW iDrive Controller. which works by utilizing a system of projector and mirrors which projects images on the windshield. HUD is offered as an optional extra as a part of Technology package or BMW Executive package.
US HEAD UP DISPLAY MARKET
The top 2 Japanese OEMs in US (Toyota and Honda) don't offer HUD on many vehicles even as an option. Among high selling Japanese Sedans, only Toyota Camry and Honda Accord get it on the top trim. Nissan is yet to provide HUD on it`s best-selling sedans and crossovers even as an optional package.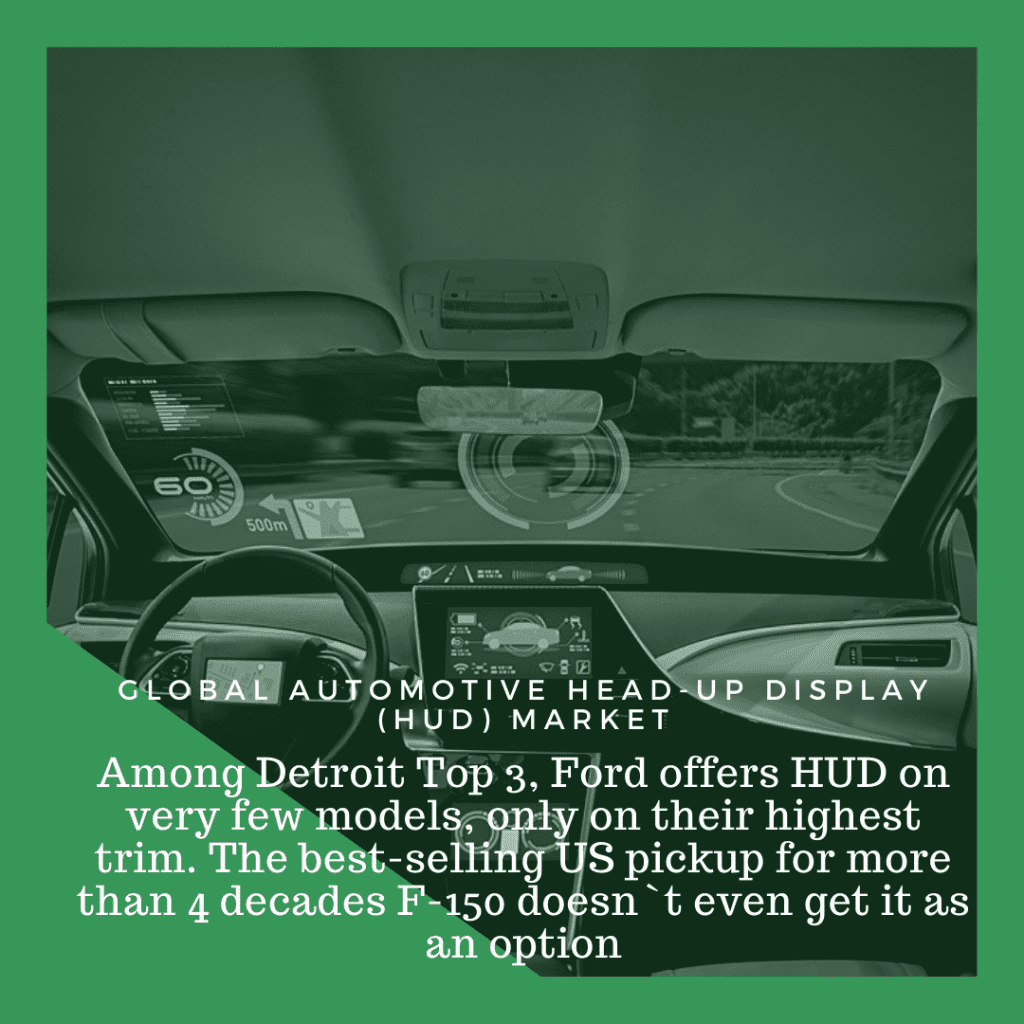 Among Detroit Top 3, Ford offers HUD on very few models, only on their highest trim. The best-selling US pickup for more than 4 decades F-150 doesn`t even get it as an option. The second best-selling RAM 1500, which has a very high take-off rate of Premium trims is also yet to get it as an option.
Detroit Top 3 account for 94% share of the high margin pickup truck market which have 16% share of new vehicle sales in US in 2019.
CHINA HEAD UP DISPLAY MARKET
China, although in a decline for past two years when volumes picked in 2016 at 25 Million passenger cars, it is still world`s biggest auto market since 2010. About 8% of new cars sold belong to premium brands. Many new car brands launched recently are relying on premium technology features to differentiate themselves and bring them at par with Premium German OEMs.
INDIA HEAD UP DISPLAY MARKET
Head up Display is still a very Premium feature in India. Many mid and high segment cars still don't have it and HUD can be found only on some of the Premium cars which have less than 1% share of new car sales in India.
The newly launched and immensely successful KIA Seltos has Head up Display on the topmost variant only.
With many Chinese OEMs now planning to launch in the Indian market with upscale but compact SUVs are expected to bring in new technologies to differentiate their products and it could be an important growth driver for Head up display market in India.
MARKET SIZE AND FORECAST
COVID-19 is expected to have a detrimental impact on Global auto production due to both Production and demand constraints but HUD fitment will remain relatively unaffected. The reason being, decline in market demand for higher segments will be comparatively less pronounced that lower segment vehicles.
Mass production of L4-L5 autonomous vehicles could be an important growth driver of global head- up display market, but that is unlikely to happen before 2025. As we have already reported in our Autonomous car HD maps market report that the global autonomous vehicle market will be driven by L2+ and L3 automated vehicles at-least till 2022. HUD fitment could rise in Chinese market by a sizable number as more than 15 OEMs have plans to launch 25+  L2+ vehicles by 2025.
The global Automotive Head up display market is estimated at $XX Million in 2020, growing at –% CAGR till 2025.
COMPETITIVE LANDSCAPE
The Global automotive head up display market is extremely consolidated with just 3-4 vendors having more than 65% market share. Continental, Bosch, and Nippon Seiki are the most prominent vendors.
Continental has been supplying its HUD technology since early 2000s on various BMW vehicles. In July 2019, Continental developed an ultra compact high performance HUD better suited for Sports cars with 4*1.2 degree view as compared to 6*d degree view for a standard HUD. japan based Nippon Seiki is also a leading suppliers of HUDs. It provides HUD for BMW 5 Series and BMW X5.
Denso( a long term supplier to Toyota) developed world`s biggest head-up-display in 2017 when it launched its 24 inch HUD on 2018 Lexus LS.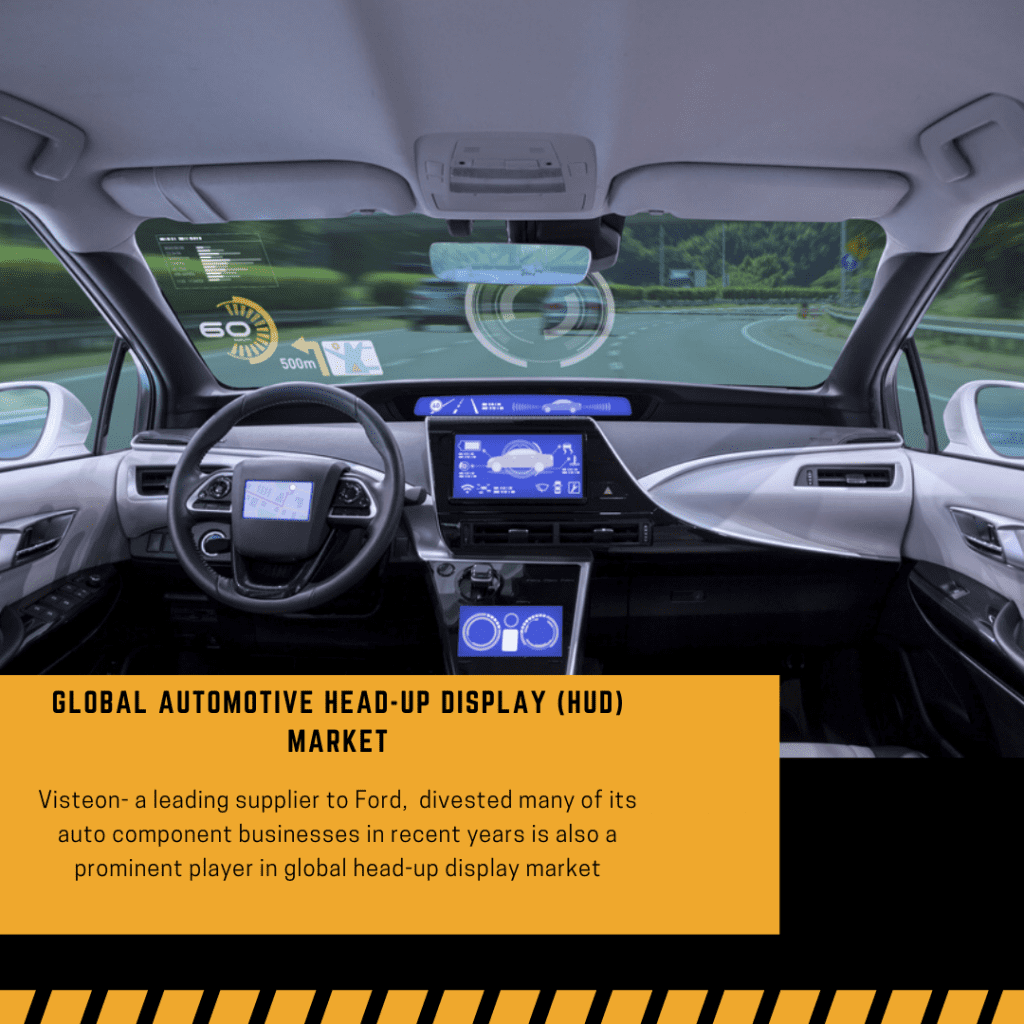 Hyundai Mobis announced in Feb 2020 that it was all set to enter global head up display market. So far it has been supplying to Hyundai`s premium Genesis brand with its 12 inch HUDs.
Visteon- a leading supplier to Ford,  divested many of its auto component businesses in recent years is also a prominent player in global head-up display market. It launched its first combiner HUD in 2009 followed by a Windshield HUD. Yazaki( a leading Automotive wiring harness supplier) also manufactures HUD for various OEMs. 
COMPANY PROFILES
Continental AG
Bosch Mobility Solution
Pioneer Corporation
Yazaki Corporation
THIS REPORT WILL ANSWER FOLLOWING QUESTIONS
HUD installation in new car sales, by OEM, by region
Expected growth in installation by OEM in next 5 years
Average B-2-B HUD cost, by region
Difference in Display screen size by OEM and potential advantages
OE-supplier alignment in global head up display market
Market share of leading vendors, 2019
Impact of COVID-19 on global automotive HUD market
| | |
| --- | --- |
| Sl no | Topic |
| 1 | Market Segmentation |
| 2 | Scope of the report |
| 3 | Abbreviations |
| 4 | Research Methodology |
| 5 | Executive Summary |
| 6 | Introduction |
| 7 | Insights from Industry stakeholders |
| 8 | Cost breakdown of Product by sub-components and average profit margin |
| 9 | Disruptive innovation in the Industry |
| 10 | Technology trends in the Industry |
| 11 | Consumer trends in the industry |
| 12 | Recent Production Milestones |
| 13 | Component Manufacturing in US, EU and China |
| 14 | COVID-19 impact on overall market |
| 15 | COVID-19 impact on Production of components |
| 16 | COVID-19 impact on Point of sale |
| 17 | Market Segmentation, Dynamics and Forecast by Geography, 2020-2025 |
| 18 | Market Segmentation, Dynamics and Forecast by Product Type, 2020-2025 |
| 19 | Market Segmentation, Dynamics and Forecast by Application, 2020-2025 |
| 20 | Market Segmentation, Dynamics and Forecast by End use, 2020-2025 |
| 21 | Product installation rate by OEM, 2020 |
| 22 | Incline/Decline in Average B-2-B selling price in past 5 years |
| 23 | Competition from substitute products |
| 24 | Gross margin and average profitability of suppliers |
| 25 | New product development in past 12 months |
| 26 | M&A in past 12 months |
| 27 | Growth strategy of leading players |
| 28 | Market share of vendors, 2020 |
| 29 | Company Profiles |
| 30 | Unmet needs and opportunity for new suppliers |
| 31 | Conclusion |
| 32 | Appendix |