ELECTRIC VEHICLE BATTERY MARKET
The average battery capacity of BEVs differs widely per region. In Europe, it is ~54kWh, In China it is ~42kWh and  highest in US at ~60kWh. For PHEVs almost all regions had similar avg battery capacity of 11-12kWh
Growing energy density by weight and volume(kwh/kg and kWh/m3) and deceasing battery prices are prominent trends in the global electric vehicle battery market 
In terms of raw material, the cost of Lithium has doubled to  ~$10-$12/kg in 2019 as compared to 2013 and  availability is not a concern at the moment. 
OEMs are taking steps to address Lithium volatility by establishing robust supply-chain for the same 
For heavy commercial vehicles, fuel cells will be a preferred solution and the growth of battery electric vehicles will be limited to light commercial vehicles only
INTRODUCTION
Batteries are the "costliest" element of a battery electric car, representing 30-40% of the production price i.e. ~$10,000-$20,000 per car, depending on the vehicle segment and body type. And, thus, the growth in sales of electric vehicles has placed considerable emphasis on the Electric vehicle battery market.
Electric Vehicles (EVs) accounted for 2.3% share of global passenger vehicle sales in 2018, the number went up to 2.4% in 2019 due to declining auto sales globally.
By 2025, we believe the share can grow to as high as 8% of global auto sales(subject to change in future). The most important factor, deciding every EV growth forecast is the global electric vehicle battery capacity.
About 65% of EVs sold in 2018 and 73% of EVs sold in 2019 were BEVs (Battery Electric Vehicles), predominantly in US and China, where BEV share was >77%, cumulatively accounting for 85% of global BEVs sold.By 2025, the BEV share could further go up and that will be directly co-related with the growth of global Electric Vehicle battery market.

ELECTRIC VEHICLE BATTERY MARKET DYNAMICS
The all new range of hundreds of EVs announced by traditional car manufacturers is the biggest growth driver of global EV battery market. Many OEMs have announced extensive plans to launch cumulative 250+ BEV and PHEV models by 2025 and 100 models in 2022 alone.
VW(world`s  biggest car manufacturer with 10.8M units sold in 2018)  has plans to produce 1 million BEVs by 2025, if that holds true,VW alone would require battery capacity of 150 Gwh per annum.   The Electric vehicle battery manufacturers predominantly use Lithium, Nickel, Manganese and the very expensive Cobalt in varying proportions, as per OEM`s power density requirement.
The world market leader of EV batteries CATL uses prismatic cell formats using NMC (lithium nickel manganese cobalt oxide) chemistry, which have found significant amount of application in Chinese EVs.   Going forward, we believe Cobalt`s share will come down further due to cost constraints. Chinese manufacturers are already making EV batteries without Cobalt.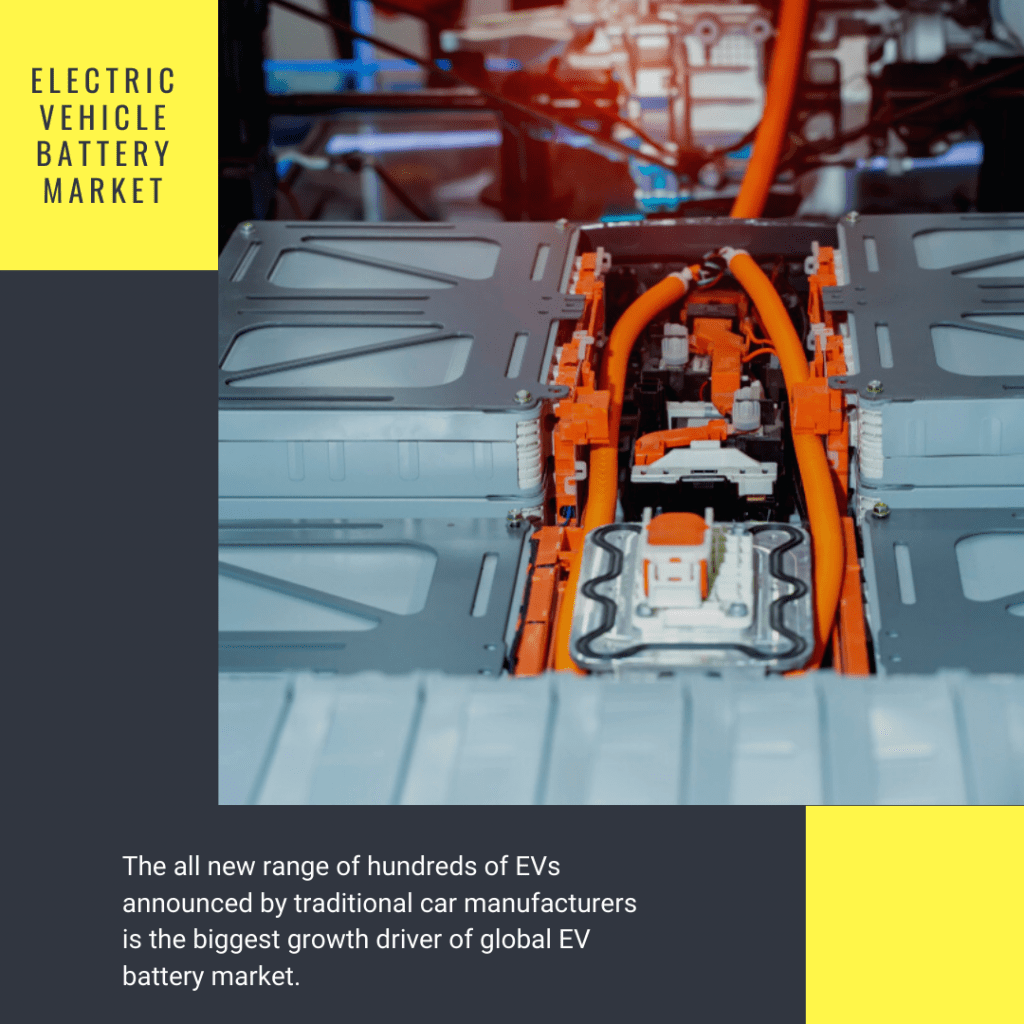 Among the risks associated with the Electric vehicle battery market are the growth of Mild and Plug in hybrid vehicles (smaller 9-17kWh batteries), fuel cell technology development in China, battery cell raw material availability and inconsistent EV promotional policies from local governments.
Tesla which has 17% share of global BEV market, has struggled to deliver more of Model -3s because it has not been able to reach the target battery capacity of 35Gwh and is currently churning out just 24Gwh per annum.
Another important and often overlooked factor, which will determine the future of EV battery market is the growth of DC fast charger market We firmly believe, to support a faster BEV uptake "rapid expansion of DC fast charging is a pre requisite". To know more about developments in  DC fast charging, read our  EV DC fast Charger Market report.
MARKET SEGMENTATION

ELECTRIC VEHICLE BATTERY MARKET SIZE AND FORECAST
In passenger vehicle segment, China accounted for 50% of global EV sales in 2019 and ~64% of global EV battery demand, due to high volume of BEV buses, which sold almost 100k units in 2017, 2018 but declined to 81k units in 2019.
Going forward, the EV battery market will receive a boost from Toyota (world`s #1 seller of electrified vehicles) as it recently announced its plans to launch multiple BEVs in next 2 years.
China, world's biggest electric vehicle market alone had EV battery manufacturing capacity of 55GWh in 2018 and 62 GWh in 2019 and is expected to grow at 20+% CAGR till 2025. To know more about  Chinese market read our  EV battery market in China report.   The production volume from Europe alone is expected to be at 112 GWh in 2023.
In the Commercial vehicle segment, electric transit bus and light commercial vehicles (for last mile distribution) will be the most important EV applications. The battery capacity of electric transit buses is typically in the range of 250-350kWh (equivalent to 4-5 long range BEVs).   The global public transit bus market is estimated at 0.8-0.9 Million units per annum. Assuming a minimum 30% electrification by 2025 could create an additional EV battery demand of 75-90Gwh alone.
The global electric vehicle battery market was estimated at 108 Gwh in 2019 and $16.1 Billion , growing at  21% CAGR till 2025.
COMPETITIVE LANDSCAPE
Most of the electric vehicle battery manufacturers are trying to improve the energy density (Wh/kg)-the global average is 250Wh/kg at present) in immediate future to further increase range (miles driven per charge).
CATL with the highest electric vehicle battery market share globally, claims to have reached levels of 304Wh/kg as of June 2019, whereas BYD and Tesla are still in the range of 240-260Wh/kg.
To get EVs to a price point where they can be compared with ICE powered vehicles, the energy density of EV batteries should be in the range of 400-450Wh/kg.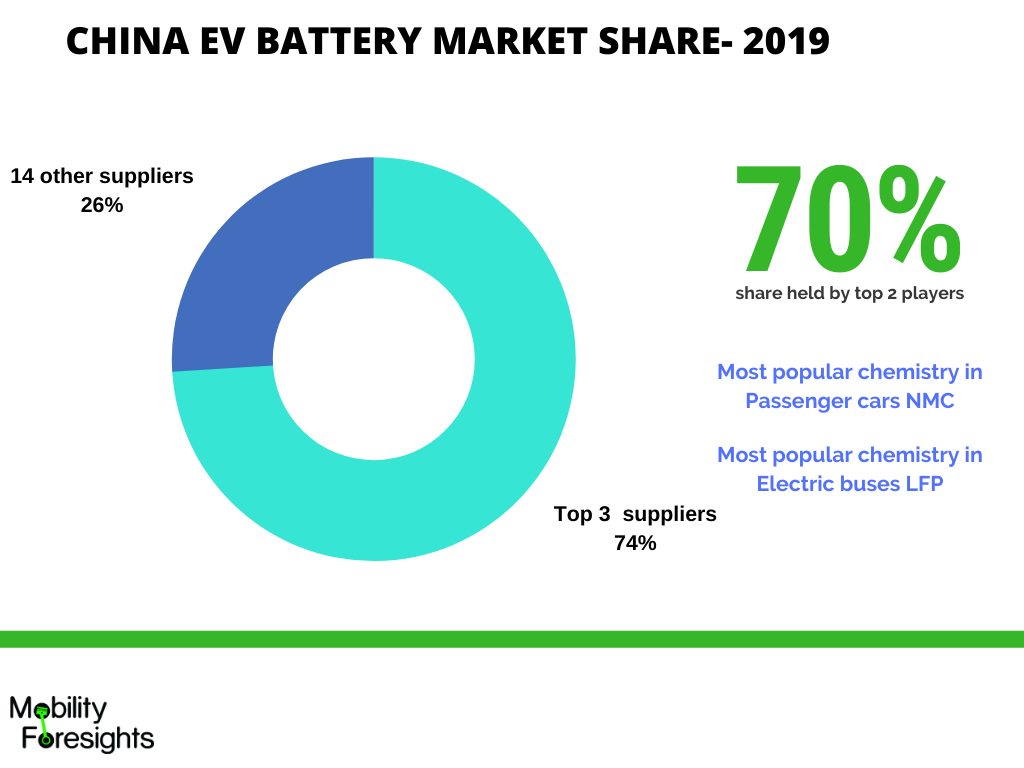 Various NMC chemistries are being tested such as 811, 622 and 111 with the 1st digit being the parts of Nickel, 2nd Manganese and 3rd Cobalt. Though more plants can increase production which will bring down the price of an EV battery, the setting up of a battery plant is an expensive affair especially the Dry Room, which is a moisture-controlled environment.
OEM-SUPPLIER ALIGNMENT IN ELECTRIC VEHICLE BATTERY MARKET
| | | | |
| --- | --- | --- | --- |
| Sl no | OEM | Battery Supplier | Regional scope |
| 1 | Toyota | CATL, BYD and Panasonic | Global |
| 2 | Volkswagen | CATL, LG Chem, Samsung SDI, SK Innovation | China and Europe |
| 3 | BMW | CATL, Samsung SDI | Europe |
| 4 | Tesla | Panasonic | US |
| 5 | Mercedes | CATL, LG Chem, SK innovation | Global |
| 6 | Honda | CATL, Panasonic | China and Japan |
| 7 | BYD | In-sourced | China |
| 8 | BAIC | Funeng Technology, Guoxuan High-Tech  | China |
| 9 | SAIC | CATL | China |
COMPANY PROFILES
Tianjin Lishen Battery Joint-Stock Co., Ltd
Guoxuan High-Tech Co., Ltd
Envision Group 
Automotive Energy Supply Corporation
Funeng Industrial (Ganzhou) Co., Ltd
THIS REPORT WILL ANWER THE FOLLOWING QUESTIONS
Which battery chemistry will offer the best mix of cost, energy density and thermal management?
Which vehicle segment will account for most of EV battery consumption and in which region in 2019-2025?
What will be the market volume of 15,20,30,40,50,60 and 70kWh battery backs in 2019-2025?
What are the future prospects of Solid-state battery technology? When will it be commercialized?
Details on legislation, subsidy and incentives linked with battery capacity of vehicle in different parts of the world?
Will fuel cell technology put up a solid fight to battery powered vehicles?
Cost break up of a 60kWh battery and average margin for battery manufacturer?
Technology advancement in battery management system and thermal management
Future possibility of car manufacturers manufacturing batteries in-house?
Will Asia remain the global EV battery manufacturing hub in 2025? If yes then why?
Who will be the market leader of global EV battery market in 2025 and why?
Which supplier will challenge the dominance of CATL?
Profile of top 3 most promising EV battery start-ups and their future plans
Market share of EV battery manufacturers in US, Europe, China and globally
OEM-supplier alignment in EV battery market for all major OEMs
[/vc_column_text]
Frequently Asked Questions (FAQ)
What is the Market size of Global Electric Vehicle Battery Market and expected CAGR till 2025?
In 2019, the market size was estimated at $16 Billion, growing at 21% CAGR to $49 Billion by 2025.
What is the biggest growth driver of Global Electric Vehicle Battery Market?
The growing share of BEVs(Battery Electric Vehicle), which grew from 74% of all Plug In sales in 2018 to 79% in 2019 is the biggest growth driver.
Which battery cell chemistry is the most popular?
NMC followed by LFP is the most popular Li-ion battery chemistry type, worldwide.
What was the growth in average battery capacity in China in 2019?
Although the EV sales in China decline dby 4% YOY, the overall battery installation went up by 8%. This was only possible because the average battery capacity of BEVs in China grew from 28kWh in 2018 to 40 Gwh in 2019.
Which OEMs have the biggest EV product pieline till 2022?
VW Group, GM, Daimler and Chinese OEMs like SAIC, Geely have more than 100 products cumulatively which will hit the markets by 2022.
[/vc_column][/vc_row]
| | | |
| --- | --- | --- |
| 1 | Market Segmentation | 3 |
| 2 | Executive Summary | 5-6 |
| 3 | Introduction | 7-10 |
| 4 | Insights from Industry stakeholders | 11 |
| 5 | Key criteria for EV battery capacity, and vendor selection by OEMs | 12-13 |
| 6 | EV battery manufacturing in US, Europe and China | 14-15 |
| 7 | Breakdown of new EV concept vehicles by powertrain and battery capacity | 16-17 |
| 8 | Upcoming BEV platforms utilizing high capacity batteries | 18-19 |
| 9 | Disruptive innovations in EV battery chemistry and future of solid-state batteries | 20-21 |
| 10 | Details on legislation, subsidy and incentives linked with battery capacity | 22-23 |
| 11 | Growth in fuel cell vehicle market | 29-38 |
| 12 | Market Size ,Dynamics and Forecast By Sub-component | 29-38 |
| 13 | Market Size ,Dynamics and Forecast By Battery capacity | 39-48 |
| 14 | Market Size ,Dynamics and Forecast By EV type | 49-65 |
| 15 | Market Size ,Dynamics and Forecast By Geography | 66-78 |
| 16 | Competitive Landscape | 79-82 |
| 17 | OEM-supplier relationship in EV battery market | 27-28 |
| 18 | Company Profiles | 80-95 |
| 19 | Unmet needs and Market Opportunity for suppliers | 96-97 |
| 20 | Conclusion | 98-99 |
| 21 | 5 Key predictions | 100 |
| 22 | Appendix | 101 |