AUTOMOTIVE INFOTAINMENT SYSTEM MARKET
KEY FINDINGS
As of Jan 2021, smartphone connectivity features like Android Auto, Apple car play and Baidu car Life are offered at-least as standard or on top trim on 82% of vehicles sold globally
In Europe, where 423 vehicle models are on sale, 7-inch touchscreens are standard on vehicles priced between 12,000-15,000 Euros. 8-inch touchscreens are standard on 5 out of top 10 best-selling vehicles
In US, 7-inch touchscreens are standard on 4 out of 30 top-selling vehicles whereas 8 inch and bigger screens are standard on 18 top 30 vehicles. Voice activated navigation is the #1 trend in the US automotive touchscreen infotainment market
In Japan, Car manufacturers have given less preference to connected services and Infotainment system and more weightage to ADAS.Features like Pre car safety (Collision avoidance support type with pedestrian detection function/ Millimetre wave radar + monocular camera system), Lane departure alert, Automatic high beam and ACC are standard on many vehicles but touchscreen infotainment is a paid optional
Globally, OEMs need to step away from dull 'black square and flat' automotive displays which are very common in today's car interiors. To deliver digital content to the user, screen size is a very important factor. In simple words, there is no substitute for square inches
OEMs typically get same system installed in multiple models to decrease sourcing costs and charge a Premium when customer selects it as optional extra during online configuration
For suppliers, Margins are comparatively lower in lower segment due to lower embedded content but suppliers have higher operating leverage due to high volumes in that segment. C& D or Mid-segment vehicles are the sweet spot for all vendors
INTRODUCTION
In vehicle entertainment (IVI) has always been an important feature for car manufactures and owners alike, improving the overall car ownership and driving experience.
Till early 2000s, IVI in most cars was limited to just radio and music until GPS became accurate enough for drivers.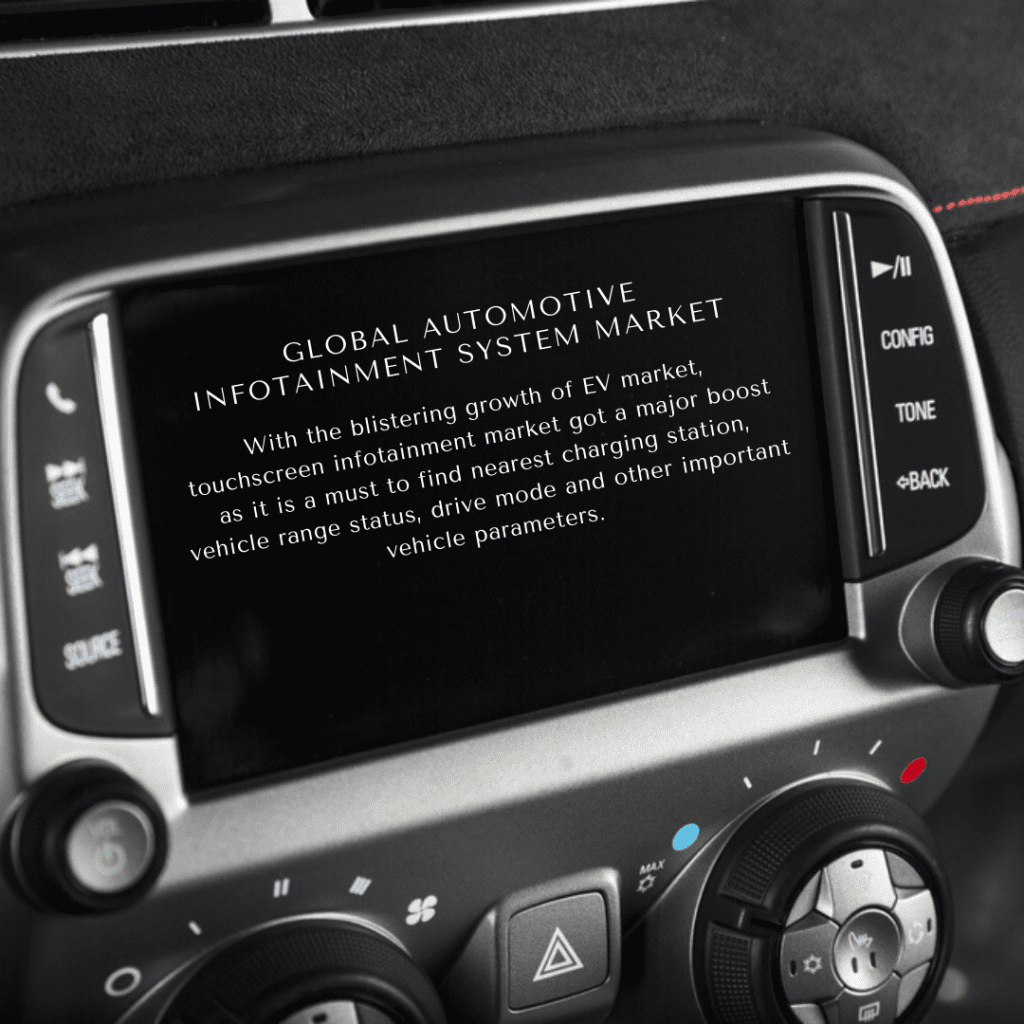 By 2010, many standard, mid and high segment cars had 2-Din systems, which had Bluetooth connectivity, navigation and multi-media display. In early 2010s, the car industry saw the advent of in-car Wi-fi with smartphone app integration as a major selling point.
Fast forward 2020, and now touchscreen infotainment system is a quintessential feature of almost every passenger car sold globally. 
AUTOMOTIVE INFOTAINMENT MARKET DYNAMICS
The global smartphone penetration as of July 2020 stands at 71% and >80% for car buyers, thus car entertainment cannot be secluded from smartphone connectivity. This is also the reason why Smartphone connectivity using CarPlay or Android Auto is becoming a default feature in most cars. These features allow users to have the same interface with their cars as their phone, allowing higher degree of personalization.
Among the lower B&C segment vehicles, infotainment from VW Golf and BYD Song Pro standout. BYD has one of the best voice recognition tech whereas Golf`s infotainment looks very premium for the segment.
Mercedes in a statement earlier in May 2020 said that over 80% of their users say Voice is the most important control element in the car and an equal number of its users also believe voice commands make searches easier and fast.
THE ON-SET OF ELECTRIC VEHICLES
Touchscreen infotainment systems are now also seen as "the enabler" for auxiliary means of revenue generation from car sharing, vehicle subscription etc. But in Post COVID-19 world, we believe there will be a consumer shift from sharing services to personal mobility.
With the blistering growth of EV market, touchscreen infotainment market got a major boost as it is a must to find nearest charging station, vehicle range status, drive mode and other important vehicle parameters.
As discussed earlier, consumers are now looking for higher degree of personalization and that is where Artificial intelligence (AI) has started to make a world of difference.
AI can completely personalize the user experience by predicting his/her next choice in a few seconds which would otherwise require a physical effort. The growth of AI could also allow cloud-based content to be monetized to a greater degree.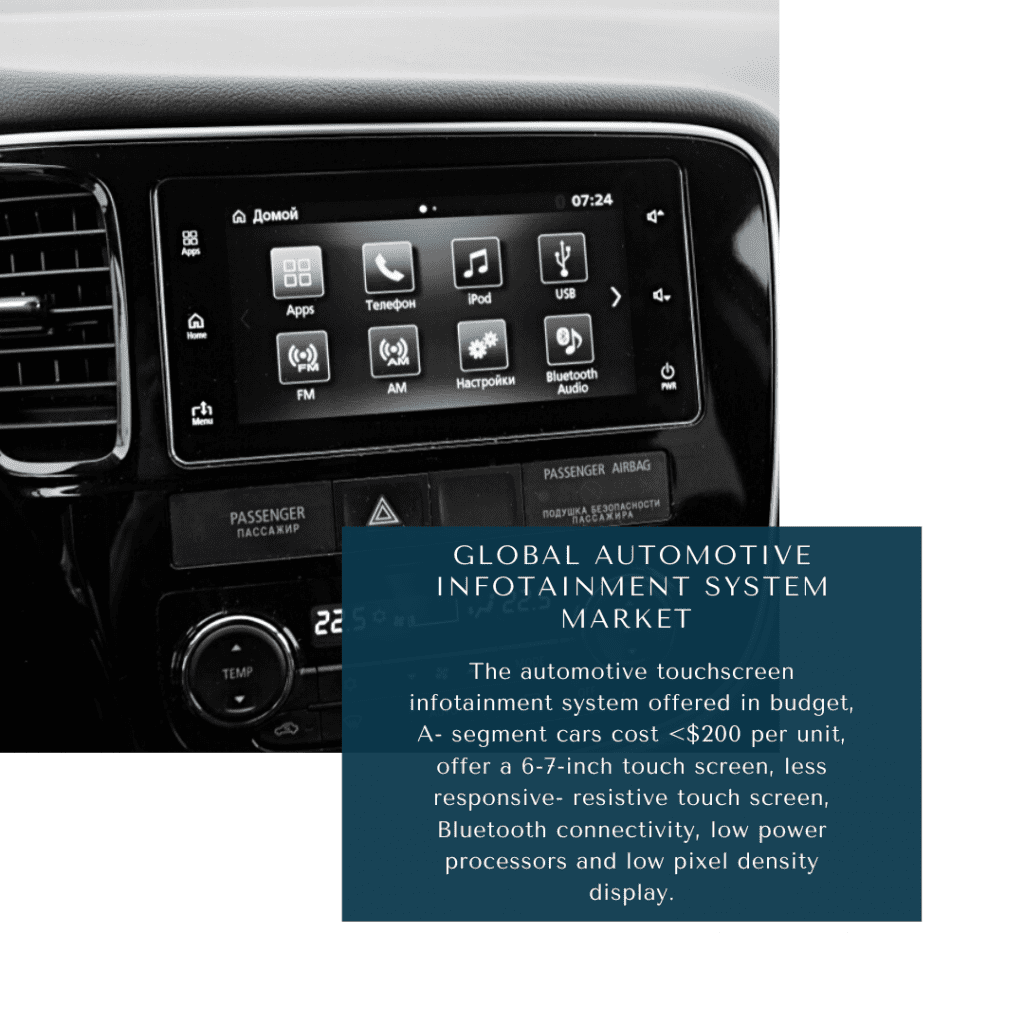 The importance of AI in automotive touchscreen infotainment systems can be judged by the fact that more than 10 partnerships between auto and tech companies have been struck in past 12 months alone.
Amazon`s Echo voice assistant will be available on Volvo and BMW whereas Alibaba`s version will be available in the Chinese market on Audi, Renault and Honda.
Among the 400+ EV start-ups in China, the Byton M-Byte has e a 48-inch display, running the entire length of dashboard, but it is one of the first casualty of COVID-19 in EV market. It suspended its domestic operations in June 2020 and furloughed staff. The company recently said it is making efforts to obtain funding to pay salaries owed.
SOFTWARE DEVELOPMENTS IN AUTOMOTIVE INFOTAINMENT SYSTEM MARKET
Globally, the automotive operating system is gearing from single function towards the intelligent tiered, modularized and platform-based development. For example, in future, Volkswagen will have one uniform software platform (consisting of vehicle operating system "vw.os" and the Volkswagen Automotive Cloud) for all vehicles throughout the Group. By 2025, all new models from the VW group are to run on this software platform.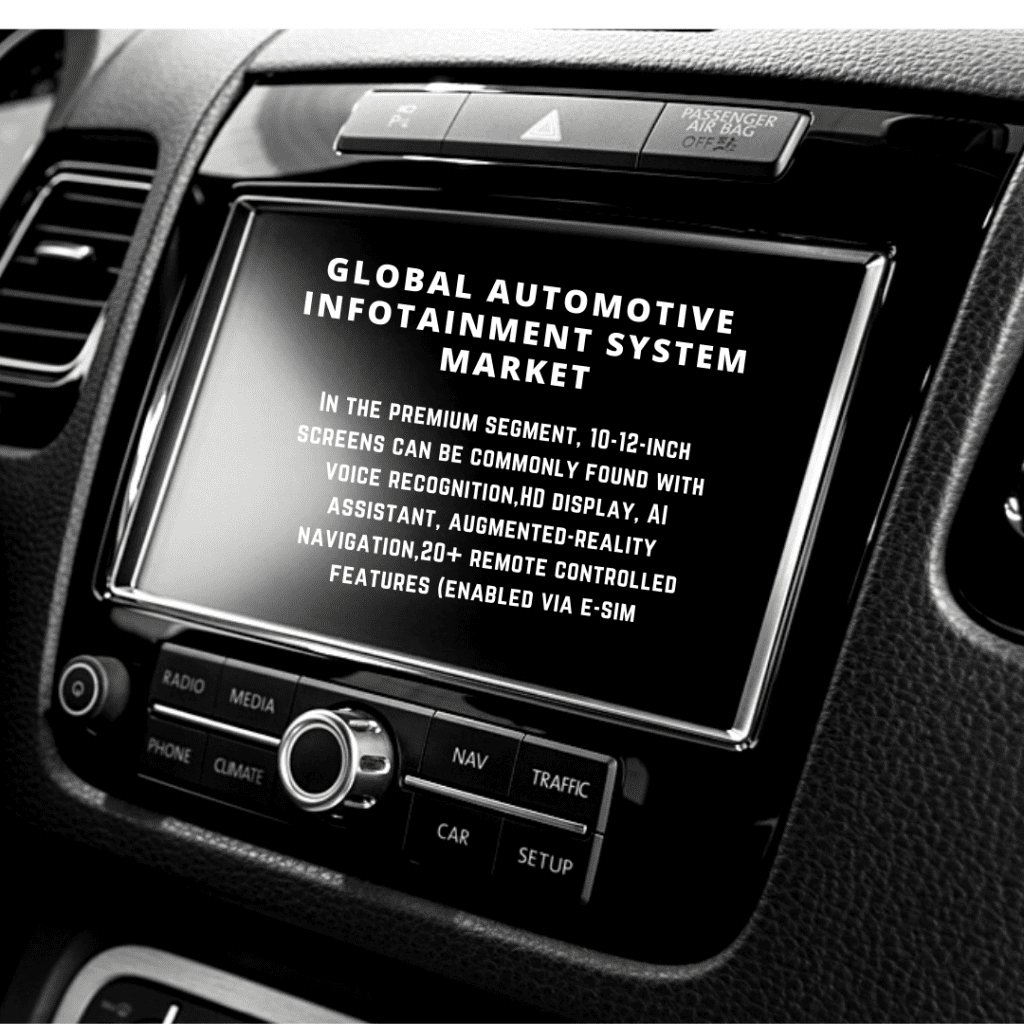 In future, we expect further evolution of domain controllers like cockpit domain controller to integrate ADAS, connected car gateway and heads-up display resulting in cost optimization and reduced weight.
AUTOMOTIVE INFOTAINMENT MARKET SEGMENTATION
AUTOMOTIVE INFOTAINMENT MARKET SIZE AND FORECAST
The automotive touchscreen infotainment system offered in budget, A- segment cars cost <$200 per unit, offer a 6-7-inch touch screen, less responsive- resistive touch screen, Bluetooth connectivity, low power processors and low pixel density display.
In the mid, B-C segment cars, a 7-8-inch capacitive touch- screen, with smartphone connectivity is standard with optional on-board connectivity and navigation.
In Europe, Volkswagen has equipped its cars with e-Sim on higher trim cars like Golf, Polo, Tiguan, T-roc and Passat. These cars are equipped with 8-inch Centre console touch display as standard and Passat gets 9.2-inch touch display as Option and smartphone connectivity features like Android auto and Apple car Play are provided on higher trim.
In the premium segment, 10-15-inch screens can be commonly found with voice recognition display, AI assistant, augmented-reality navigation,20+ remote controlled features (enabled via e-sim).
The global automotive infotainment system market size is estimated at $XX Billion in 2019, growing at –% CAGR till 2025. Due to COVID-19, the global automotive infotainment market is expected to decline by at-least 18% worldwide in 2020.
COMPETITIVE LANDSCAPE
The global automotive infotainment system market value chain is comprised of four categories of vendors i.e., touchscreen display providers, technology providers, chip/processor/storage providers and ultimately the integrators (complete system providers) who work closely with the car manufacturer to deliver the complete infotainment system to be fitted on the vehicle assembly line.
The average B-2-B prices can range anywhere between $200-$800 per unit and is highly dependent on annual volumes. All suppliers look to secure Long term, Multi-Million dollar deals from OEM for increased cashflow.
The gross margins vary for suppliers between 22-27% and the EBITDA levels are at 10-12% i.e. at par with Automotive lighting market suppliers
HARMAN is World`s market leader with 26% market share of infotainment system in 2019.It is a complete end to end provider including sound system ranging from JBL to Mark Levinson.
Continental is one of the biggest innovators in automotive electronics, powertrain and ADAS. It has already partnered with Pioneer (May 2020) for Asian markets. 
In China, many domestic vendors have developed their own operating system to be deployed across all vehicles in the portfolio. For Ex- In February 2020, NIO launched the NIO OS 2.5.0 version in-car system and upgraded three important aspects of its vehicles i.e , NIO Pilot automatic assisted driving, digital instrument cluster and suspension. 
ARCFOX(BAIC`s upcoming EV brand to be launched in May 2020) has new generation 5G chip from Huawei which is Industry's first 5G-V2X  hardware module.
R&D LEAD TIME IN AUTOMOTIVE INFOTAINMENT MARKET
As vehicle Facelift and upgrade(next gen) timeline continue to decline over past 8-9 years and is now 28-32 months for facelift and 60-66 months for new gen, R&D lead time is also shrinking. As infotainment systems are now an important selling point for many OEMs, they are updated in a facelift as well as generation update. One common aspect for every facelift and generation change is upgraded infotainment system
In the lower(A & B) segment) where limited features (AM/FM radio, Smartphone and Bluetooth connectivity, Media playback, Navigation) and average graphics are offered, the R&D lead time is often around 8-12 months including testing and validation. Some suppliers also offer a standard hardware package(often shared with other OEMs) which can be quickly customized to improve their competitive advantage while bidding for new projects
In C, D& E segment, the timeline could be as high as 18-24 Months due to long list of features, higher degree of customization for the brand as well as redundancy ( control by touch as well as a pad /rotary dial in floor console or physical buttons)
POST COVID DEVELOPMENTS IN AUTOMOTIVE INFOTAINMENT MARKET
Mercedes Benz MBUX Hyper screen
At the CES 2021, premium car manufacturers Mercedes-Benz unveiled the MBUX Hyperscreen
The ultra large curved screen has a width of 141 cm (~1.4 Metres) and stretches almost the entire width from the left to the right A-pillar

It consists of three apparently seamlessly merged smart displays, and is connected to almost all components of the vehicle

OLED tech is used in central and passenger displays, where the individual image points are self-luminous

It also has the flexible update concept from MBUX via the cloud

It will be immediately available in the new S-Class, in addition to the electric EQS

AI powered: with software and display capable of learning it can adapt completely to its user and provide personalised suggestions for numerous features

The ambient lighting is integrated and installed in the lower part of the MBUX Hyper screen

The passenger also gets its own display and can store up to seven profiles, making it possible to customise the content during the journey and within the framework of the country-specific legal regulations

When there is no passenger in the front seat, the display on that side will not be usable and just feature a starry screen
BMW`s next gen iDrive
The first iDrive was launched in 2001 7 Series

BMW will hold onto the analog iDrive rotary controller, just like the current iDrive system

The 14.9-inch infotainment screen is ~20% bigger than the largest screen BMW offers on a car today

It will have new, cloud-based services will use an increasing amount of real-time data and can also receive and display hazard warnings from other BMW vehicles in real time

Optimized sensors across the vehicle will increase automation and enable the vehicle to self-park with even greater ease

The new Personal Assistant (for voice control) called modern day "Q" is inspired by the latest James Bond movies. It will have a character and could also posses' witty humour to engage with the driver
CHANGES IN CAR AUDIO
In US, OEMs are following different strategies to offer premium audio along with their infotainment system. For example, Ford is offering Bang & Olufsen system with 10 speakers on higher variants of Escape, Explorer and Edge whereas Toyota is offering 6 speakers as standard on almost all top selling SUVs and crossovers

In Europe, where compact hatchbacks are popular, among best selling vehicles only Ford and Toyota is offering a premium 10 speaker system on higher trims of Fiesta and Golf respectively
To know more about car Audio developments, read our Car speaker market report
COMPANY PROFILES (Complete System providers)
Harman International Industries

Aptiv Plc
COMPANY PROFILES (Technology Providers)
Microsoft Corporation

Alphabet Inc.

Baidu Inc.

Intel Corporation

Tencent Holdings

Huawei Technologies Co, Ltd

Alibaba Group

Tata Elexsi Ltd
COMPANY PROFILES (Chip/ Graphic Processor and storage Providers)
NVIDIA Corporation

Qualcomm Technologies, Inc

NXP Semiconductors N.V.

Tuxera, Inc.

SanDisk Automotive
COMPANY PROFILES (Touchscreen display Providers)
Cathode Electronics

Synaptics Incorporated

Atmel Corporation
THIS AUTOMOTIVE INFOTAINMENT MARKET REPORT WILL ANWER THE FOLLOWING QUESTIONS
Which region will be the biggest automotive infotainment system market in 2019-2025? Which vehicle segment offers highest growth opportunity and why?

Growth of vertical and >10-inch touchscreen segment?

After climate control, navigation, handsfree calling what will be the next set of features controlled by voice command?

Role of AI in present and future gen touch screen infotainment system

The linkage of ADAS, safety, Connectivity and information with future gen touch screen infotainment system

What`s happening in the software/technology front of automotive infotainment system market? Will the automotive grade Linux be the base source code for all OEMs?

Dependence of autonomous technology development on automotive infotainment system market and vice-versa

Revenue generated by monthly entertainment subscription services

Ongoing important developments in V-2-X and cybersecurity, pertaining to global connected car market?

The future of automotive touchscreen infotainment system controlled via OTA (over-the-air updates) and its impact on on-board diagnostics

Market share of leading suppliers and their future growth strategies

OEM-supplier alignment in global automotive infotainment system market

Who will be the leading supplier of software for automotive infotainment system market?

Detailed comparison of top 10 OEM developed connected car platforms and their features

Technological developments in touchscreen glass ,related electronics and market leaders