Global Automotive LED Lighting Market 2019-2025
February 28, 2020

Request Sample
NUMBER OF PAGES- 140
Multi User License - $2,500
AUTOMOTIVE LED LIGHTING MARKET
KEY FINDINGS
LED headlamps are and will remain the biggest revenue generating segment(~60%) in global automotive LED lighting market 
Due to the simplicity in implementation of LEDs in design, and lower price compared to headlights, more OEMs have introduced LEDs in the tail lamps. Therefore, LED penetration for tail lamps is considerably higher for passenger cars than two-wheelers in 2019
High range MPVs and SUVs have LEDs for various lighting purposes such as reading lamps, glove-box lamps,map lamps, trunk lamps and ambient lighting. An important growth driver for the market
In commercial vehicle segment, at present, almost all revenue for  lighting market  is generated from interior and rear LED lighting in buses, LED headlight penetration in CVs is minuscule
Almost all lighting suppliers are facing the dual impact of declining revenue and increased R&D investment to meet next-gen headlamps requirement. Growing sales of high value- add products like Adaptive driving beams/ Software based Matrix LEDs are profitability drivers
Stanley Electric was the most profitable company in 2019 in terms of Operating margin  i.e. ~14% followed by Koito at 12.2%

MARKET SEGMENTATION
AUTOMOTIVE LED LIGHTING MARKET TRENDS
Global rear LED penetration grew to ~64% in 2019 from ~12% in 2014.
In premium segment,all round(100%) LED lighting has become a trend now. Almost all OEMs have adopted LEDs, HID in frontal lighting is gradually being phased out and LED headlights have been the #1 trend since 2014
In China,Top 20 selling premium cars are provided with LED (headlights, taillights, DRLs, and Ambient light) as standard 
Premium cars like BMW ( X7, 7-series, X5 ), Audi A8L are provided with laser headlights on top variants as standard and lower variants get it as an Option in China
At present, LEDs usage on two wheelers are primarily aimed at improving aesthetic, styling and less to do with the improved luminance. So, we believe LEDs on two-wheelers are a premium product and offer immense value add to the consumers.2019 has not been a good year for  two-wheeler LED growth but post 2020-21, further growth in penetration is expected
In US, custom LED headlights are available in the Freightliner`s medium-duty trucks as a factory-installed option on new Freightliner M2 models 106 and 112, as well as on Thomas Built C2 bus
In Electric vehicle segment, which sold 2.2 Million vehicles in 2019 and  2.2 Million units in 2018, LED lighting penetration was more than 40%. Tesla has 100% LED lighting on all vehicles
Many suppliers are now investing in PCB tooling locally to reduce their cost and improve margins. Gross margin on LED lighting is substantially higher than halogen lighting
In L4-L5 Autonomous vehicles, the LEDs can be embedded in various interior and exterior parts like doors, seats, glass etc, which will provide information on road environment to riders whose attention will be focused on all other activities except driving. 
In Japan, top 30 selling vehicles are provided with LED (DRLs) as standard and 90% of the vehicles get LED fog lights as standard. 
To know more trends from a supplier point of view, Please read our article Top 7 Automotive Lighting Trends
NEW PRODUCT DEVELOPMENT IN AUTOMOTIVE LED LIGHTING MARKET
Koito– The global market leader has integrated LiDAR (Light Detection and Ranging) sensors into headlamps and rear combination lamps. The smart all-round lighting helps detect pedestrians and traffic from all angles, further improving safety. It has also developed a similar ADAS integrated headlamp solution for two-wheelers
In Sep 2019, it announced that it had commercialized Bladscan ADB. The Bladescan ADB emits LED light to 2 fast-revolving blade mirrors (reflectors) and lights forward vision by using the residual image effect. It will be fitted on Lexus RX. 
Lexus was also the first customer of Koito`s first mass produced LED headlights in 2007.
Hella-  In Nov 2019, the European leader in premium LED light manufacturing announced  a new lighting system with high resolution.  More than 30,000 pixels can be controlled intelligently and individually
Osram-Continental– In July 2019, the JV showcased powerful laser LED headlight system with more than 4,000 individually controllable pixels 
AUTOMOTIVE LED LIGHTING MARKET SIZE AND FORECAST
In China, where 1,825 vehicle models are on sale as of Dec 2019, HID frontal lighting is now offered only on 45 models as compared to 400+ just 2 years ago. LED frontal lighting has grown by more than 25% in 2017-2019 period.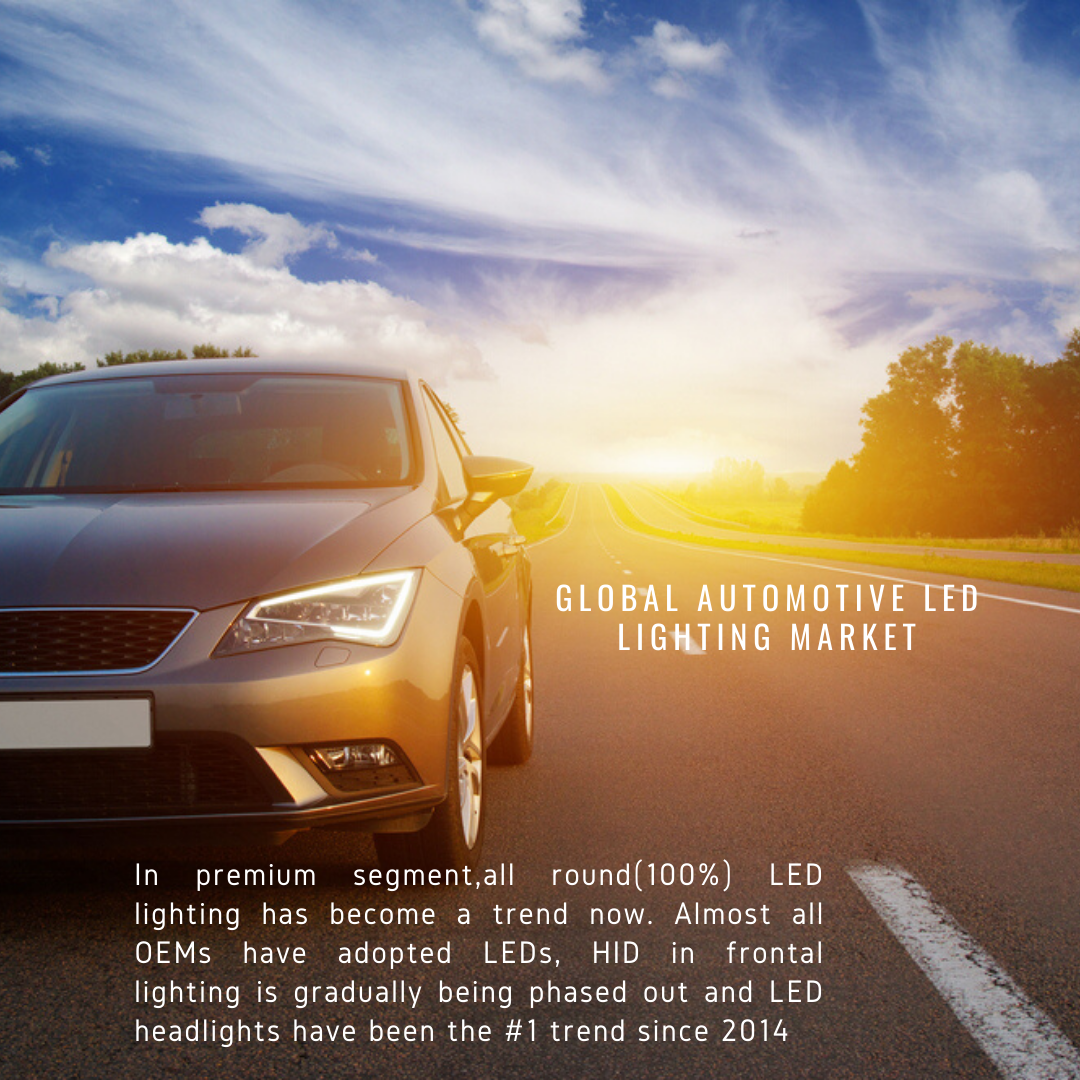 LEDs are priced at 3x-4X higher than conventional halogen based lighting.Although LEDs are growing at a faster rate, majority of the automotive lighting is still halogen based  in emerging markets due to cost reasons.
The automotive LED lighting market is estimated at $XXM in 2019, growing at –% CAGR
AUTOMOTIVE LED LIGHTING MARKET SHARE
There are 15 major tier-1 automotive LED lighting suppliers, globally and we have profiled the top 14. Koito, Valeo and Hella are the top three players in automotive LED lighting market globally accounting for ~50%+ market share, cumulatively.
In China market, Shanghai Koito is the market leader with more than 25% market share. In US market, Koito`s North American Lighting is the market leader with more than $1.6 Billion in FY 2018 annual revenue.
The global automotive LED lighting market is extremely consolidated at present(top 3 suppliers have 50%+ cumulative market share).But, we expect the market to open up in coming years on account of many new entrants.The EBITDA margins for auto LED lighting suppliers is ~8-12% in 2019 but on account of growing LED penetration it is expected to grow by 120-150 basis points by 2025.

ABOUT SUPPLIERS IN AUTOMOTIVE LED LIGHTING MARKET
Koito- A leading provider of LED lighting to many Toyota platforms reported an increase in earnings through Q3-2019 in China due to increase in LED penetration  despite ~8% decline in auto production. From financial standpoint, the global market leader is facing higher R&D expenses in-order to meet next gen lighting on upcoming vehicles.
Hella– A leading LED lighting supplier to all Premium European OEMs and GM in North America,derives ~25% of its global revenues from Germany and ~60% from Europe
Valeo– Among the top 3 players in Automotive lighting globally and has a substantial market share in Europe
Varroc Lighting System– India based Varroc group acquired Visteon`s lighting business in 2012 and has now grown the business to a significant size. It is also the LED lighting supplier to Tesla
OSRAM-CONTINENTAL–  The 50-50 joint venture was created in 2018 to supply semi-conductor based lighting modules and lighting control units for front as well as rear application, globally.
Hyundai- Mobis-  The wholly owned subsidiary of Hyundai Motors, supplies LED lighting to Hyundai-KIA vehicles in all major markets except India, where Lumax is the exclusive supplier
Lumax– The market leader of India automotive LED lighting market with more than 45% market share  is now extensively investing in developing PCBs in-house.
Fiem Industries– The India based company is among the top 5 players in two-wheeler segment
COMPANY PROFILES
Lumax Industries
Rigid Industries
THIS REPORT WILL ANSWER THE FOLLOWING QUESTIONS
Segmentation of passenger vehicles by segment and their respective lighting technology
Penetration of LED Headlights in new car sales in top 20 passenger car markets, two wheelers and commercial vehicles
Value chain of automotive LED lighting manufacturing
Present and upcoming passenger vehicle platforms with LED headlights
Growth of Adaptive LED headlights and related market dynamics
What could be the scope of LED lighting in commercial vehicles? Which segment is most important?
Role of Taiwan in automotive LED chip manufacturing
Threat to the LED headlight after-market from counterfeit LEDs manufactured in East Asia
Future of HID and halogen headlight market in all segments
Market share of automotive LED light manufacturers and their OEM alignment
Impact of BS Vi emission norm on motorcycle LED lighting market in India
Which headlight technology ( projector /reflector) will grow at a faster rate?
Growth in LED DRLs(Day time running lamps) in all major countries 
Details on motorcycle LED headlight market in ASEAN countries
Consumer feedback- the aspect of LEDs on overall aesthetics of a vehicle
| | | |
| --- | --- | --- |
| 1 | Market Segmentation | 3 |
| 2 | Executive Summary | 5-6 |
| 3 | Introduction | 7-15 |
| 4 | Global LED lighting technology trends | 16-20 |
| 5 | About EV market and LED lighting used | 21-24 |
| 6 | Cost breakdown of LED headlight by weight and components | 25-27 |
| 7 | Global LED headlight sub-component sourcing trends | 28-30 |
| 8 | About variety of LED headlights and taillights in production 2019-2020 | 31-40 |
| 9 | Upcoming vehicle platforms and their LED headlights | 41-50 |
| 10 | Market Size, Dynamics and Forecast, By Application | 51-65 |
| 11 | Market Size, Dynamics and Forecast, By OEM | 66-78 |
| 12 | Market Size, Dynamics and Forecast, By Vehicle type | 79-90 |
| 13 | Market Size, Dynamics and Forecast, By Geography | 91-110 |
| 14 | LED headlight manufacturing in US, Europe and Asia | 111-113 |
| 15 | Growth in adaptive/Intelligent LED lighting | 114-115 |
| 16 | Competitive Landscape | 116-118 |
| 17 | New Product development | 119-120 |
| 18 | OE-Supplier Alignment | 121-124 |
| 19 | Company Profiles | 125-135 |
| 20 | Details on LED lighting chip suppliers | 136 |
| 21 | Unmet needs and Market Opportunity for suppliers | 137 |
| 22 | Conclusion | 138 |
| 23 | 5 Key Predictions for next 5 years | 139 |
| 24 | Appendix | 140 |