Global Automotive Telematics Market 2020-2025
August 12, 2020

Request Sample
Coming Soon
Multi User License - $2,500
GLOBAL AUTOMOTIVE TELEMATICS MARKET
KEY FINDINGS
Advance Driving Assistance Systems (ADAS) to have features like Forward Collision Warning (FCW), Headway Monitoring Warning (HMW) and Lane Departure Warning (LMW).
ESCORTS have developed world's first wireless fuel sensor which can remotely monitor fuel used by vehicle.
South Korea Telecom has successfully tried the world's first 5G connected car in partnership with Ericsson.
LG and Skyworks solutions to team up for connected car projects through OCUs (Online Connectivity Units).
Volkswagen, in partnership with Amazon Web Services (AWS) and Siemens, to provide industrial cloud for all its partners and others, which will provide solution related to Telematics and optimize production process.
Cambridge Mobile Telematics, U.S., to offer behaviour-based telematics to Japan insurance company Aioi Nissay Dowa Insurance.
Car manufacturers are betting big on Insurance telematics as part of their IoT (Internet of Things) research program.
Swift Navigation and Savari Partner to provide precise positioning services to V2X (Vehicle to Everything) application.
TATA Motors launched Fleet Edge for fleet management, which include track and trace, real time fuel efficiency and fuel loss of vehicle, driving behaviour and vehicle health.
INTRODUCTION
Telematics encompasses two words Telecommunication and Informatics. It includes a broad range of working areas from GPS systems to navigation systems, wireless data communication, remote unlocking and fleet tracking, among other things.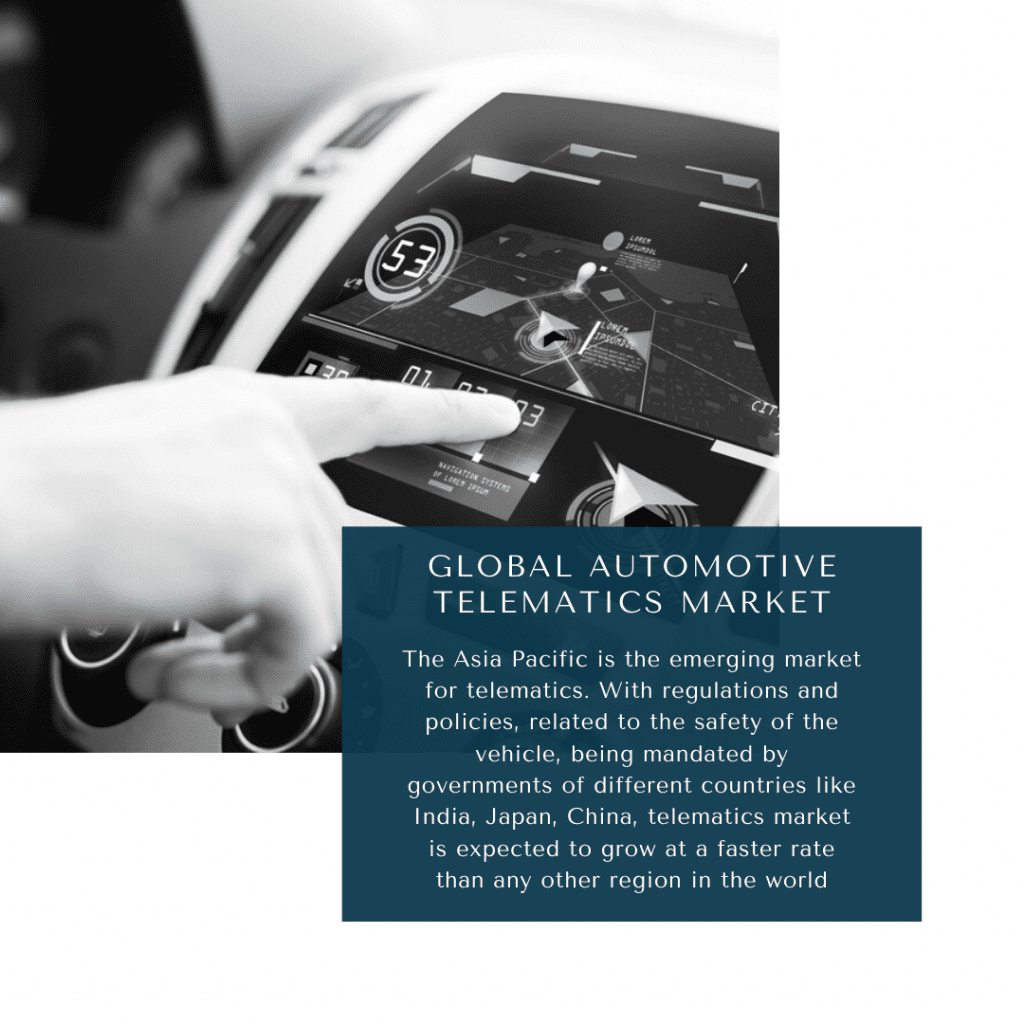 Most of the telematics technology is being used in making smart vehicle nowadays for monitoring location, the behavior of vehicle or fleet of vehicle, remote control access, integrated hands-free cell phone, Advanced Driving Assistance Systems (ADAS) and many more.
GLOBAL AUTOMOTIVE TELEMATICS MARKET DYNAMICS
BY CHANNEL TYPE
OEM (ORIGINAL EQUIPMENT MANUFACTURER)
 OEM provides integrated sensors and capabilities which can deliver a high degree of data related to vehicle operation. Smartphones can be easily connected to vehicle communication equipment which can enhance the driving experience with support like failure warnings and voice alerts in case of emergency, among other features.
OEMs are being adopted across the globe, mostly in the U.S., Europe and Russia, for its features like automatic emergency calls and vehicle location identification.
  AFTERMARKET
Aftermarket telematics services have increased drastically in the last couple of years with significantly adding connectivity and services to the vehicles. It has opened a new business for mobile operators which are using Internet-of-Things to provide services via telecommunication.
Recently, MG Motors has launched its MG Hector SUV with an Airtel e-Sim for providing telematics solutions.
SVT (Stolen Vehicle Tracking) technology has been in demand as the vehicle crimes are increasing in regions like Brazil, China, Russia, South Africa and Israel.
BY VEHICLE TYPE
COMMERCIAL VEHICLE
 Telematics is helping companies/personnel by providing benefits like fuel consumption optimization, fleet efficiency enhancement, and remotely monitoring of vehicle via GPS and video-based telematics.
Advanced Driving Assistance System (ADAS) to help monitor drivers with-
Closed eye detection
Yawning detection
Smoking detection
Calling detection
Globally, the demand for commercial vehicle telematics has seen an increment in the past few years and is expected to grow in future.
PASSENGER VEHICLE
Telematics is boon to Passenger Vehicle such as rail. With freight traffic analysis to signal processing along with path allocation, train running report and interruption in services, all these data and messages are harmonized with telematics.
Telematics is increasing infrastructure capacities which ultimately reduces the operational costs.
 TWO-WHEELER
Digital innovations in Two-wheelers are becoming the driving force to implement telematics. Using telematics in two-wheeler can reduce risk of road accident by prompting driver against over speeding, failure of control etc. and it can also mitigate motorcycle theft incidence as it can be tracked.
Vodafone is providing embedded telematics for two-wheelers.
BY APPLICATION
Telematics market is subdivided based on the type of application or services being provided by the vendor or companies. This can be classified in following-
NAVIGATION AND LOCATION-BASED
INSURANCE TELEMATIC BASED
INFOTAINMENT SYSTEM BASED
SAFETY AND SECURITY BASED
FLEET MANAGEMENT BASED
BY CONNECTIVITY SOLUTIONS
EMBEDDED
Embedded telematics systems are providing users with advanced telematics and mobile connectivity services in new vehicles which features vehicle tracking, battery notification, stolen vehicle tracking and recovery option and software updates over FOTA (Firmware Over the Air).
INTEGRATED SMARTPHONES
Smartphones can be easily connected to vehicles with telematics. It enables the user to use most of the specifications of a phone on a system integrated with the vehicle like GPS navigation, nearby service centre, maps, panic alerts and many more.
This has led a new group of people to carry out their business in the market. In 2016, Honda, BMW and Yamaha together founded the CMS (Connected Motorcycle Consortium) to establish an innovative technology for motorcycles to ensure safety on-road through connectivity and communication.
BY REGION
NORTH AMERICA
Due to the presence of several players, the North American market is highly competitive. Integration of smartphones with automobiles for better driving experience is the crucial factor for the market in this region. The collaboration of vehicle telematics provider with insurance companies has also boosted the demand.
Government's mandate for vehicle tracking positioning in commercial vehicles and escalating demand for high-end smartphones has also led to this market boost.
EUROPE
European government had passed a regulatory mandate in 2015 for e-Call facilities along with the installation of basic TCU (Telematics Control Unit) in all new vehicles for safety purpose. This has projected the market growth of telematics in Europe to reach new levels in the coming years.
ASIA PACIFIC
The Asia Pacific is the emerging market for telematics. With regulations and policies, related to the safety of the vehicle, being mandated by governments of different countries like India, Japan, China, telematics market is expected to grow at a faster rate than any other region in the world.
With the majority of vehicle user in this region, comes an increase in vehicle crimes, telematics will prove to be a boon in such cases.
REGULATION AND POLICIES
Companies providing Telematics or any kind of services that includes collection of data in any form must know about data protection or privacy legal requirements in their operating region.
The Data protection/Privacy regulations in South East Asian countries have clear rules about collection of consent to personal data with obligations like its storage, retention, protection and use among other limitations.
In European Union (EU), General Data Protection Regulation (GDPR) is the legal framework which includes guidelines for collection and processing of personal information via any format.
In S., they follow sectoral approach to data privacy. These approaches can be considered as combination of legislation, regulation and self-regulation rather than alone intervention of Government.
Australia Privacy Principles (APP) includes collection of 13 principles which guide the handling of personal information.
India introduced its legislation for data privacy as Indian Personal Data Protection Bill in 2018. However, India has no specific legislation till date but data privacy comes under several different acts and laws which comes under Information Technology Act,2000.
KEY PLAYERS
| | |
| --- | --- |
| Sl no | Topic |
| 1 | Market Segmentation |
| 2 | Scope of the report |
| 3 | Abbreviations |
| 4 | Research Methodology |
| 5 | Executive Summary |
| 6 | Introduction |
| 7 | Insights from Industry stakeholders |
| 8 | Cost breakdown of Product by sub-components and average profit margin |
| 9 | Disruptive innovation in the Industry |
| 10 | Technology trends in the Industry |
| 11 | Consumer trends in the industry |
| 12 | Recent Production Milestones |
| 13 | Component Manufacturing in US, EU and China |
| 14 | COVID-19 impact on overall market |
| 15 | COVID-19 impact on Production of components |
| 16 | COVID-19 impact on Point of sale |
| 17 | Market Segmentation, Dynamics and Forecast by Geography, 2020-2025 |
| 18 | Market Segmentation, Dynamics and Forecast by Product Type, 2020-2025 |
| 19 | Market Segmentation, Dynamics and Forecast by Application, 2020-2025 |
| 20 | Market Segmentation, Dynamics and Forecast by End use, 2020-2025 |
| 21 | Product installation rate by OEM, 2020 |
| 22 | Incline/Decline in Average B-2-B selling price in past 5 years |
| 23 | Competition from substitute products |
| 24 | Gross margin and average profitability of suppliers |
| 25 | New product development in past 12 months |
| 26 | M&A in past 12 months |
| 27 | Growth strategy of leading players |
| 28 | Market share of vendors, 2020 |
| 29 | Company Profiles |
| 30 | Unmet needs and opportunity for new suppliers |
| 31 | Conclusion |
| 32 | Appendix |